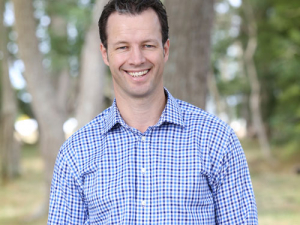 The dairy sector is calling for the future Government to provide the strong direction necessary for New Zealand to move…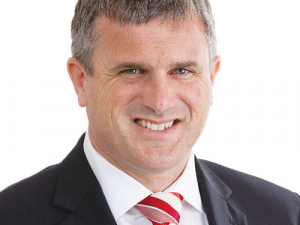 A programme, run by independent milk processor Synlait to encourage best practice farming, has been recognised by Environment Canterbury.
The recent political blowtorch on farming is affecting the morale of younger farmers, says Ngatea farmer Mark Townshend.
Whole milk powder (WMP) defied predictions and dropped in the GlobalDairyTrade (GDT) auction overnight.
The slump in dairy prices over the past few seasons proved to have a silver lining for the woman who…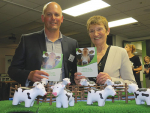 The dairy industry has launched an ambitious scheme to encourage young New Zealanders to make careers on farms.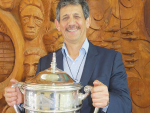 Māori dairy farmers are being urged to enter the 2018 Ahuwhenua Trophy for dairy.
Three bank economists see a risk of downside to farmgate prices from last week's GDT auction where the overall price…
Fonterra chairman John Wilson says weather conditions over spring will be crucial to this season's milk production.
Waikato milk processor Tatua will use retentions to grow its cream and protein based value-added products, says chief executive Brendhan…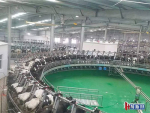 Two 80-BAIL Waikato Milking Systems (WMS) rotary platforms are at the heart of a new 10,000 cow dairy farm in China.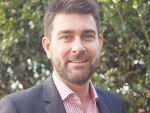 Australia's key dairy region is facing a "supply chain revolution," says Rabobank senior dairy analyst Michael Harvey.
Southern German dairying practice of keeping cows indoors 24/7 makes a convincing argument for getting cows out of winter cold -- or mid-summer heat -- and explaining why more cow barns are springing up in the south of New Zealand.
Milk production in Wales has changed dramatically in the last 30 years: in 1984 the country had 6500 producers; now it has 1730 achieving the same production.
Fonterra is eyeing a bigger slice of the booming Asian pizza business for its Australian-made cheese.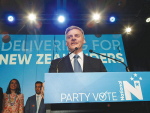 Although the National Party ended election night the largest party by a healthy margin, its margin wasn't big enough (unlike…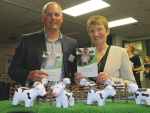 The bouquet of the week goes to the unfairly maligned dairy sector, in particular the initiative shown by Federated Farmers…
National's foreign spokesman Gerry Brownlee last month addressed the Canterbury Employers Chambers of Commerce about the headwinds facing global trade,…
Fellow Feds board member Andrew Hoggard and I have just returned from a five-day study tour in Australia hosted by…
Greenpeace has called for Cantabrians to join a peaceful civil disobedience demonstration against 'big irrigation'.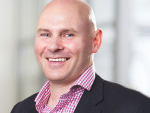 New Zealand's provenance story is not always based on clean and green; often it relates to the friendliness of the…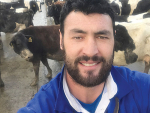 The confidence boost from winning the 2010 Dairy Trainee of the Year award is propelling a young sharemilker along a…
Auckland secondary schoolers will soon get a close look at farming without travelling far.
A planting day on a farm at Kokopu, Northland, this month saw the first of 20,000 plants put in the…
Two Fonterra cheeses have won silver awards at the international Cheese Awards held recently at Nantwich, UK.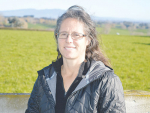 The slump in dairy prices over the past few seasons proved to have a silver lining for the woman who…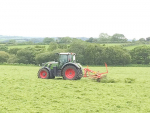 Don't assume you'll get through the year without supplementary feed. It's not just the availability in times of crisis, it's…
The process of making silage (ensiling) is very old.
A new nutrient management tool offers farmers a high degree of control and reporting when applying nutrients, its maker says.
Doing it once and doing it right is a great guiding philosophy for upgrading farm effluent systems.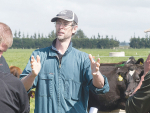 Wet spring weather is having "a huge impact" on the number of 'dirty' cows, says veterinarian Paul Daly, of Selwyn-Rakaia…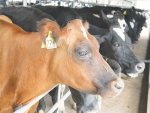 Vaccination is the most effective way to protect against life-threatening diseases such as distemper, hepatitis, parvovirus and leptospirosis that affect…
Animal health company Ceva Animal Health is introducing two anti-infectives to New Zealand, packaged in unbreakable bottles.
Lower replacement rates and higher body weight/lower stocking rates are the two most effective of five available ways of cutting…
Could using exotic dung beetles help address soil health and water quality issues in New Zealand? It's an option with…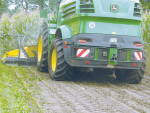 Forage maize remains the crop most favoured for feeding cattle in Europe, but over the last 15 years, particularly in…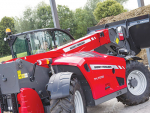 Global tractor and machinery manufacturer AGCO is never far from the news, so with the grass harvest about to start…
New from Irish manufacturer Keenan is a self-propelled diet feeder/mixer built with its Italian partner Storti.
Harvesting specialist Claas has developed a new internal wrapping system for its Rollant 400 Uniwrap balers that will slash processing…
Farms may be awash with safety footwear for men, but not for the girls.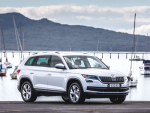 The new kid on the SUV block will have auto sales and marketing managers burning the midnight oil and scratching…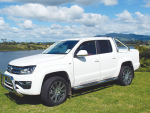 When we reviewed the VW Amorak in February 2016, it was fair to say we quite liked it. For 2017,…
You might have to wait a while to buy one, but Holden will premiere the new Commodore Sportwagon at the…
This new year might just be the time to buy a new vehicle.
Now entering its 21st year since the launch in 1995, the Toyota RAV 4 has graced the yards or driveways…
»

Latest Print Issues Online
Canada now has fewer cows than at any time since the early 1990s and, say analysts, it's partially millennials' fault.
They say it's never been easier to avoid dairy, thanks to an ever-expanding array of plant-based 'milk' -- rice, soy,…
»

Connect with Dairy News
The recent political blowtorch on farming is affecting the morale of younger farmers, says Ngatea farmer Mark Townshend.
The Irwin family -- Geoff, Lee and son Steve -- milk 330 cows on 83ha at Kiwitahi, near Morrinsville, in…
Fonterra is set to become Australia's largest milk processor following an exodus of suppliers from a troubled rival.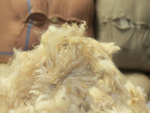 The 4700 bales on offer saw a 74% clearance with mixed results, however all prices paid locally are still above…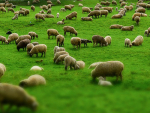 The 7250 bales of North Island wool on offer saw a 72% clearance with most types easing further.
The word ozone conjures up images of big holes in the atmosphere, stronger UV light, the risk of severe sunburn…
Drones may soon be joining the armoury of weapons used to scare birds away from ripening grapes after a trial…
Nicky Hutchinson "never dreamed" of becoming 'The Boss'.