Friday, 31 May 2019 09:44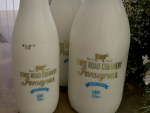 World Milk Day on Saturday, June 1 will also herald the nationwide release of Lewis Road Creamery's later offering – milk sourced solely from Jersey cows.
Friday, 01 June 2018 11:02
»

Latest Print Issues Online
Sweden's milk war is now being played out on television.
The proposal to relocate Auckland Port to Northland continues to float in open waters.