Today, the business comprises of four farming properties finishing 17,000 lambs and 600 cattle a year. The jewel in the crown - a butcher shop in Masterton - opened last year.
The journey has been one of hard work, calculated risks, tragedy and resilience. Dion's wife, Ali Kilmister, told their story at the recent South Island Dairy Event (SIDE) in Ashburton.
In January 2005, he arrived in the Wairarapa with first wife Maria and two children - Maria's daughter Aleshia and their son Jayden. All they had were 70 steers that they had had out grazing in the King Country, and a $30,000 overdraft.
And this is where the dream really started to get its wheels. The business started with the lease of 300ha Willowlea Farm from its owner. Over the next four years more adjoining farms were bought by the owner and leased out to Dion.
But tragedy struck in 2009; their only son Jayden, 15, was killed in an accident at the front gate. Eighteen months later Dion lost his wife Maria to melanoma.
For the next two years Dion had somewhat of a sabbatical from the day-to-day of farming to recover and try and find a way forward.
Ali says Dion put in place a farm manager to execute his farm plan.
"He was still there most days working, it just relieved him from the weight of ensuring he didn't drop the ball on anything on the days he was feeling incredibly crappy," she explains.
"He realised from early on that he needed to keep going, one foot in front of the other, doing what they all loved. Maria and Jayden had been a huge part of the farming team and he needed to keep going for them. He just had to keep remembering his why and in this adversity he dug deep."
In March 2013, Dion met Ali, a self-described true-blue city slicker working in the corporate sector.
Together, they took the business to another level with a steep expansion plan executed over five years.
Ali says the last two years has been about consolidating and expanding the beyond the farm gate business. At present, they have four main farms.
They own Canoga Park, a breeding and finishing farm carrying 10,000 stock units. The 1,100ha property is located in Bideford, 16km northwest of Masterton. The Mahunga farm is a leased 40ha flat property, run in conjunction with Canoga Park for finishing.
The Belmont Hills Farm, above Lower Hutt in Wellington, is a leased 1,300ha property with light soil structure - exposed from the weather from all directions. It carries 8,500 stock units. This farm is leaded from Greater Wellington Regional Council (GWRC) and brings it own challenges.
"Being owned by GWRC, we are farming on a public park, which we say is like farming in a fish bowl with 100,000 farm advisers, it is an urban area on all four sides," she says.
"This comes with a responsibility to do our bit to close the urban rural divie that does exist, with farming education where we can - we like to be proactive not reactive."
She says people that use the park don't want to be bombarded with too much information.
"Let's face it, if we did, they would probably start to ignore it, but from time to time, especially if we are doing something of interest that we can educate them on, we will print boards with a blurb and diagram and pop them at different points around the farm walking tracks," Ali adds.
"We did some a wee while back when we were applying lime - just explaining what we were doing and what lime actually did to the soil structure, the worms, the grass and therefore the animals. Interestingly enough it stopped the phone calls to the manager asking for explanations."
The fourth property is the Brook Farm, which they own. It's their home base and the 280ha property used to be a dairy farm. The Kilmisters decommissioned the dairy unit and now farm dry stock.
Ali says there is an overall farm policy with all properties interlinking.
"Each has its own purpose, whether is be breeding or finishing, but all work for the same end goals."
So how did the Kilmisters get here?
Ali says it might sound like a cliche, but it is all about setting goals.
"It's somewhat putting those goals out to the universe then working our how to make them happen," she says. "Failing to plan often ends in planning to fail."
Ali says a lot of people in farming say they can't afford to. "Our theory was we can't afford not to. If there was a margin/payback we would find a way," she explains. "We make decisions - whether it's the right or wrong decision - we just make the decision. Then you have something to work with.
"If something's not working, change it, stop doing it and change it early. The longer you keep doing it, the harder it becomes to get out of it or change it."
Butchery Cuts To The Chase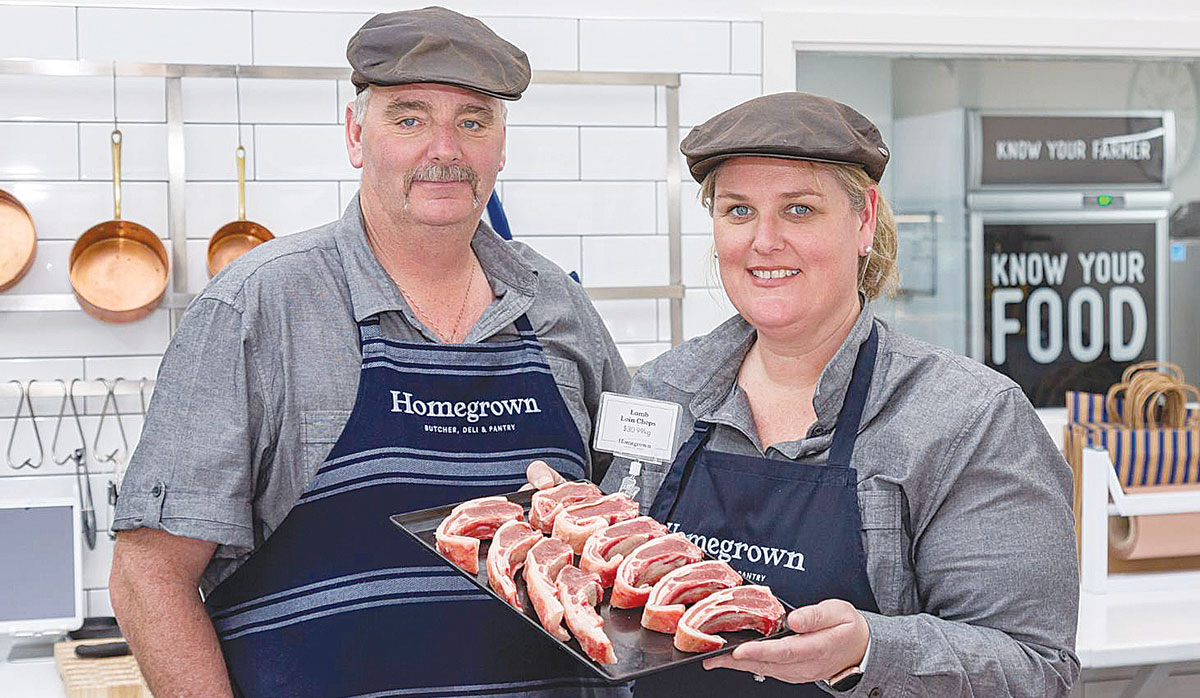 Dion and Ali Kilmister in their Masterton butcher's shop, where they not only showcase their own farms' meat not just to people in the Wairarapa but are able to extend the offering online as well.
The Kilmisters saw an opportunity in the market to take their grass-fed products beyond the farm gate.
They launched an online business - Homegrown Farm Fresh Meats - which has gone on to win many Outstanding NZ Food Producers Awards.
Ali Kilmister says they were told that creating an identity within a niche doesn't demand a revolutionary idea.
"It simply needs to have one special thing that separates it from the competition. For us, that's breed specific, gender specific and buying online direct from Dion and me, the food producers."
She says their lambs are grown on grass and finished on chicory - so the fat is quite white.
"We purely stumbled across chicory. So many of our finishing farms are on summer dry land and we had exhausted all other crops including plantain, so we gave chicory a go as it had a great tap root," Ali adds.
"Chicory has become a part of the finishing lamb equation that takes the lamb to the next level eating experience."
In July 2019, an opportunity came up for the Kilmisters to purchase Joes, a retail meat store in Wairarapa.
"We wanted to be able to showcase our meat in a retail shop in the Wairarapa but also be able to extend the offering online."
The store opened in September 2019, but six months later Covid-19 struck. They quickly established another website to sell products online to locals.
They have since blended the two websites into one: homegrownbutcheryonline.
Ali says there is always a solution to a problem - you just need to find it, and in most cases, find it first.
"The staff and I did a lot of hours during lockdown to ensure we were on top of orders daily as things were changing fast, so it wasn't a time of making lots of money," she explains. "We broke even after all the numbers were done, without taking the wage subsidy, and we can look back with pride as it made us a better team."
She says this side of the business is now 20 months young and there is a lot more fun to have with it.
"It really is growing month by month."