"It's quite cool seeing the transformation," New Zealand's newest Corteva Young Viticulturist of the Year says of the Villa Maria vineyard he manages, "from grafted vines to being almost as tall as the post".
The same could be said for his career, which unexpectedly began with a summer job at Sileni Estate six years ago. Studying accounting and marketing at Otago University at the time, Sam's experience "sparked the passion to work in the industry".
Although he grew up surrounded by Hawke's Bay's wine industry - and apples - Sam said the opportunity either industry offered were never put on his radar, until that fateful summer. He finished his course at Otago, then returned home to Hawke's Bay for good, starting as a machinery operator, and "just worked my way up". That included experience as a cellar hand, but "the concrete jungle and the mundaneness of moving hoses around and those sorts of things didn't really excite me too much".
Instead, he loves being outdoors, working with different people from different backgrounds. "The love of winemaking is still there but the ability to influence the flavours before they get to the winemakers is probably something that's captivating as well." He also enjoys "just having a season to create that product and then getting to harvest and being able to sit back and reflect on it".
After almost five years at Sileni, Sam moved to Constellation and finally Villa Maria, where he now works a Vineyard Manager which saw him drawn into pioneering the 160-hectare Spring Hill Vineyard development at just 29-years-old.
With his new decade about to start, Sam won the 2021 Corteva New Zealand Young Viticulturist of the Year just in time. He first entered the competition in 2020, a lack of confidence putting him off until then. Now, he can't speak highly enough of the experience. "Just put yourself out there. It's not easy, but it's such a great event, with like-minded people, and the biggest thing is that you'll gain a lot of confidence in yourself."
Sam says another bonus was connecting with people outside of his usual network. "Now I can branch out and reach out to people, and that helps when you're so young in the industry." Thanks to Covid-19, the competition was full of unknowns, from last-minute date change and even the final's location.
Held a week after the Government announced a move to the red light setting, the event shifted from its original Bankhouse location to another sponsor's smaller vineyard. With few supporters permitted, the quiet atmosphere was a tad "eerie", says Sam, but those who were there made up for it.
And, being late January, with fruit on the vines, rather than the competition's usual winter setting, meant things were a little different. "Normally we're in that time of year when we're looking at spray plans, what we're doing with pruning." That tripped him up a little, "but in the end it was just a different way of thinking".
Sam says he most enjoys the practical aspects of the competition, such as trellising and irrigation - "they're just good challenges to push you out of your comfort zone a little bit". That push paid off, as he also came away with the BioStart Hortisports and the Ecotrellis Trellising Trophy.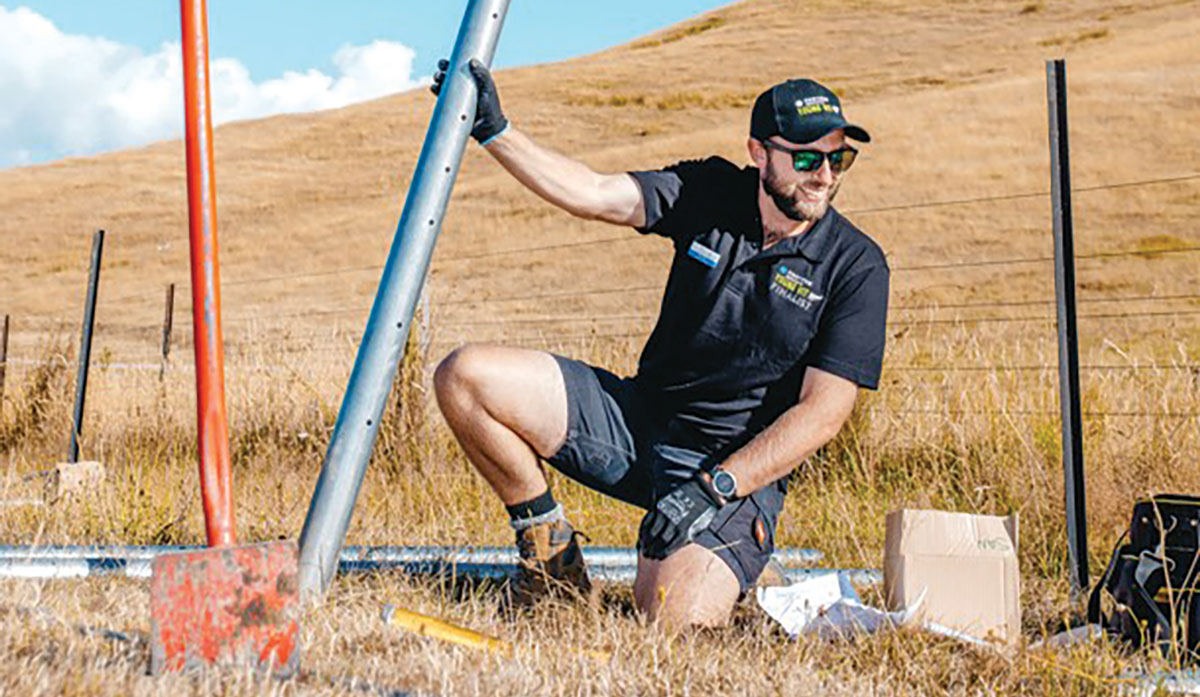 The Corteva Young Viticulturist of the Year national final. Photos by Richard Briggs
Apart from being awarded the title of 2021 Corteva Young Viticulturist of the Year and trophy, Sam also won a Hyundai Kona for a year, an Ecotrellis travel grant, an educational visit to Australia with Corteva, Bahco golden secateurs and other cash prizes.
Having focussed his 20s on building his career and buying a house in Hawke's Bay, and with any thoughts of an OE curtailed by Covid, Sam looks forward to using his travel grant towards exploring old world wineries in Europe when he can, tapping into contacts he's built up during past vintages.
Back on the central Hawke's Bay vineyard, which has been planted in Sauvignon Blanc and Pinot Gris, with room left for expansion and "the fiddly" varieties later, Sam is excited to see what the new vines will eventually produce.
With a river down the back and a clay base over rocky ground, Sam compares Spring Hill to Marlborough's upper Wairau Valley, and says he jumped at the chance to spearhead a development in a region with precious little desirable land left for grapes. "We knew it would work, it's just that nobody's ever come out here to try it before."
The harvest from the first vine is due next year, with the remaining vines following in 2024. Sam says, with Villa known for its single vineyard collections, "it'll be quite interesting to see if this area can do something of the kind".
In the meantime, he's pursuing his goal of becoming lead viticulturist.
"I'm here for the long haul... It's a captivating process that no season is ever the same. It's never mundane or boring, there's always a new challenge on the horizon, no matter where your vineyard is."