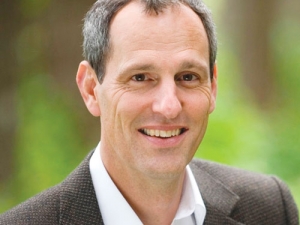 A former director of AgResearch, Dr Jock Allison, says the present organisation doesn't know how to nurture and grow its…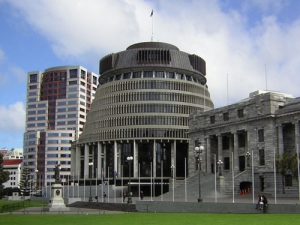 Feedback on the TPP from agribusinesses has been mostly positive, but the same cannot be said for most political parties.…
Feds president William Rolleston says the TPP Agreement appears to be beneficial for agriculture and New Zealand.
A farmer-backed consortium was planning to take to Silver Fern Farms a counter-offer to the $261 million buy-in by Chinese…
A renowned conservationist says the world and New Zealand is failing to fulfil many of the basic principles of sustainability.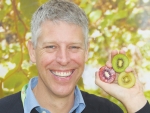 The TPP will generate significant value for the New Zealand kiwifruit industry, says marketer Zespri.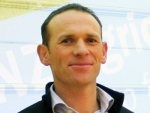 Beef + Lamb New Zealand (B+LNZ) and the Meat Industry Association (MIA) are throwing their support behind TPP.
Fonterra is being urged not to force restrictions on the use of palm kernel expeller (PKE) without consulting farmers.
The New Zealand Horticulture Export Authority (NZHEA) is positive following the announcement of the TPPA trade deal.
Meat Industry Excellence (MIE) says Silver Fern Farms shareholders need to carefully scrutinise the capital-raising proposal put forward by the…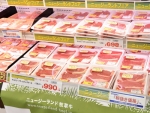 Research shows 89% of supermarket consumers in international markets consider the country of origin when deciding which beef to purchase.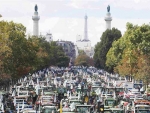 When French farmers are unhappy they take to the streets. Last week, 1000 tractors rolled into Paris as French farmers tried to clog up the capital's roads in protest at plummeting food prices.
Australian farmers are piling pressure on the Opposition Labour Party to support the proposed free trade with China.
Young agriculture leaders from across the world have created a global call for action to help solve the pressing issues facing agriculture and food security.
Drought on the US West Coast is tightening its grip on California agriculture, squeezing 30% more workers and cropland out of production than in 2014, according to the latest drought impact report by the UC Davis Center for Watershed Sciences.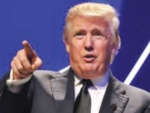 According to US political magazine Politico Donald Trump's brash talk about stopping undocumented immigration has excited Republican primary voters, turbocharged…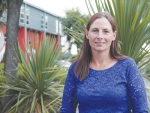 The Health and Safety Reform Bill grabbed many headlines because of farming activities that are deemed high risk, and those…
Few trade agreements have generated as many column inches – or as much protest - as the Trans-Pacific Partnership (TPP).
The dairy downturn could be an indicator of how the economy will suffer if farmers have to reduce inputs to…
It seems that farmer/shareholder ownership of primary sector entities is almost worshipped in some quarters.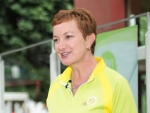 Zespri will host their inaugural Kiwifruit Innovation Symposium on 29 October in Mt Maunganui.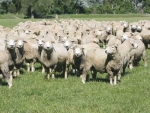 Primary Industries Minister Nathan Guy recently launched a new scheme to lift the productivity and profitability of sheep and beef…
Bull prices are soaring and farmers are urged to insure against losses.
Beef + Lamb NZ has released its New Season Outlook 2015-16, which predicts a lift in before-tax profits for the…
The rural sector will need a major financial re-set as a result of the current low dairy prices, says the…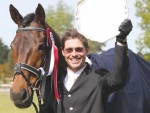 In the early 1980s the sport of eventing was emerging as a possible contender for international honours.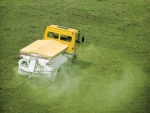 Come snow, drought or falling returns, Ranfurly sheep and beef farmer Johnny Girvan always limes, says his lime supplier Graymont.
It was a Saturday afternoon and it had been raining for two days; Taranaki farmer Graham Fergus decided to move his ewes on a hilly paddock.
Sheep farmers busy with tailing/docking of lambs are being urged to take extra care of their backs.
Entries representing every aspect of New Zealand farming have been received for the 2015 Lincoln University Foundation South Island Farmer of the Year award.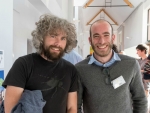 Lincoln University students are scouring the country to discover new insect species and keep ahead of potential threats to agriculture…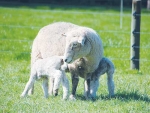 Massey University's International Sheep Research Centre has for ten years researched top tips for lambing -- getting the most out…
Proactive farming and a stringent plan is credited for minimising the impact of the industry-wide ban on routine inductions which…
The Ministry for Primary Industries (MPI) has complimented farmers on their animal welfare management during the lengthy North Canterbury drought.
My dear old Jean was one of the best mustering dogs I ever saw. She was black and tan with…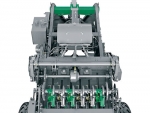 German harvest specialist Claas will take away a silver medal from the upcoming Agritechnica show for its automatic pressure control…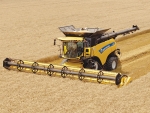 The New Holland flagship CR 10.90 holds the Guinness World Record for harvesting nearly 800 tonnes of wheat in eight…
Looking at the diverse range of machinery parked in the average farmer or contractor's shed it's easy to forget that…
The winner of the Machine of the Year 2015 (seeding category) at this years' Paris Show, the Kuhn Espro 6000…
Manitou, the French materials handling specialist, has expanded its range of industrial forklifts with eight new models of 5-10 tonnes…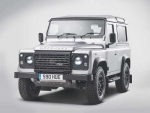 The saying goes "the only good thing to come out of Birmingham (UK) is the M6 motorway", but just a…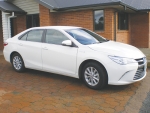 Firstly, in my defence, I'm a 1970s petrolhead who knew his way around Cortina, Capri and Weber carburettors no problem,…
As a dedicated SUV driver who likes the elevated seating position to do a little 'over the hedge' farming, the…
No longer able to claim the coveted 'most powerful in class' tag for the Navara, Nissan has instead grabbed best-in-class…
The 2005 launch of the Nissan Navara D40 really tested its mettle, the media drive event hammering the trucks through…
»

Latest Print Issues Online
Studies show that people who grow up on farms – especially dairy farms – have way fewer allergy and asthma…
Your old mate had to giggle at a recent media proclamation from the Waikato Regional Council. The local government body boldly…
»

Connect with Rural News
»

Popular Reads

Fonterra is urging its farmers to streamline the use of palm kernel expeller (PKE) on farm.

The Ministry for Primary Industries (MPI) has complimented farmers on their animal welfare management during the lengthy North Canterbury drought.

Sheep farmers are being encouraged to enter the Canterbury A&P Show's new and improved Mint Lamb Competition after an overhaul…
»

Events Calendar

08 October - 08 October





09 October -





13 October - 13 October





14 October - 18 October





15 October -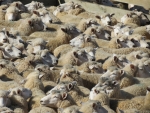 John Dawson, CEO of NZWSI, reports that the South Island sale this week saw a strong market with steady support.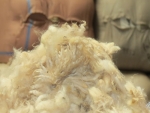 A firming NZ dollar and more reserved overseas buying combined to lower most prices at this week's wool auction, says…
Canterbury's rural primary schools have been given a welcome boost, thanks to the support of local farmers and fertiliser company,…
A course teaching farmers the basics of computing has attracted investment from the red meat sector.
Sheep farmers are being encouraged to enter the Canterbury A&P Show's new and improved Mint Lamb Competition after an overhaul…