»

Featured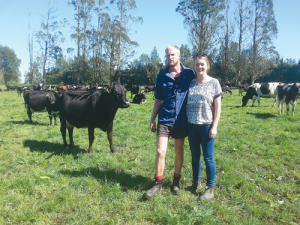 Markus Woutersen has just begun his dairy career but his low cost operation is already attracting industry attention.
Pollution from urban stormwater is putting pressure on communities and local authorities in their efforts to ensure our rivers and waterways remain healthy.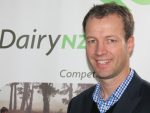 DairyNZ is encouraging farmers to lock in the gains achieved in the past two seasons, as a pasture-first farm system will continue to provide payback as the milk price rises.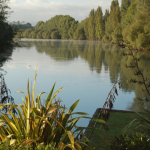 A groundbreaking plan change proposal aimed at restoring and protecting the Waikato and Waipa rivers has been approved by Waikato Regional Council for public notification.
HP New Zealand (HP NZ) is asking rural students to share their vision of how they think they will learn in the future to be in the running to win a share of $26,000 worth of HP products and support.
Dairy farmers who fail to keep written employment agreements or time records can expect to receive a sharp shock, as the Labour Inspectorate launches a nationwide probe into compliance in the industry.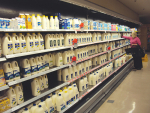 Australia's milk production is set to fall significantly in the 2016-17 season due to the damage caused to farm cashflows…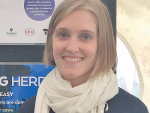 Twenty-seven dairy farms in Australia will be put under the microscope in an effort to prove a link between genetic…
Fonterra had offloaded the business claimed to make Australia's best coffee milk.
Embattled European dairy farmers are to get another $780 million to help them weather the downturn.
Canadian-owned Warrnambool Cheese and Butter Company, Victoria, saw its net profit slump 88% last year.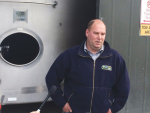 Farmers need to start asking companies to get behind existing technology to make life easier for farmers when it comes…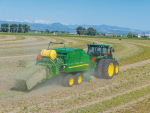 Recent debate about unemployed New Zealanders and their keenness – or lack of it – to gain work was sparked…
The cooperative business model has stood the test of time and thrives worldwide; New Zealand is an outstanding example of…
The question many people are asking is, 'which trade deal will it be: the Trans Pacific Partnership (TPPA) or the…
When you exercise your vote in the local body elections in October, make it count towards candidates who understand the…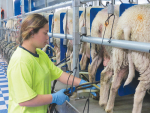 Interest in dairy sheep is slowly but surely rising in New Zealand, claims real estate company Bayleys.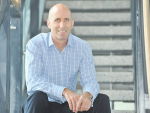 New Zealand agri technology could boom and lead the world in that market, says NZTech chief executive Graeme Muller says.
Being the only female worker on a deer farm has never fazed Emma Coutts, after years of experience around deer.
Dairy Womens Network (DWN) fills many gaps for women in rural areas, including providing a social network and upgrading their…
With 66% of Kiwis now buying organic food, prospects for organic producers look ever more promising, comments real estate firm…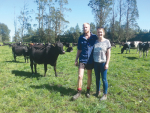 Markus Woutersen has just begun his dairy career but his low cost operation is already attracting industry attention.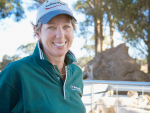 Managing ewes for maximum survival and profitability is underpinned by four key profit drivers, says Australian livestock consultant San Jolly.
Use of proven beef genetics delivers the goods on dairy farms, a five-year study has found.
Dairy effluent is a great source of nutrients for growing pasture, but managed improperly it can let loose lots of contaminants that harm waterways.
Entering the Taranaki Ballance Farm Environment Awards was a great challenge for Opunake dairy farmers Kenneth and Rachel Short.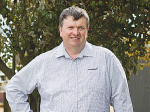 If you were to look at the range of lamb daily growth rates on sheep farms in New Zealand you would find a huge range from as low as 80g to 350g+/lamb/day.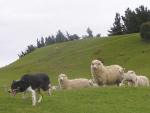 Dogs can be taught a lot of different commands, more than you would think; the thing to remember prior to training is to run through in your mind their other commands to make sure they all sound different.
A one-day free seminar on selenium next month in Hamilton will present data on boosting animal health and productivity, says the organiser, BEC Feed Solutions.
New frozen embryo technology could revolutionise dairy breeding techniques in Australia.
Farmers can no longer simply buy the cheapest drench, assume it is doing a good job of killing worms and not consider the longer term implications, says Jo Houlter, veterinary technical advisor, MSD Animal Health.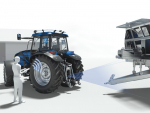 Safety comes high on the agenda of many tractor developers and manufacturers, but many industry watchers don't realise that much of the technology shown at annual shows and exhibitions comes from industrial giant ZF.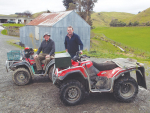 On a typical farm, ask the farmer what he loves most and he may answer: wife, dog and quad; and if the first is out of earshot the order may differ.
Labradors and Kiwi farmers love water, the former for swimming and the latter for ballasting tractors by filling the tyres with the stuff.
A UK research company suggests the market for agricultural robots and drones, now about $3 billion annually, will balloon to $10b by 2022.
Getting crops into the ground relies on a drill that is accurate, fast and, in these high-tech days, easy to use.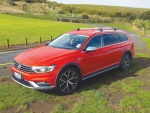 At a recent vehicle launch I mentioned to a fellow journalist that I was getting the Volkswagen Passat Alltrack to…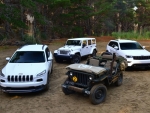 Jeep is celebrating 75 years of 4x4, military history and outdoor adventure in 2016 and to mark the event, Jeep…
Utes are big business in New Zealand, making up around 25% of the market, and seen from Ponsonby to Papatowai…
High demand is anticipated for the new Suzuki Vitara Turbo soon to be launched in New Zealand.
A new, easy-to-use cover for utes that doesn't require holes drilled into the bodywork will be taking pride of place…
»

Latest Print Issues Online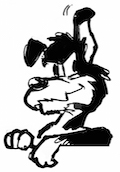 Your canine crusader had to giggle at the latest spin coming out of Lincoln University, now engulfed in a financial…
The Hound had to shake his head at the performance of the Hastings District Council (HDC) and the debacle it…
»

Connect with Rural News
»

Popular Reads

Don't wait for the technology to be proven – the age of the farming drone is here now, say two…

New hydrofan washdown nozzles launched four months ago are selling in numbers exceeding expectations, says Peter Reid, director of Numedic.

Leeston, Central Canterbury arable farmer David Birkett has unofficially smashed the world record wheat yield by at least 1 tonne/ha.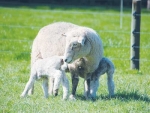 Despite a strengthening NZ dollar, the varied selection at this week's South Island auction attracted strong support.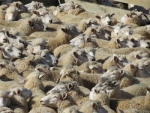 The North Island wool auction received revived support this week with an improved 81% of the 5700 bales selling.
The word ozone conjures up images of big holes in the atmosphere, stronger UV light, the risk of severe sunburn…
Drones may soon be joining the armoury of weapons used to scare birds away from ripening grapes after a trial…
Nicky Hutchinson "never dreamed" of becoming 'The Boss'.