»

Featured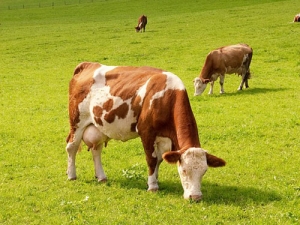 While dairy faces another tough year, Rabobank foresees a generally strong year ahead for most other agricultural sectors.
Release of a type of parasitic wasp is proposed as a biological control agent to combat a psyllid - plant louse - that attacks tomatoes, potatoes, capsicums and tamarillos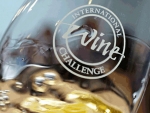 The deadline for entries into the IWC is drawing near.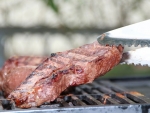 Entries for the Steak of Origin challenge close on February 19.
Achieving world renown in less than three decades, is something everyone involved in the Central Otago wine industry is justifiably proud of.
A new book, launched in style with a Hawke's Bay Winegrowers' function held at the Mission, salutes the vineyards, wineries and people that make up the 166-year history of the region's people, vineyards and wineries.
The Nelson Marlborough Institute of Technology (NMIT) has provided a state-of-the-art sensory room to their Marlborough Campus.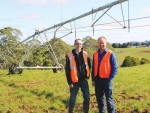 Researchers at the Tasmanian Institute of Agriculture (TIA) are developing a system that tells you when to irrigate your pasture,…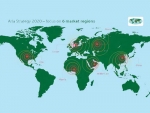 European dairy cooperative Arla Foods is receiving more milk from farmers than ever before.
Exploring how agricultural biotechnologies can benefit small-holder farmers particularly in developing countries will be the subject of an international symposium…
Fonterra is welcoming the Government's move to lift restrictions on trade with Iran, a key butter partner.
Zespri's SunGold or G3, has been named as fruit and vegetable product of the year by Lebensmittel Praxis, one of…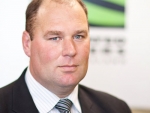 Another fortnight passes and we have another lacklustre Global Dairy Trade result and Fonterra confirming it has revised its milk…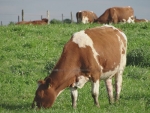 Analysts are now picking a dairy price recovery by the end of the year. Haven't they said that for the…
1999 ... $0.1 billion of wine exports, 2006 ... $0.5 billion of wine exports, 2010 ... $1.0 billion of wine exports, 2015 ...…
Wanted: people who know what to do and do it well, especially when the going is really, really tough –…
Recently there has been a lot of negative news and comment about economic conditions in China – the slowing growth,…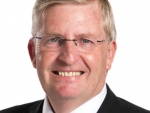 Well-known agribusiness leader Peter Nation has been appointed the new National Fieldays Society chief executive.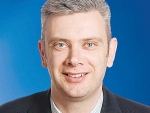 The international head of agribusiness at KPMG Ian Proudfoot has a sombre message for dairy farmers.
MPI says while recent rains have brought welcome respite from dry weather in much of the country, farmers in drought-affected…
Fonterra's revamp of its struggling Australian business continues with the impending sale of yoghurt and dairy desserts range.
Leasing support land can work very well, however it commonly involves a big investment of time and money.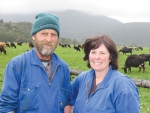 West Coast dairy farmer Renee Rooney and her husband Greg farm in the small settlement of Inchbonnie, near Greymouth.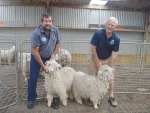 Northland goat farmer David Brown is expanding his business.
Pioneer nutritionist, Dr Bill Mahanna, recently wrote his 52nd and final column for Feedstuffs, a pre-eminent USA feed and feed industry magazine.
Neil and Dot Smith are a far cry from the days of when they had to walk their cows for two days to get to their winter grazing.
West Coast dairy farmer Renee Rooney is one of many young women who are playing a more active part in farmer politics...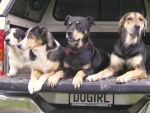 A recent dog poisoning following an aerial pest control operation in the Taupo region highlights the importance of complying with warning signs and taking steps to protect pets, says OSPRI.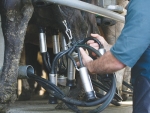 "If you invest dollars and a little more time in AI and genetics you will make more money, it is that simple,"
Heat stressed cows eat less with a consequent drop in milk production, says Jenny Weston, president of the dairy cattle branch of the New Zealand Veterinary Association.
A cool cow in summer is a happy cow, says DairyNZ animal welfare team manager Chris Leach.
A combination of unusual conditions has bothered sheep farmers Hamish and Alastair Craw on their Banks Peninsula farm, Longridge Agriculture Ltd, for 10 years, says Ravensdown.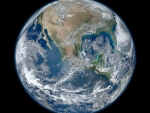 The world economy has veered into difficult and dangerous waters, suggesting 2016 will be a long hard year of slow recovery in prices in global food commodity markets, including dairy.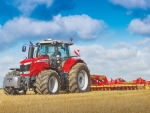 With the new year comes a new range from the Massey Ferguson Camp – the 7700 series, which will take the place of the award winning 7600 series.
Farmgard has recently expanded its already extensive range with the addition of Rolland muck-spreaders.
While many will argue whether the best silage is made by self-propelled harvesters or loader wagons, there's no doubt the latter has become popular over the last decade.
The saying once was roller balers for grass and belt balers for straw...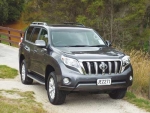 When it comes to four wheel drives the ubiquitous Toyota Land Cruiser has been around for 60 years, and the…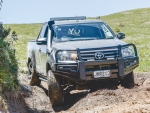 It wouldn't be speaking out of turn to call the Toyota Hi-Lux New Zealand's favourite ute.
Large passenger vehicles seem to have gone out of favour as the march of the once humble ute seems to…
The light truck market is 20% of the new car market in New Zealand, and the Toyota Hi-Lux has held…
The man from Volvo NZ said "would you like to review our XC 90?", and after driving one for a…
»

Latest Print Issues Online
Your old mate asks is it arrogance, stupidity or are they crying poor?
The Hound wonders what Massey University has against farming.
»

Popular Reads

Tractors, luv 'em or hate them, one thing is for sure - life on the farm would be hard without…

Canterbury farms are about to become the most technologically capable in New Zealand.

Fonterra's revamp of its struggling Australian business continues with the impending sale of yoghurt and dairy desserts range.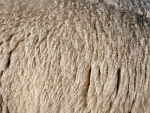 New Zealand Wool Services International chief executive John Dawson reports this week's auctions held in both centres saw slightly different…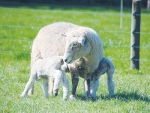 New Zealand Wool Services International marketing executive, Malcolm Ching reports that the 15,000 bales on offer from both centres this…
Drones may soon be joining the armoury of weapons used to scare birds away from ripening grapes after a trial…
Nicky Hutchinson "never dreamed" of becoming 'The Boss'.
56 years is a long time to stay in any one job, but it seems an especially long amount of…