Co-owner Nick White told Hort News that it had gone very well.
"It's a good crop that's come off and we have staff, which was something we were worried about.
"We've got a good steady crew here, just locals," he says. "I've got a lot of grower friends and the single biggest issue they're facing at the moment is staffing. It's a huge issue."
Mill Orchard is run by Nick and his wife Carey, along with daughter Kylie and son Luke. The Whites operate several orchards in the district, some owned by other family members - totalling about 22 hectares - and employing about 9 fulltime staff and a dozen casuals.
The company specialises in 'nutrient-rich' natural organic juices pressed onsite.
White says the family, already well-established in the district as woodworkers and furniture makers, became orchardists when his mother persuaded him to buy a nearby derelict orchard as a way to stop him "drifting" after he left school in the early 1980s.
"She was a clever lady," he says. "So, there was a lot of work and I became an orchardist."
His brother William later planted an orchard of his own and together they established an export pack house.
White says they later turned to juicing when they realised they had a lot of juice-grade fruit going to waste. Their aims was to provide an alternative to the established major brands, which often contained a lot of added sugars, colours, flavours or concentrates.
Initially sold alongside their bagged apples at local supermarkets, the juice has steadily taken over and is now sold nationally, primarily through Foodstuffs.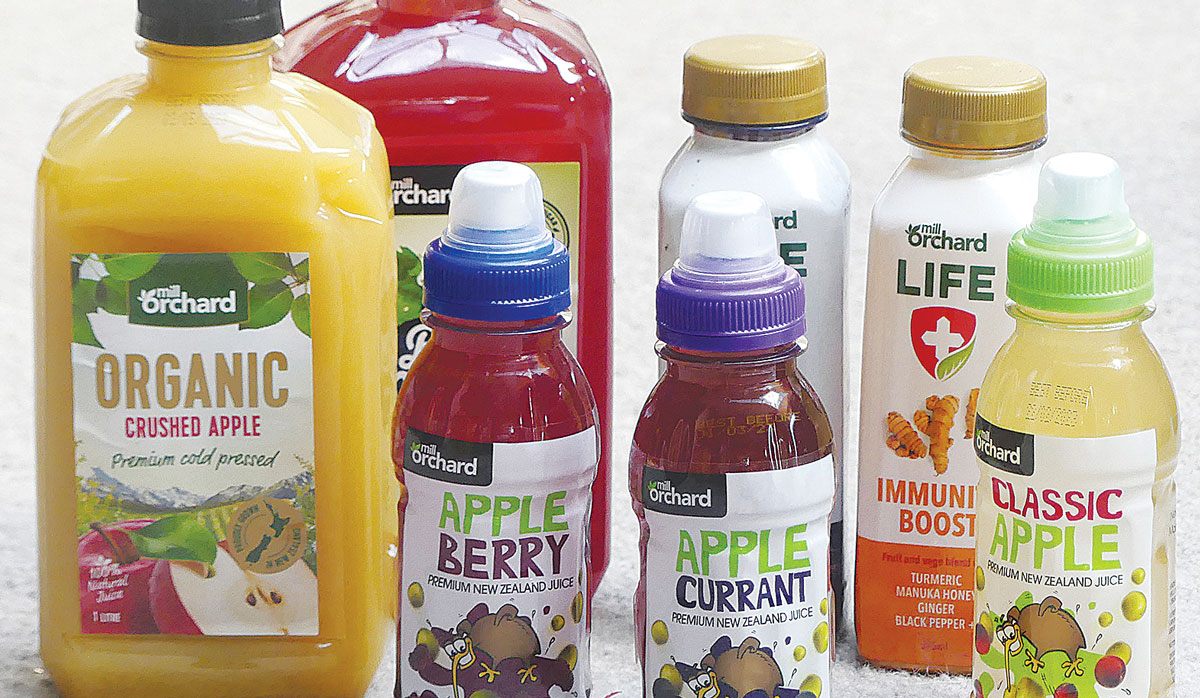 A selection of the Mill Orchard current range of juices. Photo Credit: Nigel Malthus.
Exports, mainly to Southeast Asia, Taiwan and China, make up about 20% of the volume and growing, White says.
Carey White handles most of the marketing and on the day Hort News visited, she was on a South Island road trip visiting retailers.
White says their son Luke is trained a chef and has a "phenomenal" sense of taste and blending flavours.
"He's just amazing. He's our chief batcher and chief comer-upper of new variants."
In the last 18 months, the Whites have launched two new products in their "Life" range with added health promoting ingredients - such as turmeric, ginger and mānuka honey.
The company also manufactures its own bottles onsite, using recycled bottles in the form of rPET pellets.
"It's about the smallest carbon footprint you can possibly get," White explains. "Our labels are rPET. Recycling is the way of the future."
With the season progressing, the company is currently pressing and bottling, while still picking its New Zealand Rose apples.
"There is something really special about a good crop coming off the trees," White adds.
While acknowledging that mechanical harvesting of apples may be coming, he reckons that even fruit for juicing needs to be handled carefully.
He says good sound fruit is needed that lasts well in controlled atmosphere storage.
"Because we juice 12 months of the year," White explains. "A lot of the fruit that we've actually grown for juice ourselves, we store until later this year, early next year."
Apart from a few low-volume imported ingredients - like the spices in the Life range - almost everything comes from the Whites own or other New Zealand orchards.
They grow a large variety of apples, from some very old to some very modern, the majority being Royal Gala, Braeburn, Granny Smith and Fuji. The juices are carefully blended to keep the flavours consistent throughout the year.
"If we can source it in New Zealand, we do. All the apples, all the oranges, lemons, blackcurrants, boysenberries, and mānuka honey."
White believes nothing matches New Zealand fruit.
"It's the very best fruit in the world and I've travelled the world."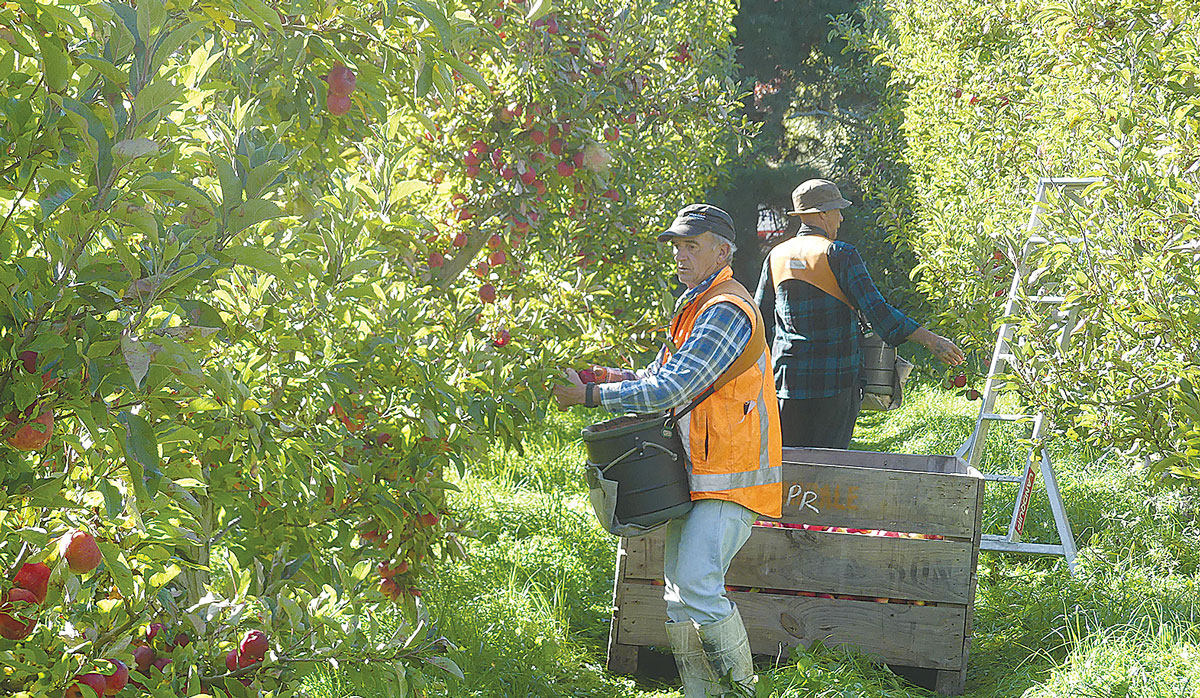 A picker at work in the rows of New Zealand Rose apples at Mill Orchard. Photo Credit: Nigel Malthus.
Each tonne of pressed fruit yields 700-750 litres of juice, for an annual production between 1.5 to 1.8 million litres.
Compared to the big boys, we're just a scale on the tail of the minnow," White says. "But it keeps us out of mischief."