Friday, 09 June 2017 09:53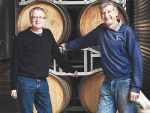 A group of producers in Marlborough believe the time has come for the region to adopt a 100% Pure strategy to protect the region's reputation and preserve the integrity and value of the Marlborough wine industry.
»

Latest Print Issues Online
A Marlborough winery is attempting to replace sulphur dioxide (SO2) from their organic Sauvignon Blanc and replace it with green…
Initially established as an inhouse programme by Lion New Zealand, Alcohol&Me is now reaching nearly 30,000 New Zealanders.
Could pesticides and genetically engineered food be causing rising health issues in children?