Displaying items by tag: 100% PURE MARLBOROUGH
Friday, 09 June 2017 09:53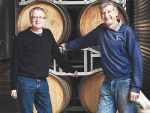 A group of producers in Marlborough believe the time has come for the region to adopt a 100% Pure strategy to protect the region's reputation and preserve the integrity and value of the Marlborough wine industry.
»

Latest Print Issues Online
A Marlborough winery is attempting to replace sulphur dioxide (SO2) from their organic Sauvignon Blanc and replace it with green…
Could pesticides and genetically engineered food be causing rising health issues in children?
The impetus behind developing the Klima stripper back in 2007 was a continual lack of labour during the pruning season.