Displaying items by tag: AITCHINSON
Wednesday, 05 June 2019 16:19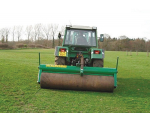 Flat rolling pasture, particularly in spring, is an effective method of pushing stones below the ground surface, so preventing damage to mowers, rakes and harvesters used subsequently.
»

Latest Print Issues Online
Sweden's milk war is now being played out on television.
The proposal to relocate Auckland Port to Northland continues to float in open waters.