Wednesday, 05 June 2019 16:19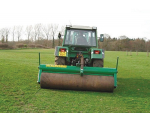 Flat rolling pasture, particularly in spring, is an effective method of pushing stones below the ground surface, so preventing damage to mowers, rakes and harvesters used subsequently.
»

Latest Print Issues Online
Kiwi farmers are not the only ones nervous about their future as a result of politicians throwing them under the…
Could a pink seaweed hold the solution to our methane emissions problem? Australian scientists think so.