Tuesday, 28 June 2016 10:33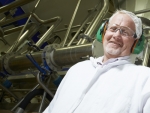 FoodWaikato's open access spray dryer at Waikato Innovation Park is operating at capacity, helping companies using it for research and development to grow their export markets.
»

Latest Print Issues Online
Is food vegan simply because it doesn't come from a cow? This question has puzzled one in five Britons.
The Fonterra shareholders council announced last week that elections will take place in 10 of its 25 wards.