Displaying items by tag: DairyAmerica
Thursday, 30 May 2019 08:46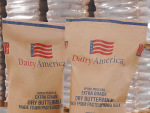 The largest milk powder producer in the US, DairyAmerica is coming back to Global Dairy Trade (GDT), re-launching skim milk powder on July 16.
»

Latest Print Issues Online
Mood swings are a well-known part of puberty, and it seems that's it is not just humans. Canadian research suggests…
Aussie farmers could be forgiven for recalling the name of their current Minister for Agriculture.