Displaying items by tag: FAMILY OF TWELVE
Tuesday, 04 December 2018 17:08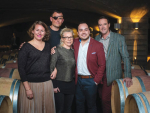 The numbers say it all. Twelve participants, 3600 wine tastes, 85 producers, 57 wine regions and 11 countries.
»

Latest Print Issues Online
A Marlborough winery is attempting to replace sulphur dioxide (SO2) from their organic Sauvignon Blanc and replace it with green…
Could pesticides and genetically engineered food be causing rising health issues in children?
The impetus behind developing the Klima stripper back in 2007 was a continual lack of labour during the pruning season.