Monday, 20 May 2019 11:00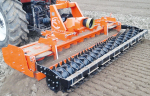 Founded in 1955, Pukekohe-based Fieldmaster is well known New Zealand-wide for its mowing and post driving equipment for the agricultural, orchard, viticulture and municipal sectors.
Tuesday, 10 May 2016 06:55
»

Latest Print Issues Online
Kiwi farmers are not the only ones nervous about their future as a result of politicians throwing them under the…
Could a pink seaweed hold the solution to our methane emissions problem? Australian scientists think so.