Displaying items by tag: Fonterra brands
Tuesday, 11 August 2015 09:15
Monday, 13 October 2014 10:18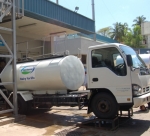 THE SRI Lanka's Ministry of Health has lifted the temporary hold on the sale of three batches of its 400 gram Anchor full cream milk powder.
»

Latest Print Issues Online
If someone turns up on your farm, selling Stihl 461 chainsaws, please shout out. That's the message from NZ Young…
Cows do talk, researchers say.