Wednesday, 05 June 2019 16:26
Thursday, 27 September 2018 11:32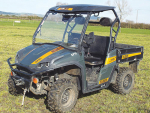 We looked briefly at the Landboss in October 2017, but more recently spent a week driving the latest version onfarm in Waikato just as spring showed its hand.
»

Latest Print Issues Online
Is food vegan simply because it doesn't come from a cow? This question has puzzled one in five Britons.
The Fonterra shareholders council announced last week that elections will take place in 10 of its 25 wards.