Wednesday, 05 June 2019 16:26
Thursday, 27 September 2018 11:32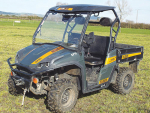 We looked briefly at the Landboss in October 2017, but more recently spent a week driving the latest version onfarm in Waikato just as spring showed its hand.
»

Latest Print Issues Online
UK vegans are demanding a law change to ban discrimination against plant-based eaters in workplaces.
Even more fibreglass cows may join those seen 'grazing' Morrinsville streets for four years.