Sunday, 18 October 2015 12:12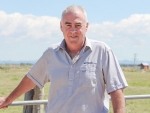 Weather forecasters are predicting an El Nino weather pattern this season which could be the strongest yet, resulting in a drought similar to the 1972-73, 1982-83 and 1997-98 events.
»

Latest Print Issues Online
Is food vegan simply because it doesn't come from a cow? This question has puzzled one in five Britons.
The Fonterra shareholders council announced last week that elections will take place in 10 of its 25 wards.