Displaying items by tag: MIKE BAILEY
Sunday, 18 October 2015 12:12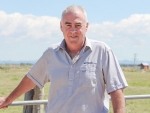 Weather forecasters are predicting an El Nino weather pattern this season which could be the strongest yet, resulting in a drought similar to the 1972-73, 1982-83 and 1997-98 events.
»

Latest Print Issues Online
Mood swings are a well-known part of puberty, and it seems that's it is not just humans. Canadian research suggests…
Aussie farmers could be forgiven for recalling the name of their current Minister for Agriculture.