Displaying items by tag: NEW IMAGE GROUP
Thursday, 12 September 2019 08:55
Tucked away at Paerata, south of Auckland, is another success story of New Zealand's dairy industry.
Monday, 23 November 2015 09:58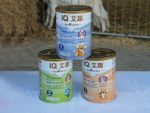 New Zealand manufacturer of nutritional and wellness products, NIG Nutritionals (NIGN), is seeking capital to help it meet strong demand from China and wider Asian markets.
»

Latest Print Issues Online
Was Fonterra caught napping in Australia?
Wannabe kiwi James Cameron is back in the country, under a special visa, to continue filming his movie during the…