Wednesday, 26 November 2014 00:00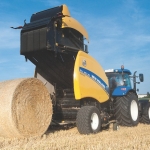 FORTY YEARS of making its Roll-Belt balers, and sales of 235,000 machines, is prompting manufacturer New Holland to affix a '40-year' decal to a new variant of this globally popular machine, the company says.
»

Latest Print Issues Online
Is food vegan simply because it doesn't come from a cow? This question has puzzled one in five Britons.
The Fonterra shareholders council announced last week that elections will take place in 10 of its 25 wards.