Displaying items by tag: feeding systems
Wednesday, 26 November 2014 00:00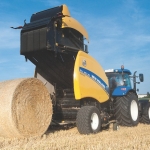 FORTY YEARS of making its Roll-Belt balers, and sales of 235,000 machines, is prompting manufacturer New Holland to affix a '40-year' decal to a new variant of this globally popular machine, the company says.
»

Latest Print Issues Online
Mood swings are a well-known part of puberty, and it seems that's it is not just humans. Canadian research suggests…
Aussie farmers could be forgiven for recalling the name of their current Minister for Agriculture.