Displaying items by tag: BLM FEEDS
Wednesday, 10 June 2015 14:20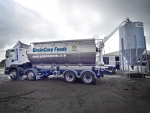 GrainCorp Feeds, formerly BLM Feeds, will officially unveil its new-look at this year's National Fieldays at Mystery Creek in Hamilton.
Finnish dairy company Valio is on a mission to reduce milk's carbon footprint to zero by 2035.
The man who coined the term 'Gypsy Day' is slightly miffed that a term he introduced to New Zealand's farming…
Dairy farmers are being told to brace for a big drop in milk payout next season.
OPINION: There is another pandemic sweeping the nation.
Former Fonterra chairman Sir Henry van der Heyden will be offering his thoughts on the future of the NZ dairy…