Tuesday, 28 June 2016 11:55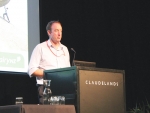 A UK expert has warned that less-than-ideal onfarm biosecurity in NZ could lead to a more widespread outbreak in the event of a serious animal disease epidemic here.
»

Latest Print Issues Online
Is food vegan simply because it doesn't come from a cow? This question has puzzled one in five Britons.
The Fonterra shareholders council announced last week that elections will take place in 10 of its 25 wards.