Displaying items by tag: CHRIS MORLEY
Tuesday, 28 June 2016 11:55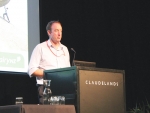 A UK expert has warned that less-than-ideal onfarm biosecurity in NZ could lead to a more widespread outbreak in the event of a serious animal disease epidemic here.
»

Latest Print Issues Online
Mood swings are a well-known part of puberty, and it seems that's it is not just humans. Canadian research suggests…
Aussie farmers could be forgiven for recalling the name of their current Minister for Agriculture.