Displaying items by tag: DUNG BEETLE INNOVATIONS
Tuesday, 08 December 2015 10:34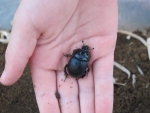 A colony of much sought-after dung beetles are up for auction to raise awareness and kick off a science education project.
Thursday, 22 October 2015 09:37
»

Latest Print Issues Online
Mood swings are a well-known part of puberty, and it seems that's it is not just humans. Canadian research suggests…
Aussie farmers could be forgiven for recalling the name of their current Minister for Agriculture.