Displaying items by tag: ESTROSCAN
Friday, 27 July 2018 08:55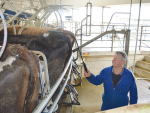 An automated RFID heat detection system developed in New Zealand has delivered the best-ever mating result for a Waikato farmer.
»

Latest Print Issues Online
If someone turns up on your farm, selling Stihl 461 chainsaws, please shout out. That's the message from NZ Young…
Cows do talk, researchers say.