Displaying items by tag: FIRSTLIGHT WAGYU
Friday, 29 April 2016 09:55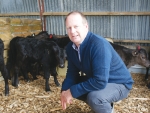 Dairy farmers wanting to spread risk and income source are enquiring about Firstlight Wagyu genetics, says the company's supply manager Peter Keeling.
»

Latest Print Issues Online
Mood swings are a well-known part of puberty, and it seems that's it is not just humans. Canadian research suggests…
Aussie farmers could be forgiven for recalling the name of their current Minister for Agriculture.