Displaying items by tag: NEW ZEALAND INTERNATIONAL BUSINESS AWARDS
Wednesday, 12 October 2016 10:40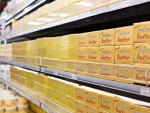 Westland Milk Products has been named as one of four finalists in the Best Use of Design category for this year's New Zealand International Business Awards.
»

Latest Print Issues Online
Sweden's milk war is now being played out on television.
The proposal to relocate Auckland Port to Northland continues to float in open waters.