Displaying items by tag: ROCE
Thursday, 19 November 2015 11:55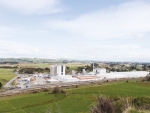 Fonterra's return on capital sits at the bottom end of the range of returns of other global dairy co-ops, says the Shareholders Council.
»

Latest Print Issues Online
The New Zealand Anti-Vivisection Society, a lobby defending animals used in science has turned its attention to Lincoln University.
On the topic of milk supply…..New Zealanders may not need to freeze milk.