Displaying items by tag: light proof
Friday, 14 June 2013 15:33
Friday, 22 March 2013 09:35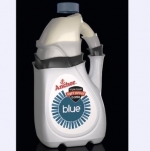 Kiwis now have more reasons to enjoy the delicious taste of fresh milk more often, thanks to Anchor's introduction of New Zealand's only triple layer, 100% LIGHT PROOF bottle.
»

Latest Print Issues Online
If someone turns up on your farm, selling Stihl 461 chainsaws, please shout out. That's the message from NZ Young…
Cows do talk, researchers say.