The survey's responses were collected from 940 employers on 13 separate farm positions across the dairy, sheep and beef and arable sectors.
In addition to information on salaries, the report also provides a range of other data including weekly hours worked by employees, employee age, length of employment and recruitment ease.
The report shows all surveyed positions in the dairy sector over the last year with the most notable jumps for the mid to highly skilled positions of Assistant Herd Manager (6.6%), Herd Manager (5.5%) and Farm manager (5.5%). There was also a more modest increase for the entry level farm assistant position (2.8%).
"After a couple of years of very little growth in reported salaries, it's good to see some meaningful movement in the face of a tight labour market, especially when you consider the current rate of inflation is sitting at just 1.1%.
"We would also expect to see farm salaries continue to move north over the remainder of the year because the majority of the key agricultural sectors have performed strongly over the last 12 months.
The outlook for the next 12 months is also favourable."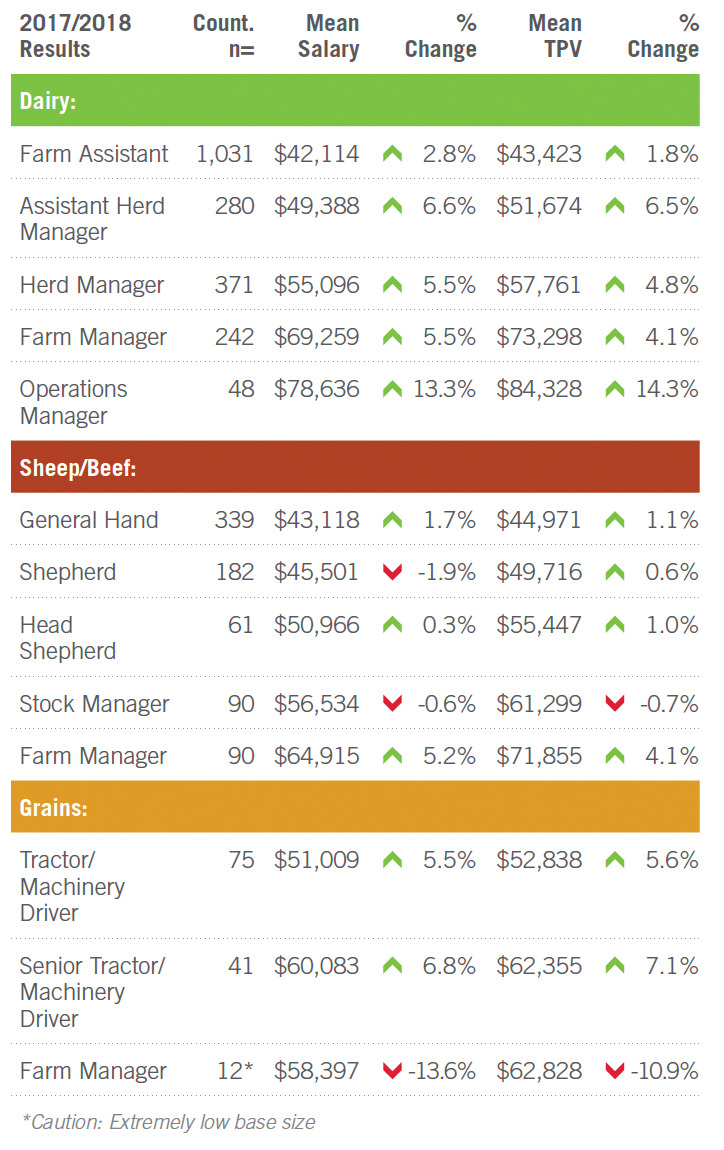 While salaries were up for dairy farm workers, the survey also revealed dairy employees were working longer hours.
"The weekly hours worked by permanent dairy staff in the previous year's survey was an average of 45 hours per week. This has now risen to 49 hours.
"Over 63% of dairy sector employers report it being 'not at all easy' or 'not very easy' to find employees and the longer hours could well be a result of dairy farmers and their current employees having to work to cover vacant positions."
For the arable sector, the report found strong growth for most positions while a drop in the mean salary of arable farm managers was recorded.
"Generally there has been good salary growth for those employed in the arable sector since the last report with the average salary increase for non-management positions up by close to 6%."
Employees in the sheep and beef sector saw stable salaries overall – although there was a significant jump in mean salary for the sheep and beef farm manager position which rose by 5.2% since the previous survey.
IPSOS has conducted the annual Employee Remuneration survey on behalf of Federated Farmers and Rabobank since 2012.
This latest report collates the results from the survey conducted late 2017 and early 2018; survey respondents provided information on over 2862 positions. The information in the report relates to permanent (FT), part-time and casual employees. It should be used as a guide only on remuneration in the agricultural sector, as the survey was restricted to members of Federated Farmers, DairyNZ, Beef+Lamb NZ and the Foundation for Arable Research (FAR).
The report covers:
- Information relating to permanent (FT), part-time and casual employees;
- Basic annual salary;
- Total remuneration (TPV = Total Package Value)
- Hourly rates for casual and permanent (FT) employees;
- Remuneration trends since 2009 for each surveyed position;
- Information regarding employees such as age, length of employment and legal status of employees;
- Information regarding understanding the capability of employees and their training proficiencies
Summary
Particularly interesting findings from the survey include:
- Overall, over a third of employees (40%) have been employed for less than one year. Short lengths of employment are particularly evident in the more junior positions such as Dairy Assistant (58%) and Sheep / Beef Dairy Hand (52%).
- Most employees (84%) are New Zealand citizens / permanent residents, with only 15% employed on a working holiday visa or a temporary work permit. The proportion of migrant labour is again higher for the Dairying positions, 22% vs.2% for Sheep / Beef.
- 91% of permanent (FT) employees have written contracts (94% for Dairy, 81% for Sheep / Beef).
- Accommodation is provided to 80% of Permanent employees (significantly higher for Dairy 86% vs.76% for Sheep / Beef).
- Most employers say their employees (92%) are 'very satisfied' or 'extremely satisfied' with at least one of their employees' performance. No difference by industry (89% for Grains, 91% for Dairy, 92% for Sheep / Beef).
- 54% of employers reported it as being 'not at all easy' or 'not very easy' to find employees, compared to 37% who reported as being 'very easy' or 'extremely easy'. Dairy positions are generally perceived as harder to fill (63% for Dairy vs.41% for Grains and 34% for Sheep / Beef).
- 46% of employers claim to have not provided any formal training to their staff. However, Dairy seems to have the most training out of all industries (57% for Dairy, 27% for Sheep / Beef).
- 98% of employers surveyed are Federated Farmers members.
The 2017 Remuneration Survey shows that employees' mean salaries and total package value (TPV) were somewhat similar compared to the 2016 Survey, with the change shown in the adjacent % change column.
- Want to keep up-to-date with the latest food & agribusiness insights? Tune into RaboResearch Food & Agribusiness Australia & NZ podcast channel.