Northern Districts

Peter Jones, Chair of Northern Winegrowers
What will vintage 2020 be remembered for?
Two key points from vintage '20 - it was the best vintage seen in Northland for 20 years, with perfect growing conditions all through the season, culminating in high quality fruit from all around the region. The other is obviously Covid and the lockdown, although the majority of the fruit was already in the wineries before the lockdown restrictions came into place.
How has this season progressed?
This season is shaping up to be another excellent one, with the predicted La Niña conditions not eventuating. Low rainfall and hot days have been the story of the summer so far. Frost and hail are not a consideration up here. Flowering was even and crop loads are looking about average.
How have you prepared for the 2021 vintage?
Labour-wise, we normally have a large pool of international backpackers who we can call on, and so the border closures mean we have had to focus more on locals, although there are a small number of internationals still around.
The smaller size of our wineries and vineyards mean that we can identify labour resources early and work with them. There's not much we can do about Covid, other than be prepared to reintroduce the systems we put in place 12 months ago if necessary.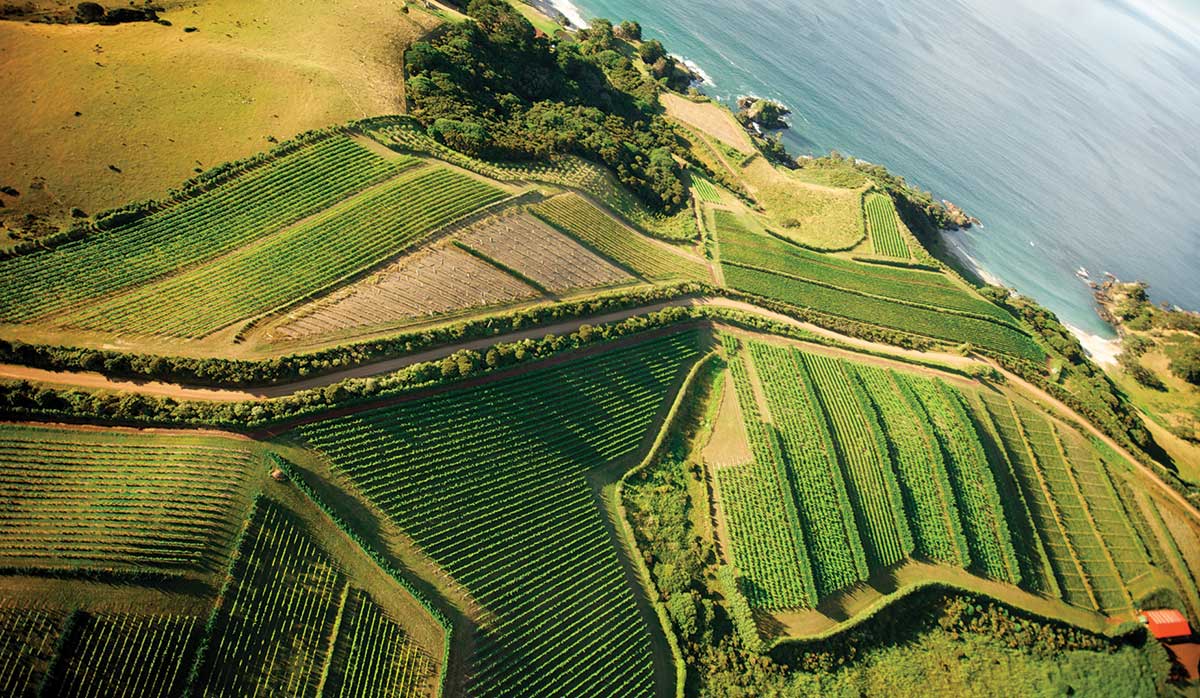 Man O' War.
Gisborne

James Milton of Milton Vineyards
What are the biggest learnings from the past year?
The importance of a good strong team and watching out for each other. A social connection an mindfulness is required.
Work and Income and other employment agency systems seem so out of touch with the current demand for a sustainable workforce, both economically and socially, which is overloading the requirements of a small winegrowing operation.
On another note is the direction for eliminating the use of the glysophate and therefore needing to find and alternative for undervine weed management.
How has this season progressed?
Budburst was eight days early, in early September, and several nights of frost caused a concern.
There has been a great increase in new plantings - Sauvignon Blanc in particular - which may slow the advance of apples and kiwifruit in this region.
Our maritime climate has been enhanced by cooling sea breezes in the afternoons, but flowering conditions (10 days early) were quite hot and saw norwest winds. There has been good vegetation growth on our dry farmed vineyards and little rain, although quite humid conditions have put pressure on powdery mildew control, with some growers closing up their spray programmes to a seven day interval.
Crop loading is looking adequate, with some companies lifting the ceiling of yield constraints. At the time of writing (21 January) veraison is advancing, Pinot Noir is colouring up and early Chardonnay blocks further inland are already getting attacked by the birds. The gas bangers started going off at sometimes ungodly hours of the early morning about seven days ago, and we think harvest will be 10 days early.
How have you prepared for the 2021 vintage?
Many vineyards are machine harvesting and this trend will increase as our usual cluster of international interns are not coming. Several growers are now providing vineyard accommodation for pickers - and then for pruning.
As the months become more chilly, we have more people wishing to come to our mild and pleasant climate. Wine styles demanded by consumers are becoming more diverse, and the virtual portals for wine tastings are saving a lot of time and money, and giving us more time in the vineyards.
Hawke's Bay

Tony Smith, Babich Wines Hawke's Bay Viticultural Manager
How has this season progressed?
The season started warm and dry, and budburst threatened to come early with swollen buds in Chardonnay mid-August. Aside from the dozen or so mornings with windmills running off and on, there were seven events that needed water frost protection - mostly dawn dips. So, no frost damage gave us a good start.
The weather over flowering wasn't ideal - in a nutshell it was wet and cold for white flowering, and wet and warm for reds. Aside from the possible latent botrytis infections, the weather over flowering may have caused a very slight decrease in Merlot only. All other varieties have set well.
With the total rainfall for November being 160-odd millimetres, and then a dry December, canopies pushed along well. That put some pressure on labour availability, as the pressure point usually comes in January for Babich Wines.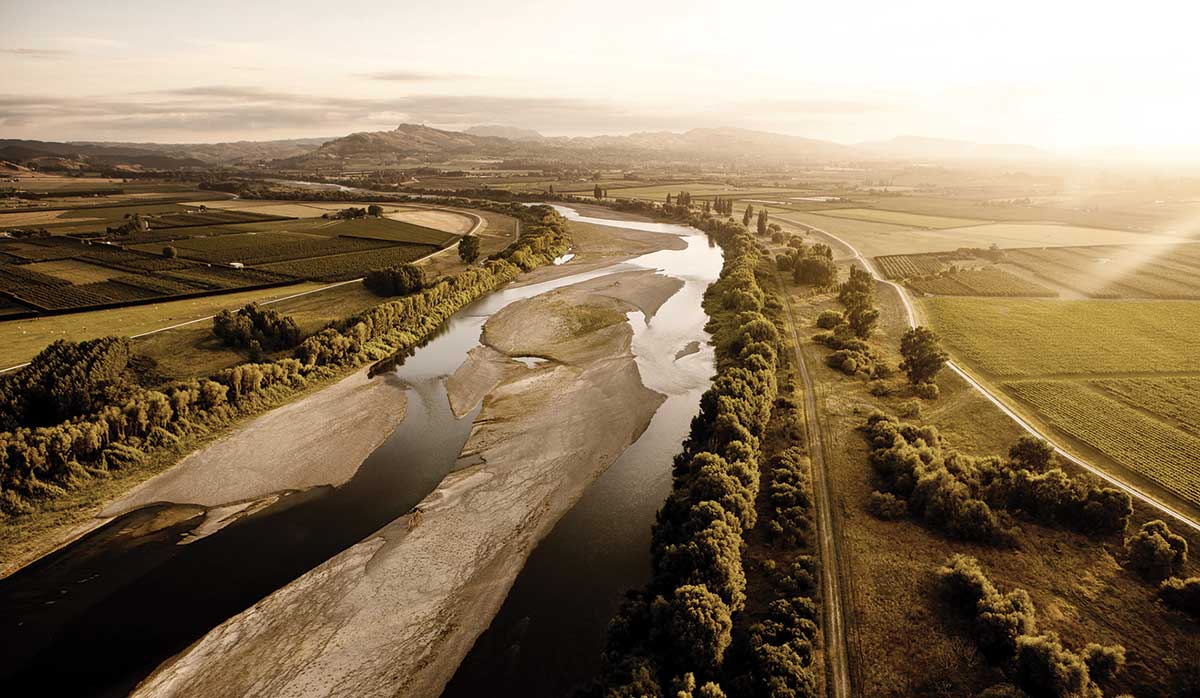 Craggy Range.
How are labour challenges being met?
The approach Babich Wines Hawke's Bay has had towards seasonal labour for many years is now helping us through this difficult time with labour shortages.
We use a core crew that is spread between apples and grapes, so there is an ebb and flow between the two. These are good solid people who know what they are doing and, as with most things in life, it all comes back to relationships.
With the advancements in machine picking producing such clean picks with berries intact (variety dependant of course), our reliance on labour for picking is much reduced and predominantly focussed on Chardonnay. That said, the upcoming harvest combination of both apples and grapes is no doubt going to put a huge strain on both industries.
What are growers hoping for in coming weeks?
Although the weather experts are predicting a warm but wet end, I'm really hoping to be sampling in my summer boots and not gumboots this harvest. Keep this under your hat until post-harvest - if it stays dry until we have it all in tank, V21 could set the bar even higher than V20. If it gets wet... I didn't say a thing!
Gordon Russell, Esk Valley Winemaker
What will vintage 2020 be remembered for?
It was the most memorable vintage of my career for a variety of reasons.
As luck would have it, it was earliest vintage since 1989 which meant when we faced lockdown we had alreayd harvested a large percentage of our crop. This made the new conditions of harvest easier than they would have been otherwise.
The wines also are, and will be, memorable. After a record-breaking period of warm and dry weather, the crop was in perfect condition and unlike many 'great harvests', both whites and reds excelled.
Lastly, having to spend the month of lockdown living on site was a unique experience.
What's been the biggest learning over the past year?
Zoom. Who would have thought we could conduct tastings online?
How have you prepared for the 2021 vintage?
With the unavailability of foreign winemakers for harvest we are having to invest in training new entrants to the industry. This is obviouslt adding cost and complexity.
We will also have to be very selective on which of our vineyards we hand harvest, given availability of labour. Luckily, Villa Maria has invested heavily in Pellanc Selectiv harvesters which continue to prove their worth, providing us with machine harvested fruit of a quality once unimaginable.
Wairarapa

Larry McKenna, Escarpment Vineyard Director
What are the biggest learnings from the past year?>
That the world and our part in it can change in a heartbeat. After more than 40 vintages I felt we had experienced most things, but having to change so much so quickly in the middle of vintage definitely required some new skills.
Flexibility and delegation was and is the key attribute.
How has this season progressed?
So far the Wairarapa is sitting in an ideal spot, as of 15 January.
Martinborough is about 100mm up on average rainfall wit 78 degree days, over average temperatures. Less wind over the past weeks has also helped reduce evapotranspiration so the vineyards are looking superb.
Crop loads will only be average at best, with some poorer flowering in December than hoped for. With veraison only weeks away, it's all go for the vineyard crews.
How have you prepared for the 2021 vintage?
After last year we are hoping that the worst of the learning curve is complete.
The only real concern at the moment is labour for hand harvesting. Plan B is to be able to receive machine harvested fruit which seems to be in hand for most people.
We are fortunate having both of last year's winery interns back again this year.
Marlborough

John Flanagan, Viticulturist at Cloudy Bay
How has this season progressed?
The season to date has been very much a mixed bag. The early budburst for some varieties meant dealing with some heavy frost events, which caused a bit of damage to Chardonnay and some of the earlier Sauvignon Blanc.
Our concerns about the drier than normal winter were alleviated with some very consistent rain events in spring, but the associated cold weather spells have impacted flowering across all of the varietals, and we're expecting lower crop levels this year.
That being said, the disease pressure is lower this growing season, and there is a real possibility of another high quality vintage, perhaps even higher than the exceptional vintage we saw in 2020.
We haven't seen too many days where the temperature has hit 30C, but that has meant the vines aren't shutting down during the day and things seem to be moving along very nicely.
How are labour challenges being met?
The labour challenges have been met through excellent collaboration between the contractors, industry bodies, and Government.
The anticipated shortfall through winter and into the summer work season never really materialised, thanks to this cooperative approach and willingness by all parties to find solutions.
There's also been a considerable sacrifice made by a large number of Recognised Seasonal Employer (RSE) scheme workers, who have stayed on in New Zealand and learnt new skills, where necessary. They've once again demonstrated how important they are to our industry, and their contribution cannot be taken for granted.
What are growers hoping for in upcoming weeks?
In the lead-up to harvest, growers will primarily be hoping that there is no spread of Covid-19 into the community, and that we are free to manage our harvest and winery operations without the difficulties we experienced in 2020.
We'd also be happy to see the rainfall in the mountains to keep the Wairau River levels up, and warm sunny days.
There are some reasonable signs that the vintage could be early this season, but we don't want it to be too early. We really like a bit of hang time to help with flavour development and to get the acid levels in balance. So we're not asking for too much at all, really.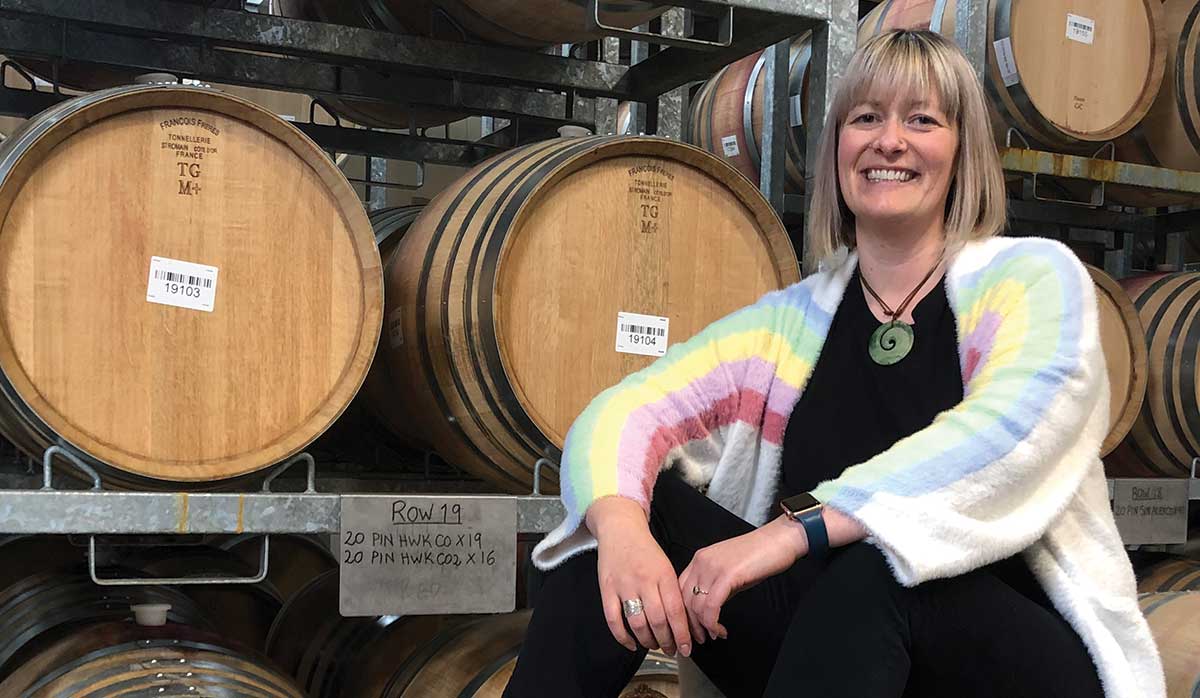 Spring Timlin.
Spring Timlin, Matua New Zealand Winemaker
What will vintage 2020 be remembered for?
It was the vintage of adaptability. News and health information changed daily and subsequently so did our HSE guidance, production plans and ways of working.
Every day we adapted to something new. Our team were asked to work in ways they never have, in situations where family and friends were often far away, under uncertain visa and immigration conditions, all while navigative flour, toilet paper and soap shortages.
Despite this, the New Zealand wine industry and its people are incredibly resilient, and 2020 was a cracker for good weather and fantastic quality wines.
What's been the biggest learning over the past year?
Simplification. We already thought we were quite efficient and uncomplicated, but 2020 taught us to push this even further, be more creative, and think of easier and better ways to do what we've always done.
We've further embraced the paperless cellarnote function of vintrace and are finding more ways for teammembers (even winemakers) to work from home.
Industry wide I've noticed there is more compassion for each other, coupled with an increased focus on wellbeing and a better understanding offlexible working. There have been some really beneficial changes to come out of Covid for the wine industry and its workers.
How have you prepared for the 2021 vintage?
We retained a few extra vintage cellarhands and a winemaker throughout the year to ensure we had depth of experience and knowledge for the coming vintage.
We're also fortunate to have a large number of returning cellarhands, and we're incredibly grateful for their skillset and prior knowledge of our ways of working.
Additionally, we are simplifying our paperwork, rehashing our intake flow and learning to better utilise our systems.
Nelson
Chris Seifried, Winemaker at Seifried Estate
What will Vintage 2020 be remembered for?
2020 will be remembered as a stunning vintage.
What should have been the easiest harvest, with wonderful fruit and super weather was turned on its head with Covid - new systems, protocols and social distancing around the business.
We are grateful that we were able to continue with the harvest, but many of our vintage staff decided to return home to Austria, France and Germany on repatriation flights which made for a hectic time for the already stretched winery crew.
How has this season progressed?
This year we had our most significant frost impact in mid-October with two vineyards suffering the most significant frost damage we have seen in more than 45 years of grape growing in Nelson.
Varieties hardest hit were Pinot Noir and Chardonnay, and we expect yields on the vineyards to be significantly reduced - possibly only 50 percent of 'normal' on several blocks.
Nelson had a wet and slow flowering period, which will result in low yields for V21 - across all varieties but most impacted were Pinot Gris, Gewurztraminer and Pinot Noir.
Bunch numbers are about normal, but very loose and a lot of variable sized berries – 'hen and chicken', as we say.
Hail in the Motueka and Brightwater areas of Nelson on Boxing Day afternoon has left a mark, with significant damage to the top of the grapevine canopy, and yields will certainly be impacted - a significant reduction on an already light crop. This all makes for a very challenging growing season ahead in several blocks.
How have you prepared for the 2021 vintage?
Staffing for the harvest is a concern so we are employing more Kiwis over summer in the vineyard and hoping to bring some into the winery for the crush.
We do have concerns about the winter pruning which will be difficult without our wonderful RSE team from the Solomon Islands, which we have worked with for 10 years.
The reduction in RSE numbers being allowed into New Zealand is a major concern for us, but we are looking at other options, including the use of mechanical pruning where possible.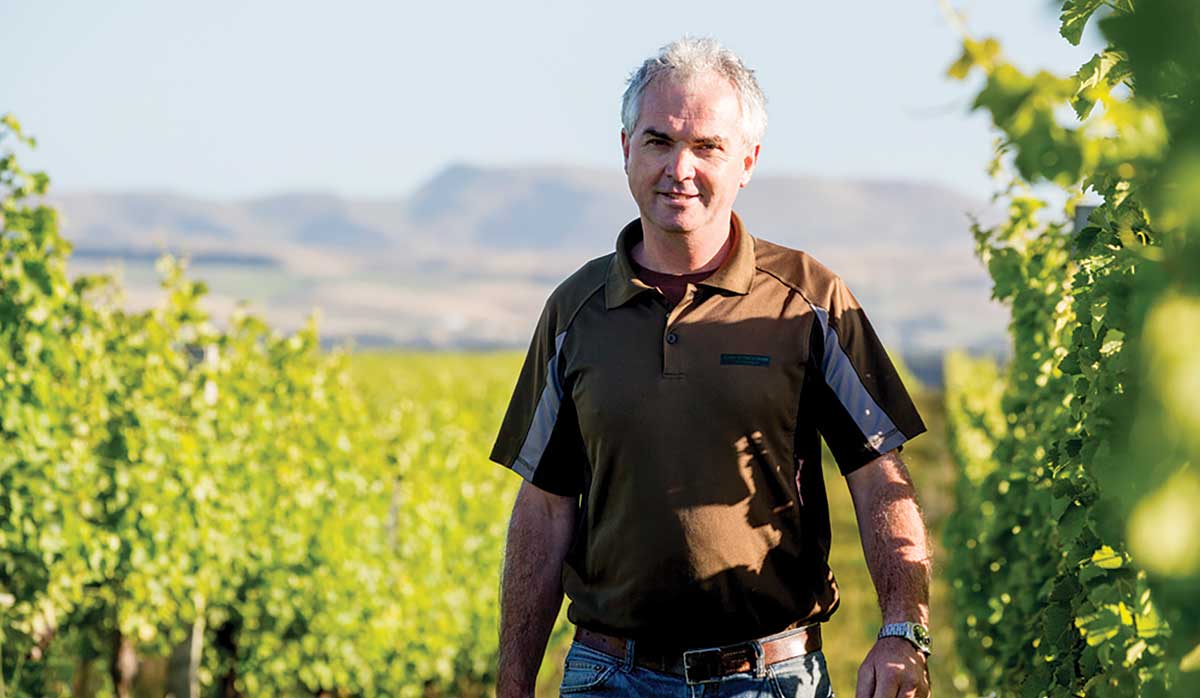 Jean Luc Dufour.
North Canterbury
Jean-Luc Dufour, Vineyard Manager for Accolade Wines
How has this season progressed?
We had an early start to spring in early September, with early varieties on some of the lighter soils in Waipara.
There were two major frost events in October and some of the coldest temperatures I can remember recorded after budburst. Fortunately, the air was very dry, which limited potential damage to some extent. However, parts of the region suffered significant damage. Again, a cold snap at the end of November upset flower set, making for a generally light crop, apart from Riesling.
We have been under disease pressure with continued moisture which is very atypical of the Waipara region. Now, we are still waiting for summer to really arrive.
How are labour challenges being met?
Generally, labour has been met with more local labour instead of the backpackers. Up until now we have been able to fulfil our requirements - I believe this will be more of a challenge starting from the harvest and pruning season.
What are growers hoping ffor in upcoming weeks?
Waiting for the norwester pattern of hot, dry weather.
Central Otago
James Dicey, Viticulturist at Grape Vision
How has this season progressed?
We are slightly early and yields are looking good - the 115mm of rain we had over three days in mid-January was during the key cell division time and will increase berry sizes.
Pinot had set okay (whites are good) so this will mean we should hit yield targets this year.
There were some niggles with frost and a dry spell before the rainfall, but all within normal extremes we experience in Central Otago.
There is some disease pressure but most appear to be vigilant and have it under control.
How are labour challenges being met?
Labour is the single biggest challenge - there seem to be enough people about due to our joint publicity with fruit growers.
With cherries being so badly affected a lot of people have come free - the great unknown is how many will stick around for bunch thinning, net application and harvest.
The RSE situation continues to evolve very slowly - hopefully some highly trained staff get in but I am not holding my breath. The level of experience and skill they bring would be a real shot in the arm compared to the willing but untrained staff we are currently working with.
What will growers be hoping for in the lead-up to harvest?
RSE workers in and backpackers and Kiwis sticking around.
Warm settled weather with no more major rain events.
A long and slow harvest so we are not under the pump to get the fruit in - there is only so much fruit machine harvesters can get to on our hill slopes.
Rose Menzies, Winemaker at Carrick
What will vintage 2020 be remembered for?
Cohesion in the face of adversity - among the industry as a whole, within the Central Otago wine community, but also within businesses. Personally, I could not have made it successfully through that period without the positivity and cohesive attitude of our team.
In addition, the fruit quality was excellent, with fine weather during harvest, enabling picking decisions to be made based on ideal ripeness, rather than rain or disease pressure.
The wines from 2020 are the light in amongst the darkness we felt during that time.
What's been the biggest learning over the past year?
That nothing is guaranteed, that change is inevitable and to succeed you must adapt and move with the change.
How have you prepared for the 2021 vintage?
Certainly, we will be spending time on additional planning this year, to look at worst case scenarios and how best to deal with that if it arises.
However, we are lucky that this time we will have the protocols and experience already, and the knowledge that we can adapt and change if we need to.
There have been concerns around finding labour, but so far we have prevailed, although it remains unclear whether we will have enough pickers come harvest.