But amidst the complications of coronavirus, there are reports of excellent fruit around the country, promising a vintage to be remembered.
Auckland
Soljan Estate Winery Winemaker Tony Soljan says Auckland has had one of the best vintages ever, with a long hot summer and next to no rain in the lead-up to picking. "Picked by hand, the grapes were full of undiluted juice of exceptional flavour."
He says 2020 is going to go down as a vintage to remember for Auckland. "We look forward to sharing this treasure with the public when the wines are ready for release."
Hawke's Bay
Villa Maria's Hawke's Bay Chardonnay harvest began on 27 February - a record early start - and the Keltern Vineyard Chardonnay harvest was over by 2 March, nearly two weeks earlier than average.
"Chardonnay should once again be one of the superstars of our harvest," says Group Chief Winemaker Nick Picone, talking of "a very favourable season" which was warmer than average, particularly in January and February.
"It has also been very dry which has allowed the crops to ripen with very little disease pressure." A few blocks lost water during February, but it would be difficult to ask for a better season so far, he says.
"The real highlight has been how beautifully clean the fruit has been, with an almost surprising balance of flavour, sugar and acidity."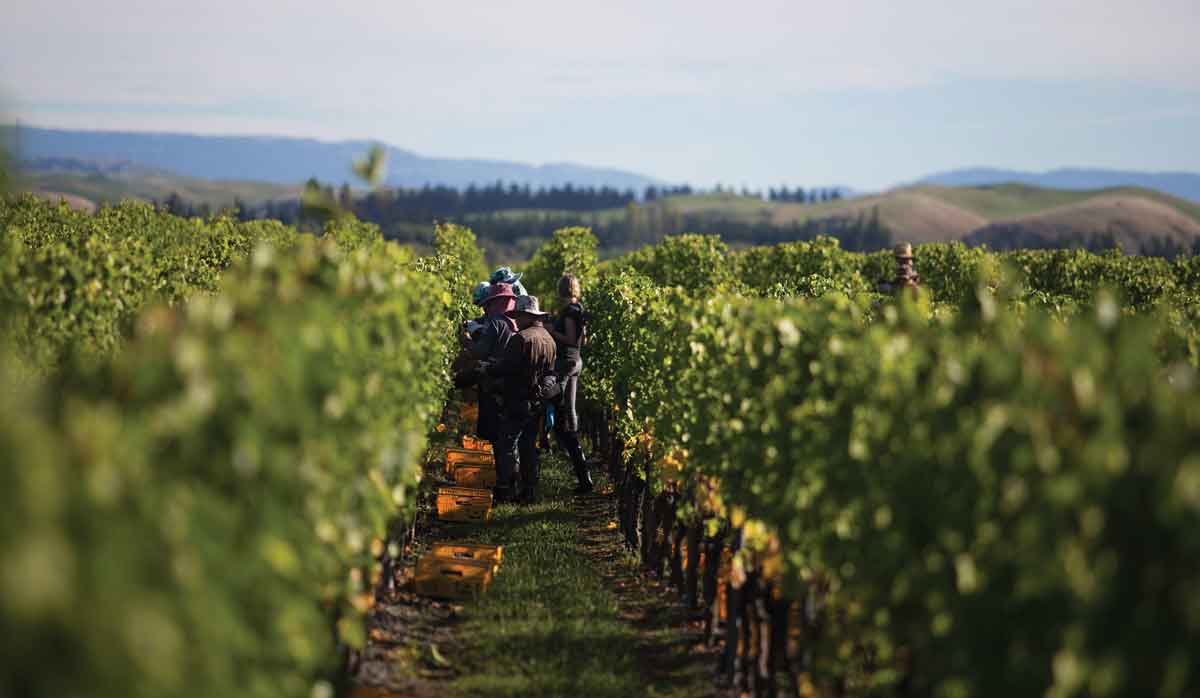 Craggy Range Gimblett Gravels Merlot.
Wairarapa
The Wairarapa is looking at its best vintage yet, says Escarpment General Manager Larry McKenna. "Right now we couldn't be happier."
The region experienced a drier and warmer summer and autumn than normal. "This has come without extremely hot days, less wind and warmer nights, resulting in the earliest start to harvest this district has experienced."
Larry, speaking a week after their 12 March start, says the fruit quality is "exceptional, clean, uniform and around the ideal yield in most cases". Escarpment had yet to start on white table wine grapes, "but it's very close and looking as good as the reds".
With more of the same weather, and if ferments continue as successfully as they appear to have started, he thinks 2020 will beat his personal best vintage. "Just a shame it's all happening in a backdrop of (COVID-19) apprehension and uncertainty. It will be a very memorable and extraordinary vintage for all the obvious reasons."
Nelson
"Pinot is looking particularly splendid at this stage," says Judy Finn, two days into Neudorf's harvest, which began on 17 March. The weather has settled into an autumnal routine of hot days and cold nights, and the lovely fine days are a boost to spirits during the COVID-19 tensions, she says.
Neudorf expects harvest to be completed within three weeks at the longest.
Marlborough
Cloudy Bay began picking for sparkling on 24 February, after a "dream run" leading in to harvest, says Cloudy Bay Technical Director Jim White. Chardonnay was set to start 17 March, followed soon after by Pinot Noir. "Then we start to ride the wave with a fair bit of stuff ripening quite quickly," says Jim. With dry conditions in the summer months, disease pressure is low and those with access to water are enjoying a happy harvest, he says.
The fruit has great flavour, beautiful fresh acidity and lovely balance, and there's the luxury of, "when do you want to pick? But it is going to get rather busy", he says. "Like every harvest, you spend a whole lot of time waiting, then it's a mad rush when it's good to go."
Jim thinks Cloudy Bay's Marlborough harvest should be done before Easter, while their Central Otago fruit will come in later, with a finish date closer to 20 April or beyond. Yields in Central are low for Cloudy Bay, with "incredibly small berries" that have the potential for deeply coloured wines with density and structure, he says.
Blank Canvas Winemaker Matt Thomson says flowering weather was generally very good in Marlborough, "and we are consequently looking at very high berry numbers in most varieties". Most people have adjusted down their crops to compensate for the potential higher yields from the higher bunch weights, he says. "Bunch numbers are lower than average however, so a bit of maths was required this year."
The growing season has been very dry and growers have been "saved" by some regular small rains inland that kept the rivers just above shut-off for irrigation, Matt says. "We are now getting some truly autumn days, with quite cool nights but sunny days. This is what has made Marlborough famous, so this combined with exceptionally low disease levels and fantastic developing flavours makes us pretty excited."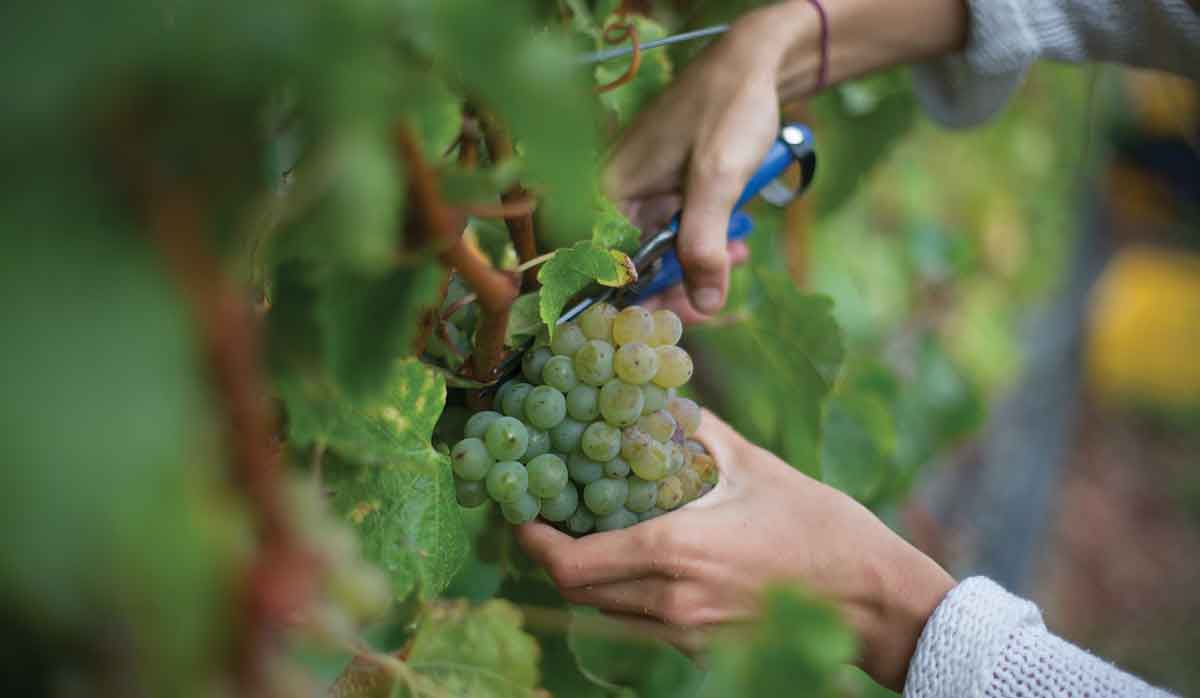 Craggy Range Te Muna vineyard.
North Canterbury
North Canterbury had its earliest ever harvest, beating Marlborough and Central Otago to the start line, says Black Estate's Penelope Naish. "The fruit is absolutely beautiful and delicious, coming in really well and presenting very cleanly," she says, delighted with the Chardonnay and Pinot Noir that has been picked so far. "We're seeing really clean, gorgeous small bunches, but in yields we are all happy with."
Central Otago
Central Otago is looking at low yields, high costs and the potential for excellent quality from vintage 2020, says Viticultura viticulturist Timbo Deaker. "We're quite bullish about the quality this year, but it's been a hard fought battle to get the quantity." After two "absolute banger" vintages in a row, many in the region suspected that 2020 would throw up challenges.
They were right, with the season proving a "very uncharacteristic" vintage for Otago, says Timbo. "The thumbprint was set in the first eight to 10 weeks, with one of our coolest seasons and the coolest cell division period we have witnessed." That led to "grave uncertainties" about late season berry development, he says.
Growers had overspent their budgets battling the cold and windy weather, and some disease protection budgets had also been blown, Timbo says. Those higher costs hurt, but "Central Otago has a genuine desire as a collective to try and produce the very best Pinot Noir, so the work is still being done", he says. "I think this is a vintage that will deserve a big rest afterwards, but it will yield some really positive results on the world stage in years to come."
Speaking on 17 March, Timbo said the harvest was looking seven to 10 days behind, increasing frost risk on high elevation blocks later in the season. While yields are down, with small berry bunches, the quality looks good, and the Waitaki, in particular, is looking "absolutely stunning", he says. "We're on track to have a good vintage but it could be an exceptional vintage if we get that late season warmth."
Growers will feel the lower yields, however, with demand for Central Otago Pinot already outstripping supply. "The trend we are seeing is that Pinot Noir is in vogue… In the past 30 months we have had an explosion of Rosé fruit demand as well, and that has cannibalised our supply even further," Timbo says. "Financially, of course, everyone would have liked a bigger vintage, because we could sell it."