Mark Townshend's article (Dairy News August 28 issue) raises interesting questions for me, namely what is the value of Fonterra to my dairy business and has it delivered?
No doubt Fonterra has challenges and hard questions need to be, and are being, asked, but did it deliver to shareholder suppliers during the awful downturn years between 2014-15 and 2016-17 when the pressure was really on us all?
When milk is over $6/kgMS dairying is gold. It is the downtimes that 'kill' you.
I have used Dairybase as a source of credible data to determine the value of Fonterra to my business. Looking over the three seasons 2014-15, 2015-16 and 2016-17, and averaging the performance of the suppliers to the two largest companies -- Fonterra and Open Country Dairy -- one can see that there is a marked difference between the financial performance of these suppliers (see the data above right, available to all people participating in Dairybase).
Note that these are average figures on suppliers over three years, as this removes distortions from either early or retrospective payments for milk supplied. There is a risk of bias, i.e. it may be higher performing dairy farmers who enter their financial data in Dairybase, so be aware that behind every average is a bell-shape performance curve.
In short, the difference of $557/ha in operating profit comes from $320/ha gain from extra milk income and another $237/ha is attributable to lower operating costs. Analysis of farm working expenses shows that Fonterra farmers were able to reduce costs by 50c/kgMS versus 32c/kgMS for OCD farmers. It would be interesting to know whether this is because of a difference in supply curves – seasonal versus flat?
I argue that a 58% difference in operating profit could be the difference between sustainability or otherwise. Over the three seasons this equates to about $1200/ha or $120,000 on a 100ha farm.
Note that the difference in net profit/ha is likely to be larger again as there is on average $272/ha less debt servicing by the Fonterra shareholders (MS/ha x debt servicing/kg).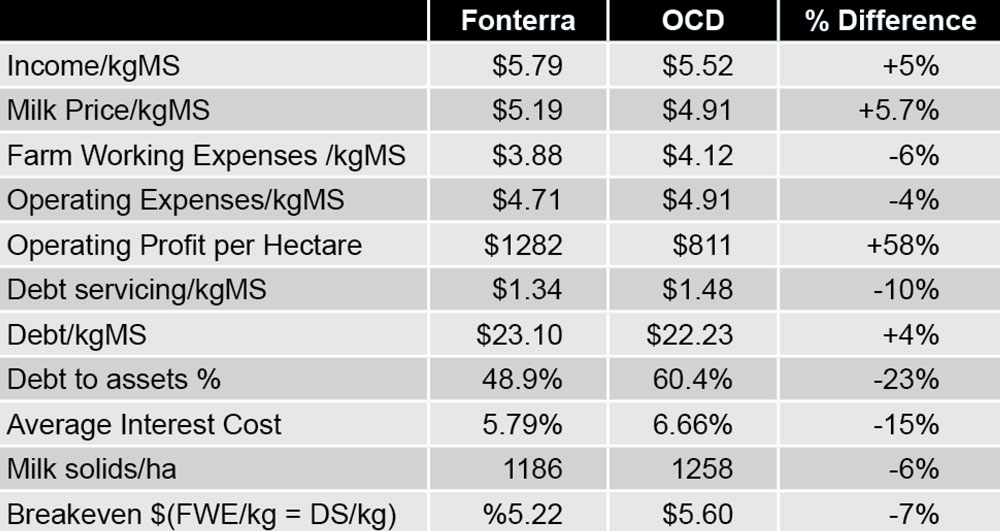 Fonterra shareholders would need on average another 60c/kgMS to get them to that magic profit of $2000/ha, i.e. a $5.70 milk price or better. OCD suppliers would need a $5.86 milk price or better to achieve the same profit in that same period.
The above data has real implications for Fonterra's capital structure, which must be on the table for discussion along with the current 'purpose and values' debate.
If one uncouples the value-added business from milk supply, as some are suggesting, then farmers without access to income stream would have been potentially $320/ha per year worse off for those three seasons -- about $1000/ha, serious money when times are tough.
Separation could lead to a 'two masters' scenario in which both try to maximise milk price and dividend and subsequent share value. This is difficult and hugely risky if one wants to have a truly strong cooperative.
Fonterra's purpose has been and always must be to deliver the maximum sustainable amount of cash through it's shareholder gates; value will follow after that.
Has Fonterra delivered more real value to me than the other processors would have? My gut feeling is an absolute 'yes'. In doing so it has benefitted every other dairy farmer in the country by setting a milk price benchmark.
Do we need to keep debating the issues? Yes.
• George Moss is a Tokoroa farmer and Fonterra supplier.