Bumble bees are becoming increasingly popular with orchardists and commercial growers for their work as pollinators. Mike Sim works for Biobees, a Hastings-base company which breeds and sells bumble bee hives to commercial growers in the hort sector and to some home gardeners.
He says the bumble bee has become popular because they work extremely well with crops that are under some form of cover - be it plastic or glass - as an insurance policy against poor weather during flowering in outdoor crops. Examples include kiwifruit, blueberries, avocados, summerfruit and tomatoes.
"Probably every fresh tomato you buy in the supermarket has been pollinated by a bumble bee," Sims told Hort News.
He says bumble bees in the wild live in a small nest in the ground, as opposed to a large hive like honey bees. It should be noted that both have hives, but the bumble bee hive is smaller and much less orderly.
Bumble bees have a different method for honing back to their nest and don't get lost under crop covers like honey bees can. Sim says they also tend to be more docile - although they sting. However, in terms of pollination, bumble bees called 'buzz pollinators'. Sim says this means they tend to make better contact with important parts of a flower and affect more cross pollination.
"They grab a hold of or bite the flower and uncouple their wings to use their really strong flight muscles to vibrate and shake the pollen free," he explains.
"There are a number of crops that are adapted to buzz pollinators and they need this vibration to release the pollen. Tomatoes and blueberries are examples where the pollen isn't freely available in the flower, it is hidden up a tube and it needs vibration to shake it free. A honey been can't always get down these flower tubes as they may be too small for them."
The bumble bee has lessened much of manual labour that was once used to pollinate tomato crops that were grown in glasshouses. Sim says all sorts of equipment - such as vibrating machines - were once used to pollinate tomato flowers.
It was this cost that prompted a veterinarian in Belgium in the late 1980s to devise a system for 'domesticating' the bumble bee. That is what Sim's company is now doing - breeding bumble bees in what could described a factory type environment and supplying hives to horticulturalists and gardeners.
The hives are much smaller than those for a honey bee and the ones supplied by Biobees are typically about the size of two stacked shoe boxes. Each contains between 80 to 200 bumble bees - depending on what the individual wants - and may swell up to 400 bees at its peak.
Works hard and fast!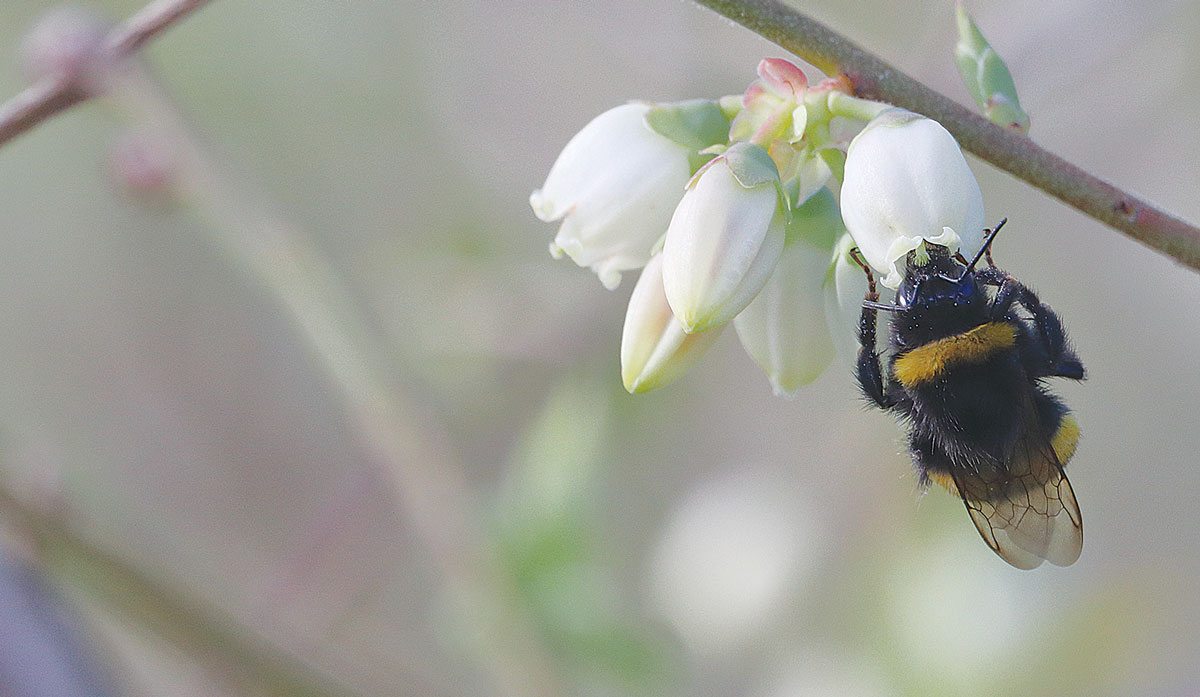 The short-lived bumble bee lives life in the fast lane and is a vigorous forager.
Bumble bees live a much shorter life than honey bees, but they live life in the fast lane and are vigorous foragers.
Sim says bumble bee hives are less structured and there is less social division among the bees, meaning they all do a range of jobs. The foraging bees tend to be larger or older. Unlike the honey bee, the bumble bee produces only a small amount of honey because they don't survive the winter.
"The workers may only live for a month or two months as an adult, so their life is quite frenetic," Sim explains.
"The queens probably live for around a year or more and their life may end in a very painful way being stung to death by her own daughters. So, at the end of the hive lifecycle, things start to collapse a bit and the hive will die out in the winter."
In the wild, the new season queens will fly away and make a nest in the ground and hibernate for the winter. They then reemerge and start a new hive in the spring, when the days get longer and the temperature rises. This is replicated in the hives sold by Biobees.
Sim says the production of bumble bee hives for sale is not an industry that is well known and the value of the bumble bees is also not widely appreciated.
"On the issues of pollination, Plant & Food Research has been saying than an individual bumble bee is worth about 50 honey bees in an avocado or kiwifruit crop," he told Hort News.
"A hive of 200 sounds quite small. But if you multiply that by 50 you have got 10,000 - so it is starting to be roughly half the pollination capability of a honey bee hive at the same time of the year."
Sim adds that a lot of research is starting to emerge that shows using bumble bees is very effective. This is because the competition can actually change the behaviours of honey bees and make their visitation rate to flowers faster - so they are visiting more flowers per minute than when bumble bees aren't present. "Bumble bees can also facilitate more cross pollination from the honeybees, so bees going from one variety to another, and this is very important for certain cherry varieties or avocado," he says.
While the horticulture sector may be facing a labour shortage where workers need to go hard and fast, the humble bumble sets an example of a work ethic that's hard to beat.