Peter Cullinane, founder of Lewis Road Creamery, has sold the last of his shareholding in the company to the country's biggest farm investment company, Southern Pastures. Meanwhile, while the Richard Wyeth, founding chief executive of Miraka, the Maori owned dairy company near Taupo, is also leaving.
Wyeth has yet to disclose where he'll be working next and all Cullinane would say is that he has gone fishing. Taupo and the lakes around Queenstown will be his home for the next few weeks.
Both men have made huge contributions to the dairy industry over the past decade.
Wellington-born Cullinane had a highly successful career in the advertising industry starting off with MacKay King in Wellington and then heading overseas, where he eventually became the chief operating officer for Saatchi and Saatchi worldwide.
When he returned to NZ, Cullinane turned his attention to the dairy industry and created the Lewis Road Creamery brand. He started off developing a unique and high quality brand of butter. The butter was highly successful and later it was exported to the United States where it competed with the well-established Irish brand, Kerrygold.
But it was Lewis Road's flavoured milk that took NZ by storm. It was so popular that at one stage supermarkets were forced to ration how many bottles an individual consumer could purchase at one time. Cullinane developed organic milk with Landcorp and then an ice cream also appeared. The former adman, turned dairyman, and now fisherman had little to say about the sale of his business to Southern Pastures.
"To see the brand mature safely in the hands of investors – who are farmers of such integrity and quality – is a fantastic conclusion," he says.
What will Peter Cullinane come up with next? He's only in his mid-sixties and don't expect the 'gone fishin' sign to be a permanent fixture on his office door.
The Miraka marvel!
Richard Wyeth joined Miraka in 2009 when it was just a plan with a building site out west from Taupo.
He had the task of helping to raise the money for the venture and overseeing the construction of the plant. Wyeth says it's been a pretty phenomenal journey over the last 11 years.
"The highlight has been getting the plant up and running on time and under budget and then delivering a profit very early on," he told Rural News.
"That was hugely satisfying and pretty amazing.
"There were plenty of people who didn't want to see it work, so to be able to deliver it and get the business established was very satisfying."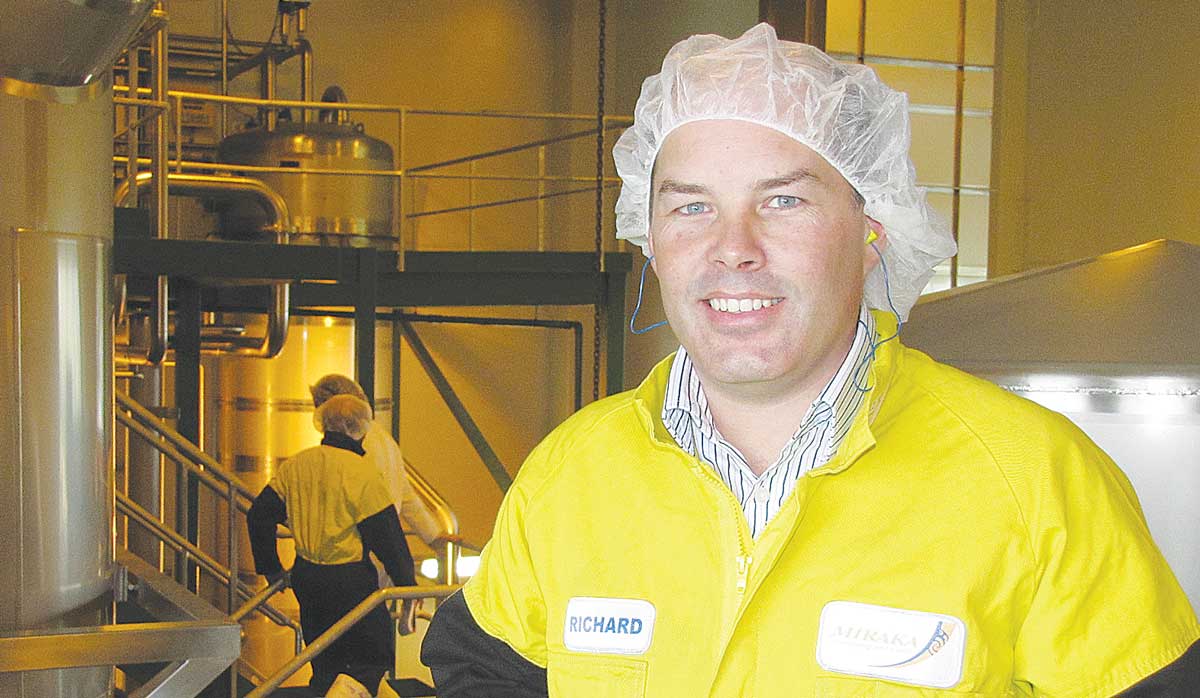 Miraka's outgoing chief executive Richard Wyeth has not said where he is going yet.
Wyeth had no Maori background or experience working with iwi before joining Miraka and says his time with the company has been fascinating.
"I have really enjoyed it here. I think coming from a big family helped in some ways because I was used to knowing my second and third cousins quite well. Being involved in a Maori business is very much understanding how big families operate, so I enjoyed the challenge."
Under Wyeth's leadership as CEO, Miraka has shone as beacon of excellence in an industry that has often been under fire. Miraka introduced a scheme called Te Ara Miraka, which incentivises its farmer shareholders to perform to the highest standards in terms of milk quality and the way they produce their milk – with a strong emphasis on sustainability.
Wyeth says Te Ara Miraka, and other initiatives introduced by the company, have helped shift dairy farming to "where it needs to go". He concedes that it is possibly easier for a small company like Miraka to do this.
Wyeth says he wasn't actively looking for a new role, but when he was approached for the new position he recognised that it was probably a good opportunity to move on.
Chairman of Miraka, Kingi Smiler, is full of praise for Wyeth, saying finding someone with his skills and approach to the company's values-based culture will be a hard task.
He says Wyeth's leadership has enabled Miraka to grow from a small local company to become a strong competitor internationally in the dairy industry.