Overlapping paddocks and goodwill among staff are helping the family-owned Schuler Brothers Limited (SBL) farm to keep the three milking systems ticking.
The farm employs 10 staff and is the only one in New Zealand to milk cows, goats and sheep on one farm.
SBL has allocated 70ha for goats,105ha for cows and 40ha for sheep this season. About 45ha of support land is used for growing maize and running young stock.
SBL owns a 236ha (215 effective) farm in Te Aroha West. The original 40ha block was first farmed by Schuler's grandfather who emigrated from Switzerland as a 12-year-old in the early 1900s. Over time, five other neighbouring farms were acquired for milking cows.
At its peak, the farm milked 850 cows. Today it milks 350 cows, supplying Fonterra. Seven years ago, SBL invested in dairy goats and at peak now milks 1400 goats, supplying Dairy Goat Cooperative Ltd in Hamilton.
This year the business decided to dip its toe in sheep milk.
From late August, 640 ewes have been milked in what had been old, unused cow herringbone shed. It now boasts a new 40-a-side Rapid Exit Milking system plant, fitted by Oubik.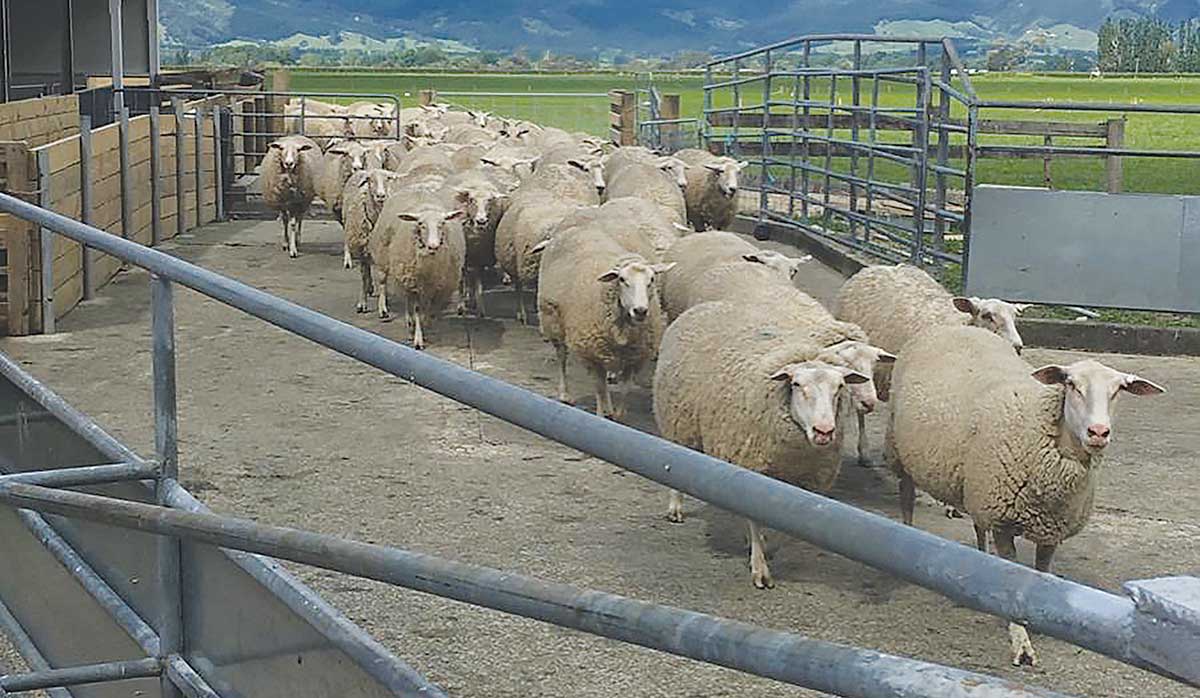 Sheep coming in for milking at the Schuler Brothers Ltd farm in Te Aroha.
Schuler says workers are allocated to look after each system but there is some overlap of work.
"With autumn-calving cows on once-a-day milking and nearing the end of lactation, a worker from the cow shed is able to help with the sheep milking in the afternoons when required," he told Rural News.
"The sheep staff assisted the goat farm through the busy kidding season, and the goat staff helped rear some of the lambs.
"The cow staff did a fair bit of the fencing upgrades, and the goat staff accommodated sheep when animal handling space was needed before the sheep shed was ready…Everyone was brilliant, really. Even when they were busy, they made time."
In future the busy times of each system will be separated as much as possible.
"We kidded our goats in late June this year, but next year we will start early June because it would get crazy with lambing starting in late July, particularly if we hand rear more lambs," he says.
The busiest part of kidding will also fit better with school holidays. "It's a real family atmosphere when the children are working, and they all love a bit of pocket money. During busy times we rely on goodwill among staff to help each other out."
While there are three systems, the broader sense of teamwork is very important to the overall farming operation, Schuler says.
The experienced cow and goat farm managers have been very supportive.
"Having the ability to mix and match staff across the whole farm has been a real bonus and there is no doubt it has made the move into milking sheep easier," he says.
The new role of sheep herd manager was actually filled from the goat farm.
Schuler says it's great to be able to offer progression to staff and to continue working with people they know and trust.
Like staff, paddocks also overlap among the three systems: silage for the goats is made from the whole farm, and cows get the goat push out (uneaten feed) as well. Depending on sheep grazing residuals, cows may clean up behind or the paddock can be shut up for silage. Over autumn-winter when the cows are in peak milk and the sheep are dry, some sheep paddocks can be allocated to the cows, or used as cut and carry for the goats.
Lower Environmental Footprint
Sustainability and the lower environmental footprint of goat and sheep milking was also a factor when SBL opted for diversification.
The dairy sheep conversion had cost around $500,000; for the shed conversion (including staff amenities and the sheep handling facilities), fencing new and sheep-proofing existing paddocks, building races and an effluent system, upgrading vehicle access, farm power supply, and connecting to town water.
While the conversion project was delayed due to Covid-19, the ewes have been milking for over two months now and Kevin is pleased with how things are going.
Maui Milk, which takes sheep milk from the farm, is paying its suppliers $17/kgMS, Schuler says that is an outstanding payout.
He says the recent volatility around cow milk payour has created uncertainty for the dairy cow industry.
In the past, there has not been much opportunity for dairy farmers to diversify land use. But times are changing, and goats and sheep now offer genuine alternatives for farmers to transfer their skills and expertise.
"Everyone has their own appetite for risk and change, and every farming system is different. We are glad we took up the goat opportunity when it arouse and are now excited to be at the pioneering end of the dairy sheep industry."