The Wairarapa community has banded together for four years to help prevent pea weevil spreading to other parts of the country. It would have had a serious effect on New Zealand's pea growing and processing industries if it had spread.
When pea weevils were found in the Wairarapa in April 2016, a ban was put in place on growing peas anywhere in the region. As the weevils require peas to complete their lifecycle, removing their only food source would see them die out.
Small areas of peas have recently been planted in the area as trap crops to attract any pea weevils, should they be present.
Last season, no pea weevils were found in the trap crops and provided no more are found in the region this year, Wairarapa could again be growing peas next season.
Dave Yard, principal response manager at Biosecurity New Zealand, says the pea weevil response would not have been possible without the backing of local farmers and the community.
"We're experienced in running biosecurity responses, but we're reliant on the support and assistance of the wider community for them to be successful."
Federated Farmers arable chair Karen Williams, a Wairarapa farmer herself, has been the industry representative on the pea weevil response group.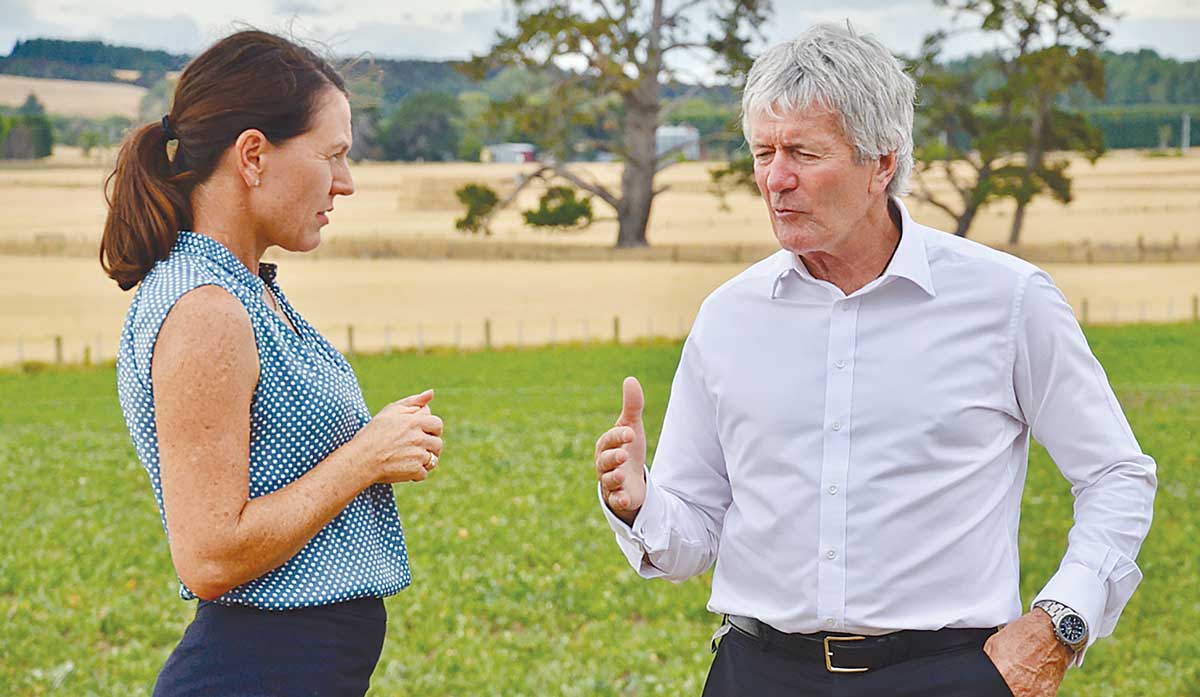 Feds arable chair and Carterton pea grower appointed to the Pea Weevil Governance Group Karen Williams speaks with Biosecurity Minister Damien O'Connor on her farm.
No other country had previously attempted to eradicate pea weevil as all discoveries were considered 'too far gone'. Pea weevil larvae feed on young peas, damaging crops.
"The early days were pretty challenging as we looked to find a way forward," says Williams.
"There had been movement of peas and pea straw in and out of the region so there was concern that even if a regional ban was put in place, pea weevil could already have spread to other parts of New Zealand."
However, the group leading the response was optimistic that they had the chance to eradicate pea weevil and wanted to give it a go.
"Peas are a high-value crop so Wairarapa farmers were hit hard and found it a challenge to find alternative crops with the same returns," she adds.
While Williams valued the experience of being part of the decision making group, she says it was tough being the only one with skin in the game in an environment where everyone wanted to do the right thing, but had different positions. The group supported the ban, but importantly realised other things needed to be done in addition such as getting compensation and finding alternative crop options.
"Biosecurity New Zealand, with the support of industry bodies is ready to take action whenever foreign pests and diseases which could badly damage New Zealand's primary industries, economy, and unique environments, are detected here," Yard says.
Funding was granted through MPI's Sustainable Land Management and Climate Change Fund for an alternative cropping strategy for the Wairarapa so that local growers weren't reliant on peas. Ex-gratia payments were also made to help ensure farmers were no better or worse off than they would have been continuing to grow peas.
Over the past few years, Wairarapa farmers have demonstrated perseverance and flexibility in trying other crops such as maize grain, red clover and hemp. Williams and her husband planted more barley, a crop they were already growing.
Although farmers are likely to go back to growing peas, she says rebuilding the Wairarapa pea farming industry won't happen overnight. It will require the support of the seed companies to bring back the contracts lost as a result of the ban, but the greater challenge will be establishing a new seed processing plant to replace the former plant which closed due to the growing ban.
However, Williams remains optimistic about the future beyond the lifting of the ban.