Displaying items by tag: JANE LI
Tuesday, 13 March 2018 14:55
Monday, 12 February 2018 10:55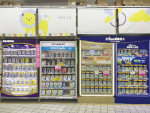 Chinese dairy expert Jane Li says Fonterra's Anmum is struggling to gain a foothold in the country's lucrative infant formula market.
»

Latest Print Issues Online
If someone turns up on your farm, selling Stihl 461 chainsaws, please shout out. That's the message from NZ Young…
Cows do talk, researchers say.