How do you reconcile that figure with the scientifically suggested attention span of a goldfish being – nine seconds?
Maybe it's because goldfish don't have smart phones. That was the suggestion made by Marketing and Communications Consultant Joanna Glover.
"The rising popularity of smart phones, mobile data, messaging apps and social media is thought to be behind the falling attention rate."
With so much information available 24/7, it is hard for any of us to focus on any one subject. (See graph for what happens in an internet minute.)
For wine producers, whether they be organic or not, the big question is how do you capture the attention of your consumer in a way that benefits you both? Glover says there is no magic bullet, breaking through to consumers takes time and effort. "It's a marathon and not a sprint. It won't happen overnight and it can't be done cheaply, easily or quickly."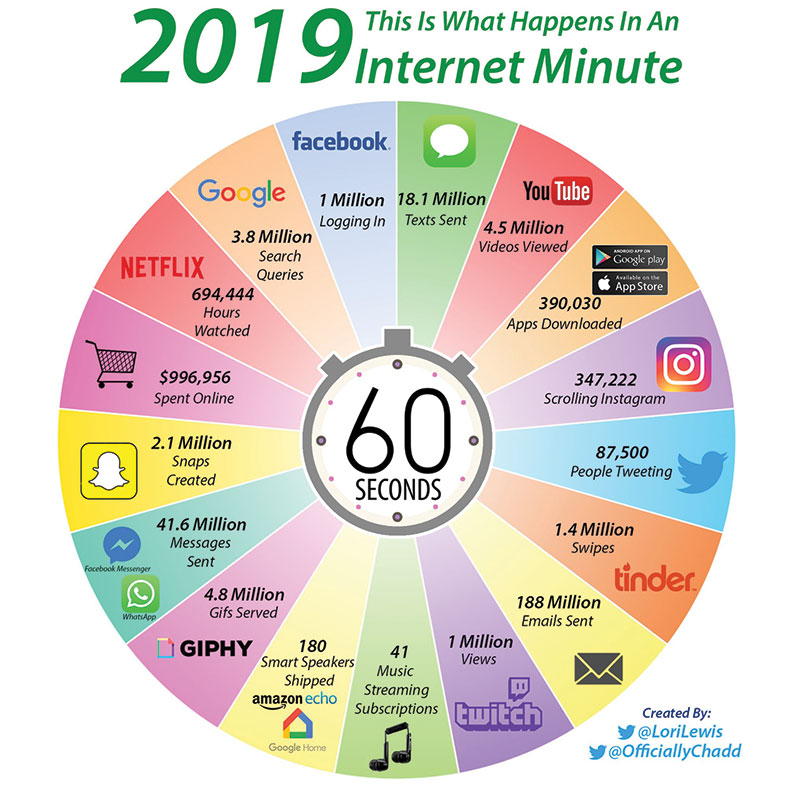 Hopefully you are still with me on this page, and haven't drifted off to goldfish land, because Glover offered some salient points on how to break through.
Storytelling – she believes is the key to standing out. But there is a distinction. You can't tell a story by hard selling.
"It's never pushy, through consistent small stories you can build brand recognition and add depth and humanity to your brands. When we share our stories and the stories of our people, we build connection. Connection, alongside transparency builds authenticity and trust."
Focusing on millennials, Glover said there are some hard facts producers need to be aware of.
• Five out of six millennials connect with business through social networks
• The average millennial touches his or her phone 45 times a day.
• 62 percent of millennials want brands to be authentic and to interact with them.
• 88 percent of millennials have a Facebook account and over half of them use the platform regularly.
• Instagram is the second most popular social media platform.
• Snapchat is the third.
If you are not using these three platforms, then you are not hitting the millennial market.
Glover said before you even begin to tell your story, plan, set goals and define measurable objectives.
"Remember that you need to earn attention, to do that creating value for your consumer needs to be top of mind."
So here are her suggestions that could help you break through the clutter and grab the attention of your consumers.
Focus on what's important to your customer. To do this, you obviously need an understanding of who your customer is.
Be entertaining, mix up your content. Try images, video, Q&A, polls and events.
Be authentic. Be yourself, use your brand voice.
Help customers. Think about the questions your customer may be asking and answer them.
Use storytelling as a way to differentiate yourself from your competitors. What is your point of difference? "There are thousands of family owned wineries that have beautiful vineyards, making premium wine," Glover said. "What makes you unique? Often it is the people behind a brand that can bring to light its personality and build connection."
Invest in strong imagery. This alongside video where possible, is essential to build a strong brand online.
Taking the time and putting the effort in may just pay off with the consumer staying with your page, connecting with your brand, rather than scrolling off to something else.