These have been difficult questions to answer until the recent Organic and Biodynamic Winegrowing Conference, held in Marlborough in July. But with figures from renowned biodynamic author Monty Waldin and Jared White - BioGro's Audit Manager, we now have a better idea.
According to Waldin, the growth of organics in New Zealand has been replicated throughout most of the winegrowing regions of the world. Back in 2007, just two percent of the global vineyards were organic. In 2013, that had risen to just over five percent.
Europe is home to 23 percent of the world's organic vineyards, with 73 percent of the world's organically managed vineyards based in Spain, Italy and France. Waldin says that has a lot to do with the EU subsidies to convert agricultural production from conventional to organic.
Back home in New Zealand there are no such subsidies. Winegrowers here are making the move to organics because they believe in it. And there has been dramatic growth in the past two decades.
For example between 1989 and 1999, only six growers with a total of 54 hectares of vineyard were certified organic. All had their own wineries to produce organic wine.
Jarred White says compare that with 2007 when there were 20 certified growers (covering around 225 ha) and 11 certified wineries.
Move ahead to 2015 and now there are 165 certified vineyards (covering around 1900 ha), and 69 certified wineries. Many of the country's largest producers are now owners of organic vineyards with many more going through conversion. These are not just small boutique, family owned wineries in out of the way places. They include the likes of Villa Maria, Giesen, Pernod Ricard, Cloudy Bay and Treasurey Wine Estate to name a few.
In total New Zealand has 5.4 percent of its total vineyard certified organic, which makes us one of the world's leaders. In terms of regions, it is Central Otago that is by far and away delivering the organic message, with 16.1 percent of all planted vineyards certified. Wairarapa comes in second with 11.5 percent and Nelson/Tasman third with 11.4.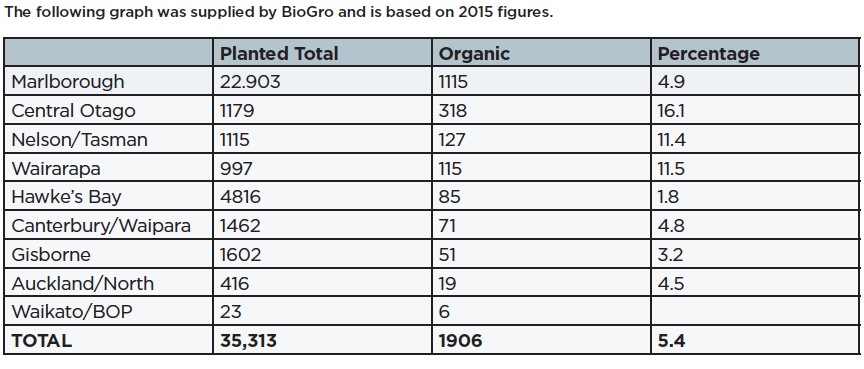 Whether or not there is a premium for organic wines (and/or biodynamic wines) is harder to quantify White says. But if you look at other producers, there are considerable premiums being paid if the product is organic.
• Kiwifruit – in the last few years organic Hayward fruit has achieved a 34 percent premium. Gold Kiwifruit pays $2.00 above non organic
• Pipfruit premiums vary between 20 and 60 percent. In some exceptional years it has been 100 percent premium over non organic pipfruit
• Fonterra pays $1.50 above the current milk solids price, which equates to a 33 percent premium
• Lamb is consistently receiving between 20 and 60 percent premium for organic – sometimes more
So why not wine?
"Wine is more difficult to quantify because of the quality variable," White says. "You are a particularly unique industry as you can be growing a $10 bottle of wine, or a $60 bottle of wine, so it's not an easy thing to quantify."
However, two speakers at the conference issued an invitation to delegates for fruit supply, and indicated that they were willing to pay a premium over non-organic fruit prices
So what is happening in Australia? Award winning wine author Max Allen says export figures show sales of organic and biodynamic wines from Australia have doubled in the last three years, admittedly from a small base.
"But as you know, Australian wine exports are not doubling every three years, so this is a growth export figure that is unusual."
Given the average FOB price for Australian wine exports is $2.60, the price for organic and biodynamic are outstanding.
"The average FOB price per litre of organic wine is $5. The average FOB price for certified biodynamic wine is $13," Allen says.
"This brings us into the premium bottle wine territory of the Barossa or McLaren Vale."
While the over-riding message is that the wines are worth a premium, all speakers at the conference reiterated, that those premiums will only come if the wine is of quality. Simply having organic or biodynamic on the label is not enough for consumers.
You have to ensure that what is in the bottle is a product that will have consumers coming back for more.