Our end product which is pretty much what is in the glass – is its sense of place - it's Turangawaewae – this is a unique asset to your Brand!
So when I spoke last year I talked about the objective of this show which is; To give recognition to viticultural excellence and to recognise the influence of grape growers and their vineyards in creating the unique qualities of New Zealand wines, by judging the wines made from grapes grown on such specified vineyards
So we set out to make small changes to this year's show format to reflect this.
We introduced a new Single Vineyard section in which the wines entered had to be at least 95% from a single vineyard.
We have maintained the original entry parameters of 85% Estate owned and managed, which we now refer to as the "Domaine section".
This was a gut feel trial more than anything to see actually how many would be entered as single vineyard. Of the 600 entries - over 400 were, not to mention an exciting number of approximately 20 amateur entries. This differentiation was exactly what we had hoped to show and reward!
The aim here was, to continue to make this show relevant, to understand our single vineyard sites, and reward them. This means that this year - the Richard Smart Trophy which has historically been awarded to the Reserve Wine of Show, is now awarded to the Domaine Champion Wine of Show and the Bragato Trophy is awarded to the single vineyard wine of show.
The big challenge is also ensuring our judges are relevant to where we want to head and what we want to achieve with the show results through the Bragato Show 'noise' from the calibre of the Bragato Wine Show vision.
This year's judges were; Dave McKee, Rod Easthope, Barry Rewai, Richard Painter, Simon Nunns, James Rowan, Sarah Kate Dineen, and Francis Hutt.
Special mentions though to Emma Jenkins MW, Liz Weadon - GM of the Glengarry's group, and James Milton, artisan wine grower. This year was the first time we had the opportunity to invite an international Judge. Dan Simms from over the Tasman is a huge advocate for New Zealand wines.
We as Judges are rapt at what we saw this year, with very strong classes of Chardonnay, Bordeaux Red and Syrah – showing off just how good the 2013 and 2014 vintage's were.
Sauvignon Blanc was a little shy at coming forward this time due to later bottlings I believe – but what was on the table was extremely poised with some cool alternate styles being recognised.
The Sparkling and Sweet class – some great little beauty's – really showing off some deft handling and true style masters!
The aromatics Riesling, Gewurztraminer and Pinot Gris again thrived and were a thrill to taste.
The Rosé fantastic, and the Pinot Noir class - such love and diversity, absolutely a pleasure to judge.
Another great result was the 2 golds and 3 Silvers and 3 Bronze to the amateur entries judged alongside the professional wines - and holding their own - congratulations to those who entered these wines!
This show is all about showing off our depth within the industry, what is new, who is doing what, and what "new stories" can we tell to the world's wine lovers. It is about giving depth to your biggest asset – your brand – your wines!
Air New Zealand Wine Awards 2015 trophy winners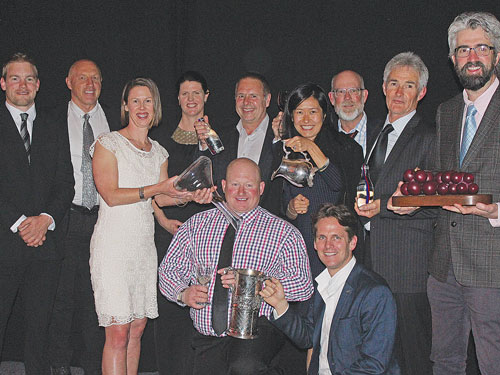 Bragato Trophy and Champion Single Vineyard Wine
Villa Maria Single Vineyard Ihumatao Chardonnay 2013
Ihumatao Vineyard, Auckland
Brett Donaldson
Richard Smart Trophy and Champion Domaine Wine
Villa Maria Reserve Gimblett Gravels Hawke's Bay Cabernet Sauvignon Merlot 2013
Vidal Vineyard, Hawke's Bay
Phil Holden
Friedrich Wohnsiedler Trophy Winner and Champion Riesling
Thornbury Waipara Riesling 2015
Waiata Vineyard, Waipara
Royce McKean
Brother Cyprian Trophy Winner and Champion Pinot Gris
Church Road Pinot Gris 2015
Matapiro Estate, Hawke's Bay
Max Bixley
Champion Gewürztraminer
Blackenbrook Nelson Gewürztraminer 2014
Blackenbrook Vineyard, Nelson
Daniel Schwarzenbach
Champion Other White Wine
Saint Clair Marlborough Premium Grüner Veltliner 2014
Hawkesbury Farm Ltd, Marlborough
Robert & Heather Goulter
Champion Sweet Wine
Villa Maria Reserve Marlborough Noble Semillon Botrytis Selection 2011
Hammond Vineyard, Marlborough
Rob Hammond
New Zealand Wine Cellars Spence Brothers Trophy Winner and Champion Sauvignon Blanc
Stoneleigh Rapaura Series Sauvignon Blanc 2015
Stoneleigh, Marlborough
Rod Brailsford
Champion Sparkling Wine
Akarua Vintage Brut 2010
Akarua Wines, Central Otago
Mark Naismith
Bill Irwin Trophy Winner and Champion Chardonnay
Villa Maria Single Vineyard Ihumatao Chardonnay 2013
Ihumatao Vineyard, Auckland
Brett Donaldson
Champion Rosé
Whitehaven Rosé 2015
Whitehaven Wine Company Limited, Marlborough
Sioban Harnett
Mike Wolter Memorial Trophy Winner and Champion Pinot Noir
Maude, Mt Maude Vineyard, Pinot Noir 2014
Mount Maude Vineyard, Central Otago
Terry Wilson
Tom McDonald Memorial Trophy Winner and Champion Classical Red Wine
Villa Maria Reserve Gimblett Gravels Hawke's Bay Cabernet Sauvignon Merlot 2013
Vidal Vineyard, Hawke's Bay
Phil Holden
Alan Limmer Trophy Winner and Champion Syrah
Talisman Syrah 2013
Elms Vineyard, Hawke's Bay
Peter Yealands