According to a survey of experts, commissioned by ProWein, it is a real thing.
The study undertaken by Geisenheim University, questioned 2,300 individuals from 46 countries following ProWein 2018. The sheer number of wine experts, from producers, and exporters, to importers and marketers, makes this the most comprehensive barometer of where the industry sees itself going in the future.
More than 80 percent of producers questioned were wanting to expand their current markets within the next three years. When asked what export market they were considering as attractive for that expansion, China came out tops. Which is quite a change from 2017, when China was ninth on the list of favoured new markets. Japan was another big mover, into second place (up from 6th in 2017) with both followed by Hong Kong, Scandinavia, USA and Canada.
China also came out number one in terms of producers believing it to have the strongest increase in attractiveness, just ahead of South Korea and Poland.
However it wasn't great news for the UK, one of New Zealand's largest export markets. It was deemed as the lowest by far, in terms of current attractiveness and was not expected to get any better in the next three years. Dr Simone Loose from Geisenheim University said the UK market is a story all on its own, with three areas contributing to the lack of faith by producers and marketers.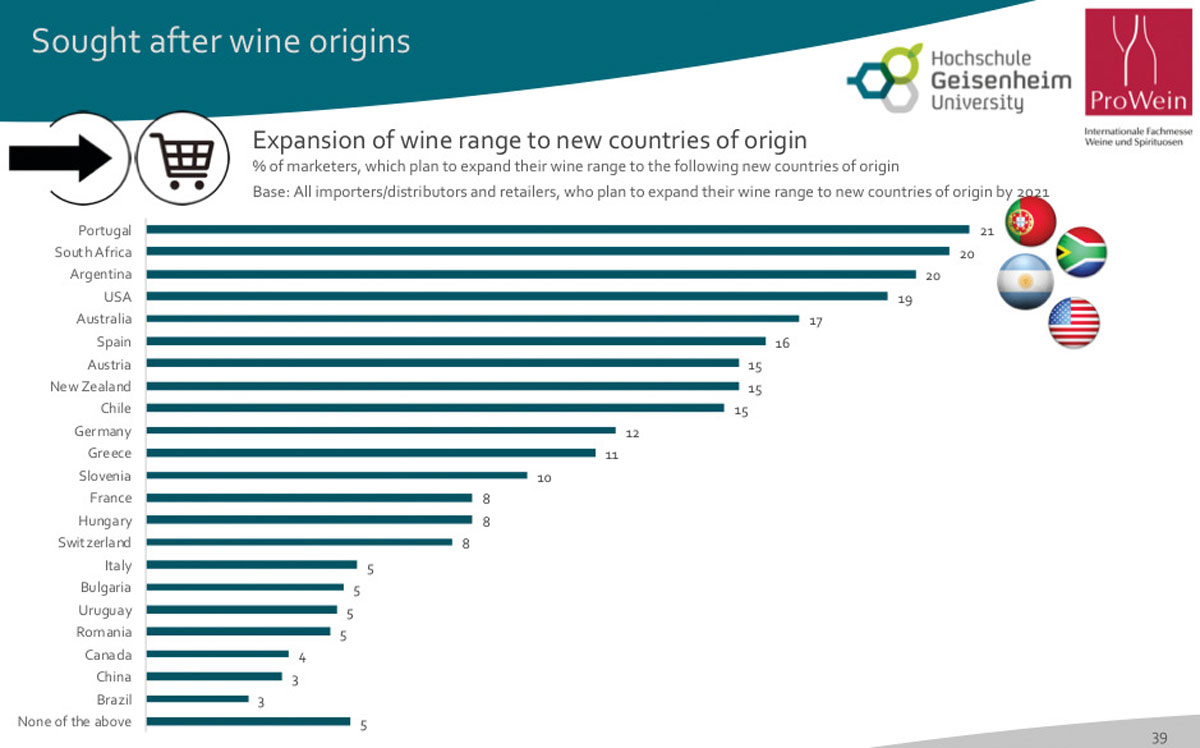 Number one is the alcohol tax which is expected to rise more than inflation. "The value you can deliver is getting smaller," she said. Then there is the on-going trade wars, with so many wines fighting over limited shelf space. And thirdly, the impact of Brexit, which is due to come in in a matter of weeks.
All of these are ensuring the UK stays off the radar in terms of attractiveness for the rest of the wine world. The other two countries seen as least attractive are France and Austria.
The Geisenheim survey also looked at new emerging sales markets, questioning where they are likely to occur in the next five years.
In terms of having the most potential, those surveyed listed Singapore, Czech Republic and Taiwan. Dr Loose said surprisingly, United Arab Emirates came in fourth.
"But it is a tourist hub and an ex pat hub as well," she qualified.
There were major differences between what old word producers deemed as potential emerging markets and those listed by the new world.
"France, Italy and Spain, all big producers, see Singapore, Taiwan and Czech Republic as the biggest emerging markets, whereas the new world sees India, Taiwan, Singapore and Vietnam as the potential …for their company in the next five years."
While all of the above dealt with producers, what about retailers and importers visiting ProWein 2018? Are they keen to expand their portfolios in the coming years and who do they want to add to their list?
Nearly one in two wine retailers who visited ProWein said they were looking to expand their portfolios to make their wine lists more interesting. In terms of countries of origin they were interested in, Portugal came out number one, South Africa was second, followed by Argentina, US, Australia, Spain, Austria and then New Zealand was in 8th place, with 25 percent of those surveyed wanting to add New Zealand wines to their portfolios.
However that figure was much higher from retailers in Eastern Europe, with 34 percent of those surveyed keen to add New Zealand wines, (making New Zealand the most favoured choice) and New Zealand was listed as the third choice for North American retailers and importers.
ProWein who commissioned the study will follow up this year, following the 25th anniversary in Dusseldorf in March. This email address is being protected from spambots. You need JavaScript enabled to view it.