Fabian Yukich was four when his mother gave him an empty biscuit tin and a stick to bang it with, in his first bird scaring job. "From the age of eight or nine we were given slug guns," says Villa Maria's Project Director, 61 years after he first patrolled the family's Titirangi vineyard at dawn.
The Waitākere Ranges vineyard was established by Fabian's grandparents Ivan and Mandica Yukich in 1934, four years after they immigrated from Dalmatia. They swiftly planted orchards, vineyards and potatoes, and in 1944 I Yukich and Sons sold its first wine. As Fabian's father Frank and uncle Mate grew the wine business - living on the vineyard with their own families - other crops were replaced by vines, and by 1960 the family had 10 hectares of grapes.
Fabian clearly recalls the wine shop under their house when he was little, and standing on an apple box to look after the till. West Auckland was 'dry' back then and crowds would flock in for their 'samples' on a Friday night, he says. "In those early days for the wine industry it was a social thing." The area was known to be "quite bohemian", with more than its fair share of artists, photographers, "and people who lived a little bit alternative", he adds. "They would turn up alongside the local parish priest, who had come up for a little tipple."
Meanwhile the business and winery building were growing year on year, with Frank and Mate doing much of the work themselves. In 1961, the sons set up their own company, Montana Wines Limited, and by 1973 the Titirangi winery was "huge", with a million gallons of storage and a bottling line running 24 hours a day. Fabian worked on the line as a young teenager, including half-night shifts after a day of school. That was "the whole deal" in the immigrant community of Croatians, many of whom were in wine, he says. "Between our house and Henderson there were 10 wineries." A little further away, at Mangere, his mother Elsie's brother George Fistonich had established Villa Maria in 1961.
The kids weren't always willing workers, and Fabian recalls arguing with his cousin over the advisability of shirking work. Fabian knew if they abandoned the cuttings they were laying out they'd inevitably get caught, "and there were always consequences". The "Dallies" felt pretty hard done by compared to other teenagers who took holidays or relaxed after school, says Fabian, with a laugh. "We had to work so hard."
As a boy he would watch his father building big five-year plans with a spreadsheet, a pencil and an adding machine. Once the numbers were down, Frank set to work fearlessly, no matter how "brazen" the plan, says Fabian. "Everything was just 'do it'." In the early 1970s, Frank put a deposit on 1,600ha of land on Marlborough's Wairau Plain, predicting wines from the region would become world-famous. "He did it all secretly, paying the deposit with his own money," says Fabian. "He took a massive risk." By that time Montana Wines had taken on outside investors to fund expansion, and when Frank told the board what he had done, they initially refused to support the move, Fabian adds. "If they hadn't changed their minds, he would be been bankrupted there and then."
Fabian left school around the same time as the Marlborough purchase, aged 17, and went to work in the Montana winery at Titirangi, before getting a job in the engineering shop of Ford Motor Company. They offered to sponsor him through an engineering course, but he set off travelling the country instead, driving bulldozers and laying concrete, before winding up working a vintage for his uncle George at Villa Maria, which by then was a "reasonably sizeable operation".
After the vintage was over, Fabian went back to work for Frank, who was building his second chain of wine shops around the country. "Frank's plan for growth was to have wine shops everywhere. We would go in there and lease a building, then turn it into a shop," says Fabian, who put in 26-hour shifts during that time. "Frank had this amazing energy about him and he dragged people along with him."
Fabian would visit wine companies to buy bulk sherry, port and wine, then have it bottled under Frank's own label brands, including Chateau Cellars. He would also travel the North Island to deliver stock, do sales visits to independent shops, bring back empty flagons and occasionally run the shops when managers were on holiday.
Frank resigned from the Montana board in 1977, after he and a group of investors bought Penfolds Wines New Zealand. Fabian went on to work there, with responsibilities across the winery and bottling line, and "that started to grow really, really quickly as well", he says. "Frank's energy was there." Fabian project managed the renovations in the Henderson winery, with a role that spanned everything from ordering tanks to laying concrete to put them in place. "You'd do everything yourself," he says. "It was a good grounding in taking responsibility and getting things done."
In 1979, he was talked into getting a formal wine education at Roseworthy, back when only a handful of Kiwis went through the college north of Adelaide. He worked an Australian vintage as Assistant Winemaker under Grant Burge at Krondorf Wines, then returned to Penfolds for a vintage at Henderson, before moving to Gisborne to become onsite Project Manager for the new winery build. He stayed on to become Assistant Winemaker, "but I always gravitated towards the projects", he says. "I like being immersed in things."
In the early 1980s Frank saw a paddock of thousands of decommissioned beer kegs in Asia and, acting on a hunch that the time was right for wine on tap in bars and restaurants, immediately bought container loads, says Fabian. "They arrived back at the Henderson winery and people would said, 'what has Frank done now?'" His father had the kegs converted for wine use, and Fabian moved back to Auckland to establish the operation, starting out with a road trip with a friend to install the kegs for free, under the proviso the establishment would only sell Penfolds wine. It swiftly grew and Fabian had sales reps in Auckland, Wellington and Christchurch, managing the sale of bottle and tap wines around the country.
But in the early 1980s Frank lost control of Penfolds and Fabian left the company, going on to run his own business, which included importing components to manufacture electronic flow metres. "I figured out that a lot of sprayers in vineyards and orchards were putting too much chemical on." That was his first official foray into sustainability, but he says it was always a part of his life, from growing his own vegetables to composting.
In 1998 Fabian went back to Villa Maria, to project manage the winery build in Marlborough, then the headquarters winery in Auckland, while also taking on the role of National Wineries Manager. The wine industry had grown from $18 million of exports in 1990 to $100m in 1999, on their way to the near $2 billion exported now. "It went on this massive growth trajectory and we had to keep on expanding our contract grower base and own vineyards and building winery capacity," he says.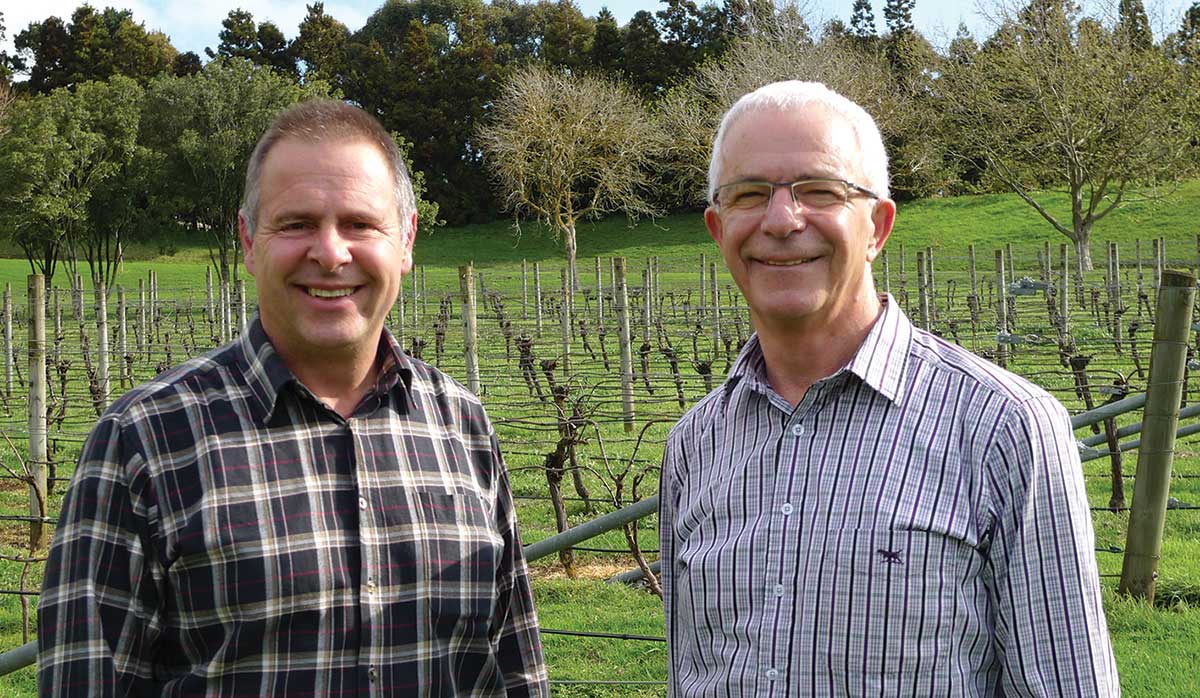 Fabian Yukich (left) with George Fistonich.
As the industry burgeoned, so did his interest in sustainability, and when planning the winery, Fabian wrote down a key goal of being environmentally responsible. Having the words on paper led to a surge in ideas, and in 1999 Villa Maria began its organic journey, leading to BioGro certification from the vineyard to the winery. There was some early push back from within the company, Fabian says, but organics built its own momentum because it drew the right people to the business, and they drove the expansion. Villa Maria now has 30 percent of its own vineyards in organic production, and a goal to have that up at 50 percent by 2030.
In the early 2000s Fabian undertook an electricity audit of all the company's wineries, kickstarting his interest in carbon emissions. In 2009 Villa Maria broke new ground in the wine industry by gaining certified emissions management and reduction scheme certification through Landcare Research, and in the decade since has reduced its emissions by more than 30 percent per bottle of wine. The initiatives only happened because of Sir George Fistonich's enthusiasm and support of environmental initiatives, says Fabian. "He would challenge things, but under his leadership those projects flourished at Villa Maria. Those things only happen if it comes from the top."
In 2010 Fabian won the Sustainability Champion Award at the New Zealand Sustainable Business Network Awards, which shone a spotlight on the work Villa Maria had done and the importance of an environmental focus, he says. Then in 2012 the company was named Supreme Winner of the Ministry for Environment's Green Ribbon Awards, and Supreme Winner of the New Zealand Sustainable Business Network Awards. The same year, Fabian joined the New Zealand Winegrowers (NZW) board, and immediately went on the Sustainability Committee (now Environment Committee) which he has chaired since 2016. In an editorial in the April 2020 Winegrower magazine, he said the Sustainable Winegrowing New Zealand (SWNZ) programme, which began in 1995, is one of the industry's biggest success stories. "Across the wine industries of the world, SWNZ is generally regarded as the best certification system and the achievement of having nearly 100 percent industry membership is considered remarkable," he said.
"Since its inception, SWNZ has had to constantly go where there is no blueprint, and then re-invent itself and redefine its role in a rapidly-growing wine industry and a world with snow-balling consumer interest about how we measure and report our impacts on the planet". And, he believes it will play an even more "critical" role in the future of New Zealand wine, moving from a "nice to have" to an essential part of the package.
Since last year, SWNZ has aligned its goals with the United Nations Goals for Sustainable Development, and the board has made big changes, with a focus on water, waste, pest and disease, climate change and people. They recently added soil to that list, and announced plans to instigate an award to recognise outstanding achievers in sustainability.
The new-look SWNZ will enable companies to tell genuine and authenticated stories to customers and consumers about what they have done to reduce their carbon emissions, water usage and environmental footprint, Fabian says. "Consumers truly don't care that we have some fancy words about sustainability in our glossy brochures and we have ticked a few difficult to understand accreditation boxes. They want to hear stories, with authentic facts and figures, about what we have actually done, and continue to do, to help save the planet."
NZW also has a new Sustainability Guardians programme, to enable members to go further, engaging in peer-to-peer learning with other members of the industry and stakeholders to promote sustainability innovation and best practice.
In 2019 Fabian reduced his hours with Villa Maria, but is still a force on the NZW board and represents the wine industry on the Organic Exporters Association. The past 61 years working in wine, beginning with that biscuit tin aged four, has been "an amazing journey", he says.
"I never would have dreamed that the wine industry would have seen me travel to New York and Bordeaux, and that our wines would be recognised everywhere. "I think I have been very lucky to be part of it."