There, with their children Jack, Harriet and Adelaide, the Ropers have created a model dairy farm — a haven for themselves and for their livestock, native birds and other creatures. Peter Burke reports on this remarkable yet unassuming family.
A few weeks ago Damian and Jane Roper won the Fonterra Responsible Dairying Award and received the John Wilson Memorial Trophy.
The prestigious award recognises dairy farmers who demonstrate leadership in their approach to sustainability and who are respected by their fellow farmers and their community for their attitude and role in sustainable dairying.
One judge summed it up beautifully, saying the Ropers are "passionate, enthusiastic and energetic with an ability to motivate those around them".
"They are determined to be better than just compliant. Hearing where they have come from, where they are now and where they are heading in the future, I want a ticket to ride their train".
The Ropers knew John Wilson personally and receiving a trophy with his name on it was very special to them. They said they were surprised to win and delighted to be a part of the whole dairy industry awards event which they say was made up of people just like themselves.
The pathway to their success as sustainable dairy farmers has been one of hard graft and based on an unwavering, strong vision of creating a modern, tidy dairy farm that is profitable and has no negative impacts on the environment.
Jane was born on a mixed sheep, beef and cropping farm in South Australia. She completed a diploma in hotel and restaurant management then came to New Zealand where she met Damian.
He was born in Rotorua but spent many holidays on his grandparents' dairy farm at Rununga on the West Coast, where he helped milk the 30 cows they were running.
"That was the grounding that set me up for being a farmer. I knew when I was 11 that I wanted to be a farmer and went to Massey University and did a BAgSc."
After he and Jane met they headed off to Australia where he learned to shear and then did shearing in Wales and England. When they returned to NZ in 1992, Damien continued shearing until a wrist injury forced him to take a break.
"During that time we came to Taranaki for my best man's wedding and got a nice feel for the place and thought there was a pathway to farm ownership which was always our goal," says Damian.
So began a 23 year climb up the ladder of the dairy industry from farm workers to contract milkers and then 50/50 share milkers.
In 2006 they bought part of the farm they are on now and a second block in 2008. Then in 2015 they gave up sharemilking and came to set up home on the present property. All told there is 200ha of which 148ha is the dairy platform.
There are 30ha in pine trees, 4ha in bush and the remainder carries a small sheep and beef operation. They run 150 ewes and produce lambs for the summer market and then trade between 25 and 30 steers and heifers they rear each year and take through just one winter.
Fewer cows, more milk
Damien and Jane Roper live their vision in the management of the farm.
For example they have built a large modern dairy shed with a feed pad attached to maximise feed utilisation and to reduce the environmental footprint of their stock. They have also reduced stock numbers but their production has lifted by 29% over three years.
"We used to run 510 cows but now we run 425 and this has resulted in putting less pressure on the whole farming operation. We have noticed cow production has lifted considerably with less stress during winter and spring and we can cope well when extremes happen due to climate change.
"We are better off in having 425 high quality cows that are more efficient at converting grass to milk, than 510 average to below average converters that emit more greenhouse gases," says Damian.
He says when they had 510 cows their stocking rate was 3.2 but is now at 2.7. They have built a quality herd of two thirds Friesian and one third Friesian cross. This season Damian says they will produce 240,200kgMS which equates to 586kgMS/cow.
"When we had 500 cows we were barely doing 400kgMS/cow so you can see how having fewer, better cows has helped raise production."
Reproduction and in calf rates have improved allowing fewer replacement numbers.
But it's not all about reducing cow numbers. The Ropers operate on system four and to maximise inputs they have hired a nutritionist to make sure they feed the right amount of the right feed at the right time.
Damian says while their feed bill has increased slightly their utilisation of feeds is a lot better. And they re-grass about 18% of the farm annually, mostly by no tillage.
Benefits of planting trees outweigh costs
In the seven years before they started running the present farm in their own right, Damien and Jane Roper did a mass of riparian planting -- at least 9000 trees to date.
Last week Damien had picked up two more loads of trees.
Near their back door is a beautifully preserved stand of native bush. They call it Ropers Bush and its upkeep and preservation is a task for the Roper children – Jack (23), Harriet (21) and Adelaide (16).
Jack works on the farm and runs a small contracting business with a focus on no tillage. Harriet teaches at a primary school in Hawera and lives at home. Adelaide is at boarding school and enjoys running.
The trees took a hammering in the 2012 storms but somehow with the help of the Taranaki Regional Council the Ropers have managed to restore the stand of bush and the children are now building a boardwalk through it to allow visitors to view the area without damage.
The native trees provide food for the native birds and the dawn chorus is something to behold. Ropers Bush is classed as a Key Native Ecosystem and will be covenanted under the QEII scheme, ensuring its preservation.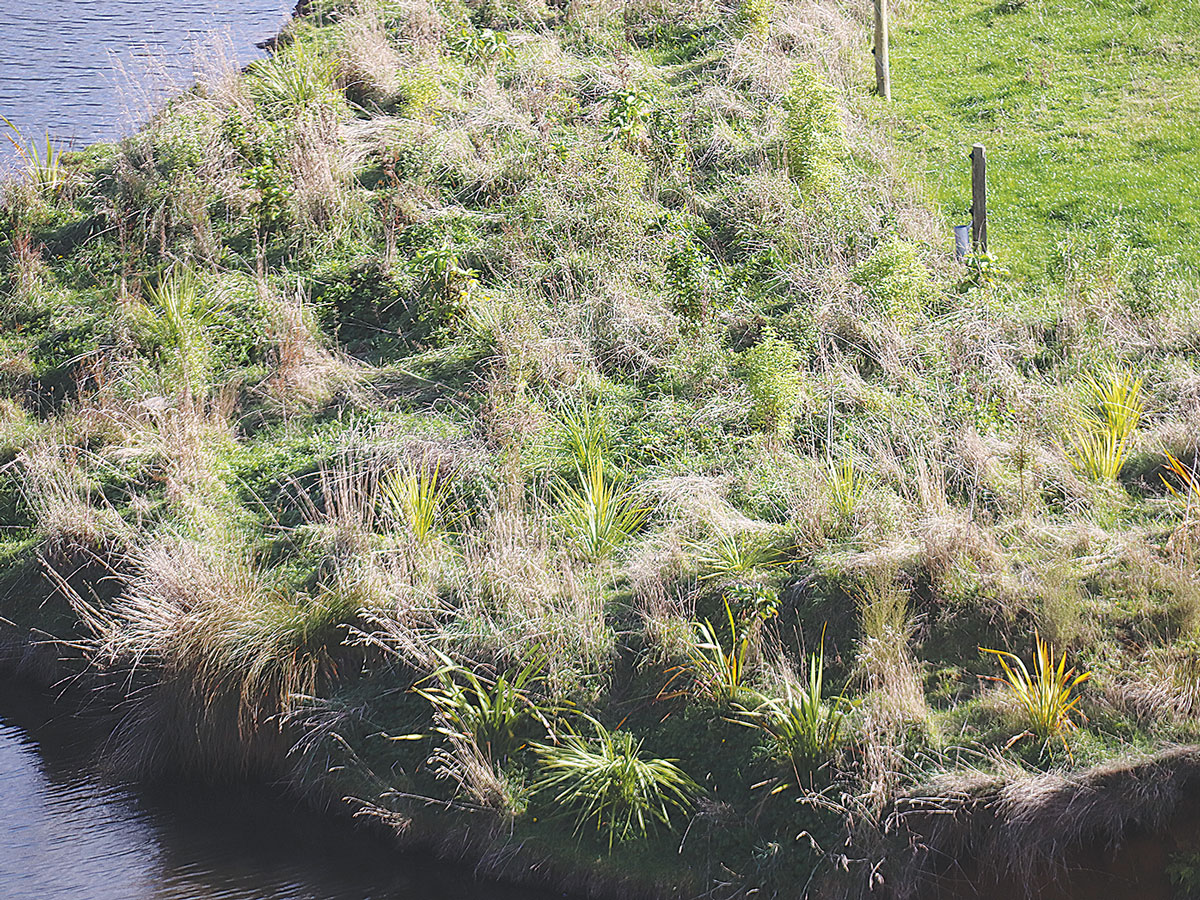 Down a gully a few hundred metres from the dairy shed is Lake Ohurai, created by the Ropers in a once boggy, ugly area of swamp. The 2ha lake gets its name from the small stream that feeds it. Artificial islands foster the bird life.
"When we took over the farm it was probably the ugliest area, now it's the most picturesque. We have made underwater reefs for the kura and planted a whole range of native tree species to not only improve the aesthetics of the lake but to provide food for the birds.
"We have planted nursery species such as cabbage tree, carex, coprosma, kohuhu and canopy trees puriri, totara, rata, rewarewa and even beech trees which attract the bell birds," says Jane.
"We have even started a small propogation area with a focus on regenerating the rare swamp maire to the region."
The Ropers contracted an independent geologist to set up a robust lake management plan.
"It was well worth it as it gives us a road map to work to. It also gives us actual data on the health of the lake. We take water samples twice a year to measure nitrogen, phosphate, sediment, temperature and dissolved oxygen. Also we snorkel the lake in the summer to monitor the aquatic life which is flourishing."
The family also regularly swim and kayak the lake.Their planting continues.
"We have noticed a lot of duck species coming in such as the teal, scaup and dab chicks. There are also flocks of herons. We have planted carex near the waters edge which provides good areas for nests," says Damien.
The word has got out in Taranaki about the remarkable contribution the Roper family have made to dairying and the environment. They frequently host visitors and schools to see what they have done and the small, relatively inexpensive changes they have made to reduce the farm's environmental footprint.
Climate Change Minister James Shaw has been to the farm.
"We see this as an education tool and we will never charge people to see it," says Damian.
He and Jane, modest about their achievements, say their goal as the first generation on the farm is to set things up for future generations. They are thrilled that their children share their vision and are involved.
The Ropers aim to help build a positive image of the dairy industry which they see as tarnished. They want the public to see the positive side of their industry and show other farmers what they can do to.
Says Damian, "We don't expect everyone to create a lake but there are little things that can be done that make big gains on the environmental front and a positive look for dairy farmers."
It's not hard and it need not be expensive, he says. The benefits outweigh the costs ten fold.