The two conversions are complementary – one offers an experience on a commercial dairy farm while the other has a focus on horses.
Stacy Faith and her husband Andrew milk 360 cows once a day to supply Fonterra. They separately milk 20 more to supply A2 milk for the vending machine they have installed at their farm gate. It's a farm that has long been in the Faith family.
The old dairy shed dates back to the 1950s and '60s and Andrew Faith can't remember his father even using this shed. It seems it was a walk through shed and about five cows could be milked at a time using machines. At that stage the herd comprised about 60 cows.
Stacy says the idea of doing something with the old disused dairy shed came when she and her son went to Hamilton to watch the Phoenix football team play.
"About three years ago, we were on our way home and we picked up a hitchhiker who was a woofer from the US and he told us about the fact that he was travelling around and staying in various places and working and needed accommodation. I suddenly remembered that we had this old cow shed doing nothing at all and thought that this could be re-purposed. The main reason was to have somewhere for the woofers to stay, because I had three kids at home and the kids didn't really want anyone else in our home, so the idea was why not have them live up in a converted cow shed," she says.
Stacy says there was no specific plan for the conversion from old shed to new accommodation, but with the help of builders the project came together and was completed in about nine months. She says ideally she would have liked to have had two bedrooms, but they would be small so they opted for a one bedroom that can accommodate four people.
"So it's like when people go on holiday, they all cram into a tent together and everyone seems to be happy," she says.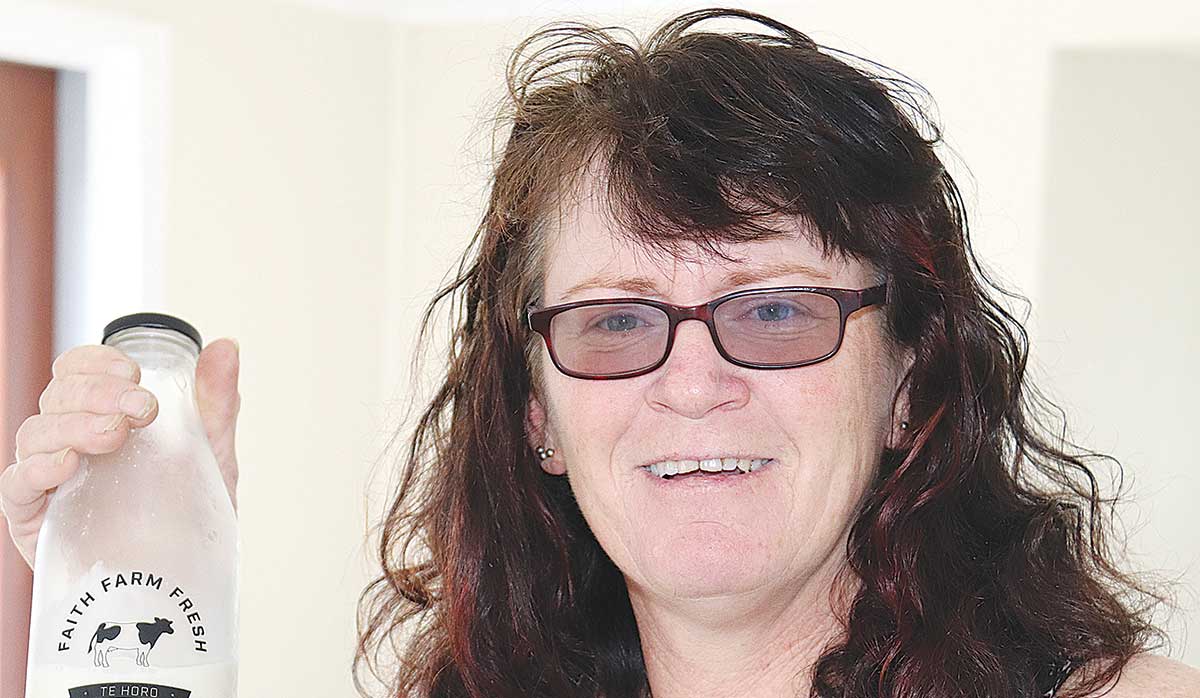 Stacy Faith.
From the outside it still looks like a dairy shed except it is painted white with black cow-like symbols. The yards are in front of the kitchen and are still used occasionally for dealing with young stock. Inside it is spick and span and is dairy-farm themed with bar stools made from old tractor seats, towel rails made from disused parts of a water trough. The toilet and shower are in the area where the milk vat used to stand and cow mats, not cow pats are very much in evidence. Many of the materials in the shed are recycled and add to the character of the place.
From the kitchen and lounge you can see the cows pass by each morning on their way to be milked. You can also see the Tararua ranges to the east and Kapiti Island in the west. It's a beautiful rural setting. Overall the cost of the conversion was about $50,000.
Stacy says the location of their accommodation suits travellers going to and coming off the Cook Strait Ferries as it just about an hour from Wellington. Before Covid, a large number of the guests were from overseas.
"Now…about 80% are Kiwis and about 20% from overseas. We used to get people from all over the world – we even had a couple from Latvia who were beef farmers," she says.
For visitors there are options as to what they can do, ranging from just sitting and watching the farming operation to actively participating in it.
"Near to the dairy shed there is a paddock where we put our cows that are about to calve and people can see the calves being born. They can also wander down to sheds and see me feeding the calves. There is an option, which costs an extra $50, where they can come down to the shed and help milk the cows and fully participate in the morning milking. I charge for this because they need to be equipped with overalls and gumboots," she says.
Those staying at the shed get a real taste of country, with milk, eggs and bacon all from the farm. Stacy supplies their A2 milk, but also regular milk, recognising that not everyone can drink raw milk. All the guests have to do is cook their own breakfast.
Running this small B&B is just one of Stacy's tasks. She rears the calves, is the backup milker, looks after the vending machine and off-farm is a very busy swimming instructor. But she enjoys dealing with visitors who are mainly townies who ask the usual questions about the cows and farm life generally
"I am not out to make millions, but I want people to experience farm life and put farmers in a positive light and change people's attitudes," she says.
Of Horses and Cows
Just two kilometres south of Stacy Faith, Mandy Robinson has also converted an old dairy shed into a B&B on a farm that used to belong to Brendon Faith - Andrew's brother.
She bought 7ha of land in 2000 where she grazes her 11 horses, and which offers grazing for about another 10.
The site is beautiful with views of Kapiti Island and the Tararua Ranges.
In her early life, Mandy Robinson worked overseas and was purser on a cruise ship, but it was her love of horses that brought her back to NZ where for the last 30 years she's been running a successful equestrian operation. She used to have the horses at Queen Elizabeth Park at Paekakariki but moved them to the Te Horo site a couple of years ago.
So while the old dairy shed provides the accommodation, it's the horses that are the attraction for visitors to the property.
In 2016, work started on converting the dairy shed to a B&B. It was no small challenge with the shed just a shell with rusting pipes and the like and something of an eyesore.
"It was the location that inspired me to renovate the shed because I thought other people should enjoy this incredible view, the sunshine and privacy, which is unique. I very much enjoyed the process of design, build and fitting it out. I enjoyed meeting the people who worked on the project and all those subsequently that have come to stay," she says.
The completed accommodation consists of a two bedroom, self contained unit that can sleep five people and is designed for the disabled. As well there is small studio unit which is located where the vat used to be in the original shed and can sleep two people.