Dave Hale, LIC's national artificial breeding manager, says he's impressed with the support farmers are showing for LIC's improved AB facility standards.
These standards will see the end of AB technicians having to work from the pit of herringbone sheds.
The new standards provide farmers with a phased timeline to provide a dedicated AB facility, starting with the removal of LIC's AB technician service from trolleys by May 2023.
Hale says he appreciates it's a big shift in mindset for a portion of farmers but backs the need for change.
"AB technicians have been inseminating cows in herringbone sheds for years, but the reality is those sheds are designed for milking cows, not performing artificial breeding.
Health and safety standards and expectations of working environments have evolved considerably and what used to be considered ok, is simply not ok anymore.
"The health and safety of AB technicians on-farm is a responsibility shared by LIC and farmers and we need to work together to provide a work environment that's safe and fit for purpose so our technicians can focus solely on their job of getting cows in-calf."
Hale says LIC's AB operations team is working closely with farmers to help them find the most cost-effective solution for their farm. The AB operations team is aiming to make contact with all 1,070 farmers who provide trolleys in their herringbone sheds for their LIC AB technician.
"So far we've spoken to 900 farmers and are visiting all farms where farmers are asking for help with design and implementation. These conversations allow us to discuss any questions a farmer might have, weigh up their options for providing a dedicated AB facility, and ultimately decide on a solution."
After visiting a number of farmers to discuss the standards, Hale says the cost of building a dedicated AB facility is often the first topic of discussion.
"For a lot of farmers, the cost is often considerably less than first thought. Coupled with the fact a dedicated AB facility can be used for multiple purposes, a lot of farmers are deciding to simply get on with it and build new facilities now so that they're in place before spring which is really pleasing to see."
Hale says LIC's 860- strong team of AB technicians are supportive of the change and are looking forward to working in more standardised, fit-forpurpose, safer environment.
Making Mating A Breeze
On his Te Puke farm Luther Siemelink milks 400 cows in a 30-aside herringbone.
Having previously sharemilked on a South Waikato farm, he's familiar with the pitfalls of trying to apply heat detection aids, and the difficulties an AB technician can encounter, inside herringbone sheds.
"When it came to mating time, we used to do it by trolley, which was only good enough to do half-a-dozen cows, then shift it, then halfa- dozen, then shift it.
"The owners were reluctant to upgrade, so I thought as soon as I own my farm, that's what I'm going to do, I'll install dedicated facilities, and I'm not going to muck around."
So when he bought his farm three years ago, Luther estimates he spent $2,000 installing a safe AB facility on the edge of his shed.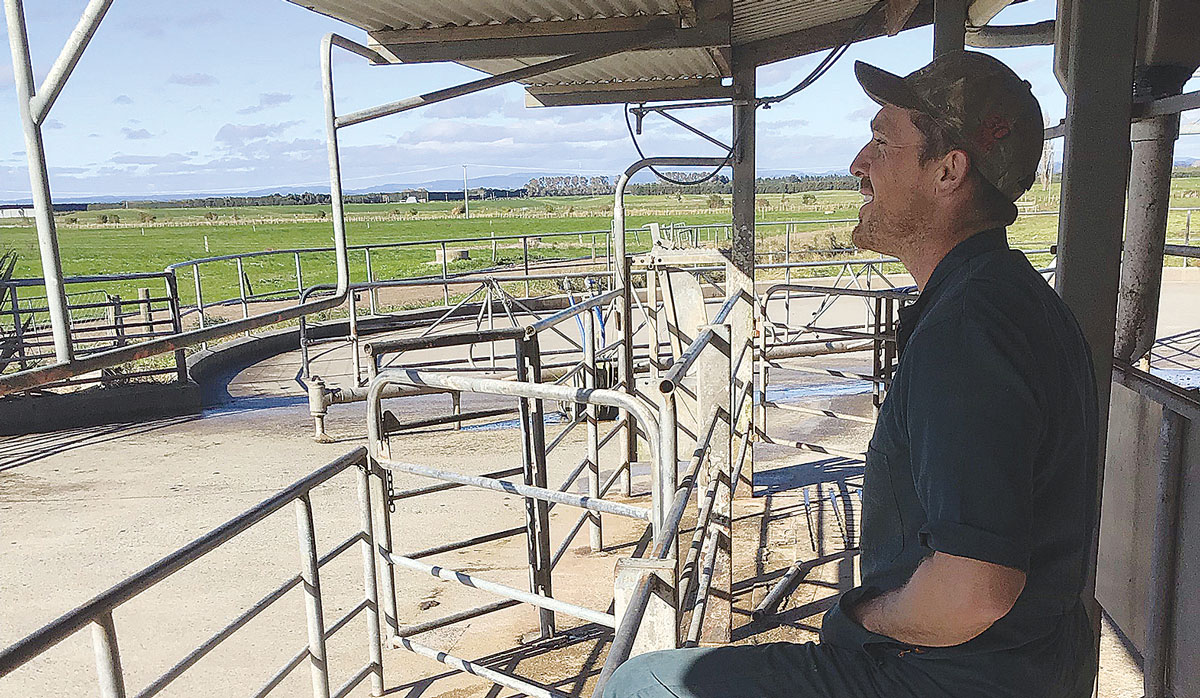 Te Puke farm Luther Siemelink milks 400 cows in a 30-aside herringbone.
"We did most of the work ourselves as soon as we bought the farm – so that's the cost of materials.
"The facility makes a big difference. One of the main reasons we wanted it was because we do 100% AB and we had in-shed feeding, so we knew how tedious it was trying to use a trolley for 10 weeks or so. As far as I'm concerned, the more comfortable the cows are the more comfortable the technician is, so the repro results are going to be that little bit better."
Applying and maintaining heat detection aids was also a streamlined process. "We can fit 15-20 cows in at a time, just row them up and comfortably apply them."
As well as a significantly better set-up in terms of health and safety for AB technicians, Luther said other on-site visitors such as vets appreciated the dedicated facility.