That sort of sums up Wills' change in lifestyle, now a professional company director and on the boards of many agri-related companies - such as Ravensdown, the Primary ITO, QEII Trust and Apiculture, of which he chairs the last three. He was also president of Federated Farmers in the past from 2011-2014.
Wills is no stranger to horticulture having served on the HortNZ board and he also has investments in kiwifruit in the Bay of Plenty.
Until a couple of years ago, he ran the family farm Trelinnoe Station, a unique sheep and beef property on the Hawke's Bay end of the Napier Taupo road. The property is world famous for its large, world-class garden.
But now Wills has moved on from running a large livestock farm to being a small time, contract grape grower with a house on a hill that has some of the most spectacular views in Hawke's Bay.
"I come from a large family and I'd been at Trelinnoe for quite a while," he told Hort News.
"At the same time, I began to get busy with my governance work, which I enjoyed and felt wasn't giving Trelinnoe the fair deal that it deserved. After an extensive discussion with wider family members and children - I have four - and a swag of brothers, we decided to sell Trelinoe a couple of years ago."
For Wills and wife Jo, the next decision was where to from there. He says he's always been keen on architecture and his instructions to the real estate agent was to find him a site where he could build a special house for his semi-retirement. But, instead, the agent came up with an entirely different proposition - a stunning architecturally-designed house, which had been owned by two of the original founders of the Trinity Hill vineyard, plus a few hectares of grapes. The house is on a hill and looks down on the Trinity Hill vineyard complex.
"So, it was a case of horticulture by default. I didn't really seek out the vineyards but when we came here, the house and site fitted what we were after," Wills says.
"So, with it came five hectares of syrah grapes, plus some olive trees. We'd only been here six months when the neighbouring 53ha of land came up for sale, which we bought and that had another five hectares of grapes on the flatter of gimblett gravel - plus another hectare of olives as well as some sheep and cattle."
In terms of the grape growing operation, the vines on what Wills calls the 'farm block' and down on the flat are a mixture of chardonnay, merlot and syrah. He employs a manager to run this area. It once belonged to Cyprus Wines, who moved on.
Around the house on the hill or terraces are the syrah grapes and these are the ones that he personally looks after - doing the pruning and other tasks. But there is no 'Bruce Wills' brand.
"We are simply contract growers. We have a strong association with Trinity Hill but we may sell to other winemakers," he told Hort News.
"We are just keen to learn about grapes and happy to say we are complete amateurs at this stage. We have only gone through a season and a bit and we have learned how to prun, pluck and manage, and are getting the lingo sorted," he says.
House on the hill's spectacular views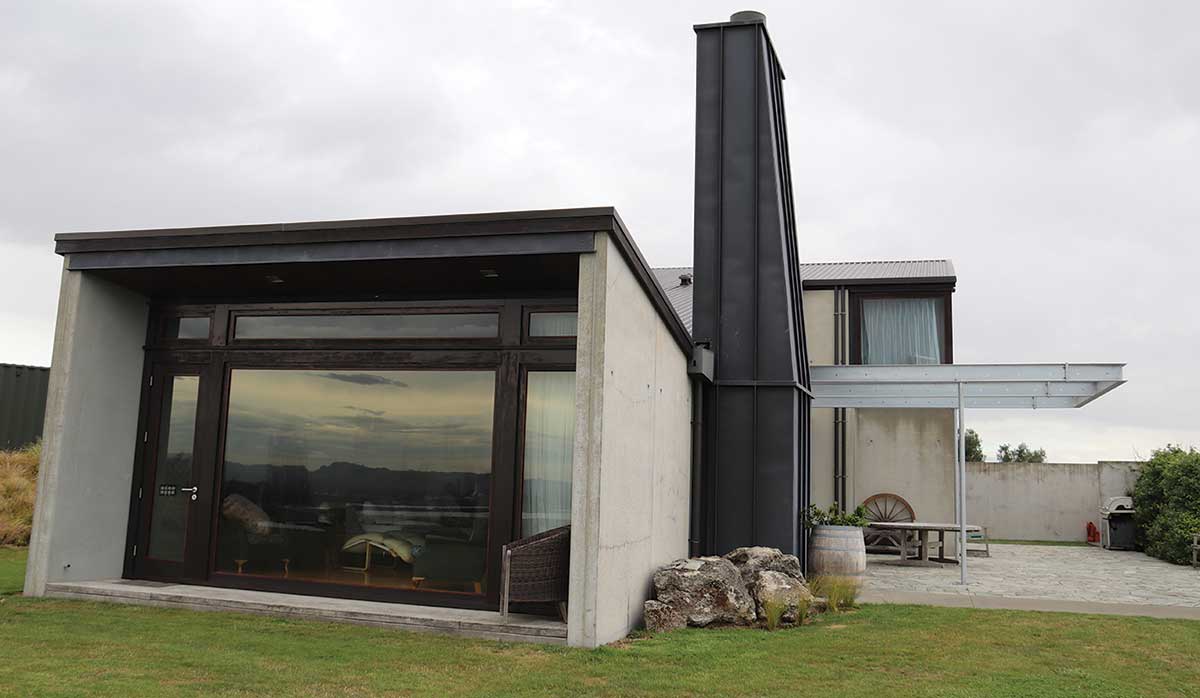 Every room in Bruce Wills' house has spectatular views of Hawke's Bay.
Every room in Bruce Wills' house has a view.
To the north, in the distance, you see the port of Napier and ships waiting in the Pacific Ocean waiting to berth. To the west, there are ranges and then more stunning views of the Hawke's Bay coast.
The house was built by an English couple, Robert and Robyn Wilson, one of the original owners of Trinity Hill, which was established in 1993. They owned the Bleeding Heart Restaurant chain in the UK and they wanted their own NZ wine for their restaurants.
The house is concrete and there is no garage. Wills says the Wilsons came out from England every year in our summer and just stayed for a month or two.
Bruce and Jo have plans to put a new building alongside the existing house - a space for family and potentially a B&B. But it will be separate and not attached to the present house.
His governance work takes up about four days a week, leaving the rest of the time to tend the grapes and olives, as well as indulge in one of his favourite pastimes - planting thousands of trees. This includes a range of species such as poplars on the steep hill, which leads up to the house. He and wife Jo are also developing and extensive wetland.
"Six months ago, that was just a dirty little gully with five springs, which ran all through last year's drought and I thought it was just too good not to do something with," Wills told Hort News.
"So, we got a digger in there and built five ponds and did some design works and put a secure post and batten fence around it. The result is that the wetland filters the water as it enters the gimblett gravels. Conservation has always been part of my life and I enjoy planting trees."
Wills says he doesn't miss Trelinnoe and says this is partly because he took time to come to the decision to move.
"It was time for us to move on. Trelinnoe was a big commitment and a difficult property to run and being a little way out of town, so I was constantly in the car on the way to airports," he explains.
"I have had the philosophy that life is short and you have to grasp opportunities, and now that we have moved, I am happy. I tell my sheep and cattle colleagues I have moved to the dark side, but I have still got a few sheep and cattle here. But I don't miss dagging dirty lambs and doing lambing beats or things like that," he says.
Today when he's not attending a board meeting in person or on Zoom, Wills is busy caring for the grapes around the house or out planting trees and being distracted by the magnificent views from his hilltop, grape escape.