Trials have been running at Massey's Riverside farm in the Wairarapa since 2020. The aim has been to breed up a flock of self-shedding Wiltshire sheep by crossing Romney ewes with a Wiltshire ram.
The project, funded by the L.A. Alexander Trust and the Massey University Foundation, comes in part as a response to failing strong wool prices and the rising cost of shearing sheep.
Professor Steve Morris says few coarse wool sheep farmers today are recovering the costs of shearing and many are not. He says one alternative option is to breed a "no wool" or "self-shedding" sheep.
"Some farmers have (or are already) graded-up to a Wiltshire flock, but what's lacking is quantified, researched results that show the potential impacts and to provide a way forward for other sheep farmers who might be contemplating a move to a self-shedding sheep," Morris told Rural News. "The aim of the project at Riverside is about gathering the information to do this and quantify the benefits and costs of the change from a Romney to a self-shedding Wiltshire flock."
Morris says the project has two aspects. Firstly, to model the profitability of such a change and secondly to undertake a multi-year flock study, recording production and performance as the flock progresses to a Wiltshire flock.
He says the modelling undertaken so far suggests that the strong wool greasy price would have to exceed $4.15/kg greasy to break even on the costs of shearing in many farming scenarios. However, Morris concedes that the data is limited and the trial aims to come up with some answers that will help farmers make quality decisions.
The project started in March 2020 with 400 Romney ewes bred to either Wiltshire rams or Romney rams. The resulting ewe lambs from this first breeding - that is half-bred Wiltshires - were then bred as hoggets to Wiltshire rams late April 2021 to generate three-quarter Wiltshire lambs, which were born in October 2021.
The project continues with seven-eighths Wiltshire lambs to be born in 2022 and 15/16 lambs to be born in 2023. At each lambing, the progeny are compared to the base Romney flock at Riverside farm.
Morris says the lambing of half Wiltshire-cross ewe hoggets started in late September 2021 and the lambs were weaned on 17 December. He says the three-quarter Wiltshire cross lambs grew at 270 grams/day to average 24.6kg at weaning (at an average age of 75 days). Meanwhile, the Romney lambs grew at 260 grams/day to weigh 23.7kg at weaning. Lamb losses recorded from birth to weaning were 13% in the three-quarter Wiltshire cross and 25% in the Romney bred lambs.
"Growth of the three-quarter Wiltshire-cross ewe lambs from weaning on 17 December to 26 January was 188 g/day to reach a liveweight of 31.0kg - hence they are on target for mating liveweights of 40kg in late April," Morris says.
"The comparable group of Romneys weighed 30.7kg. The three-quarter Wiltshire cross ewe lambs were given a shedding score on a scale of 1 (no shedding) to 5 (fully shed) on 26 January and 90% showed some shedding. At the same date in 2021, 40% of the half Wiltshire cross lambs showed some shedding."
Interest High
Farmer interest in the trial has been huge.
Last May, a field day at Riverside farm attracted over 100 farmers all keen to learn more about the trial.
At the time Massey's School of Agriculture and Environment head Professor Paul Kenyon said the turnout to the field day exceeded their expectations - given that the project was in its very early stages and there was not a lot of data to share.
Kenyon doesn't think the interest in self-shedding Wiltshires is just because farmers are necessarily over wool. He believes many still regard wool as a good quality product they are very proud of.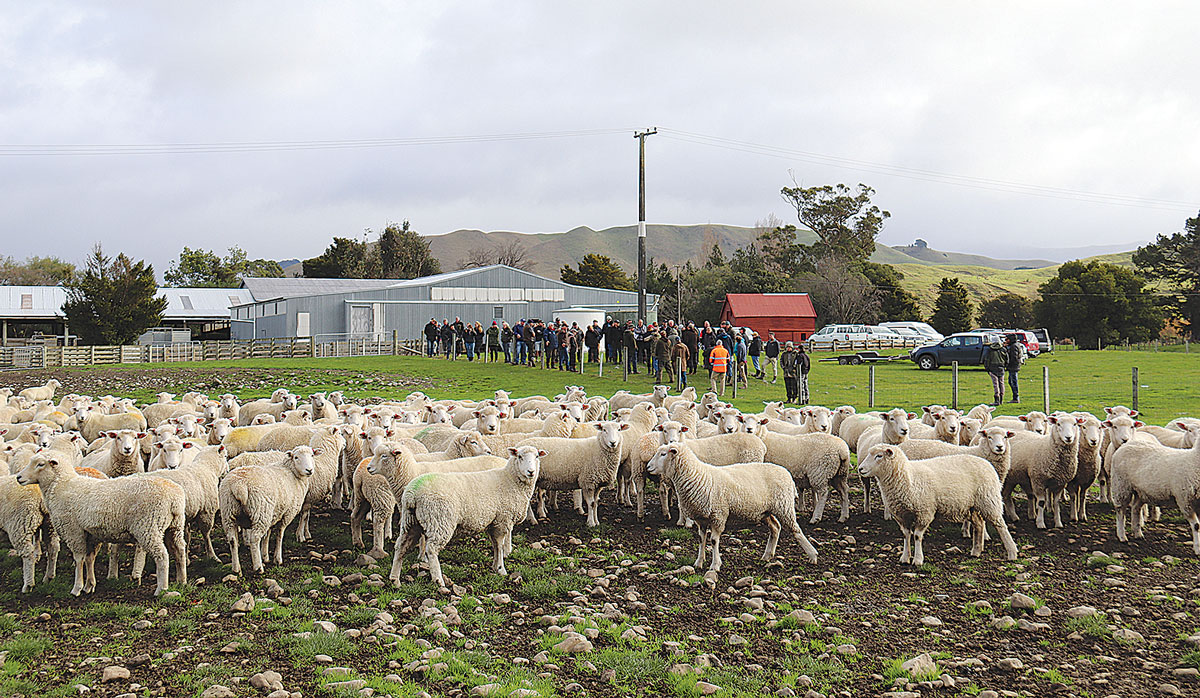 Last May, a field day at Riverside farm attracted over 100 farmers all keen to learn more about the trial.
"But it just comes down to the economic sense of it at the moment, because of the costs of dealing with wool, including the price of shearing," he adds. "Also, it's the extra labour costs over the summer autumn period - including crutching, dipping and fly control. With less labour on farm, you can do other things such as improving the performance of the farms or go to the beach."
Kenyon says Massey is not suggesting that farmers should all go to Wiltshires, but it wants to provide quality information so that farmers an make informed decisions.
Massey University is planning to hold another field day at their Riverside Farm once NZ emerges from the present 'red settings'.