It comes after years of protracted and difficult negotiations between the two jurisdictions and was finally locked in place following a meeting between Ardern and the President of the European Commission, Ursula van der Leyen in Brussels. Trade and Exporter Minister, Damien O'Connor has also been in Brussels to support the final touches of the deal being put together.
Ardern describes the FTA as a strategically important and economically beneficial deal that comes at a crucial time in our export led COVID-19 recovery. She says it delivers tangible gains for exporters into a restrictive agricultural market and cuts costs and red tape for exporters and opens up new high value market opportunities and increases our economic resilience through diversifying the markets that we can more freely export into.
"The complete removal of duties on the majority of products New Zealand exports to the EU is a major achievement in a deal that covers market access into 27 European countries," she says.
O'Connor who's played a significant role in the latter stages of the negotiations says the deal provides access for products that were previously locked out in the historically difficult to access European market.
"This agreement delivers on what has been a long-standing objective of successive New Zealand governments - an FTA with the European Union, which will help accelerate New Zealand's economic recovery at a time of global disruption," he says.
O'Connor says they fought hard for our dairy and beef exporters and the deal could deliver up to $600 million in additional export revenue if access is used and once the agreement is fully in effect.
"We've secured an eight-fold increase in the volume of beef we can export into the EU and also secured improved access for our butter and cheese producers, some of which will now be able to be trade with the EU for the first time in many years," he says.
But Horticulture is the big beneficiary of the FTA .The kiwifruit industry will benefit from a $37 million reduction in tariffs which the chairman of Zespri, Bruce Cameron who's in Brussels says is very pleasing and will set Zespri up to expand its exports to Europe.
"They are one of our largest markets and the company remains committed to deepening its relationships in the region. The FTA enables us to maintain our brand presence but also deliver strong returns to local communities and help create local jobs and investment," he says.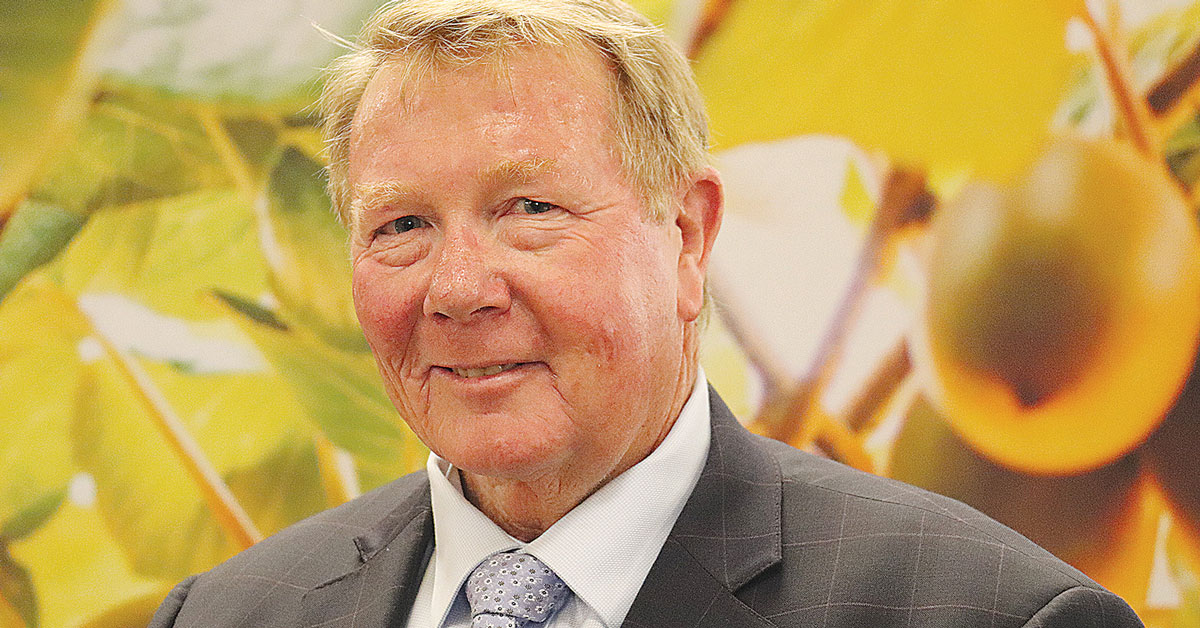 Zespri chair Bruce Cameron says he's pleased with the deal.
Onions, apples and wine along with several other products including honey will see tariffs on their products reduced. chief executive of Apiculture NZ, Karin Kos says the FTA is another excellent outcome for her industry and will improve competitiveness in this important export market. She says NZ's honey exports to the EU have grown in recent years to around $60 million per year but says the current in-quota tariff rate of 17.3% has been a significant barrier to trade.
But while the horticulture sector is hailing the deal, the red meat sector and the dairy industry are far from happy.
The chairman of DCANZ Malcolm Bailey says despite the deal the EU market remains largely closed to NZ dairy. He says the combination of very small quota volumes relative to the market size and trade restrictive in-quota tariffs has this deal falling well short of being commercially meaningful for the dairy industry.
"DCANZ analysis of outcome value differs significantly to that calculated by the NZ Government. While it can be theoretically claimed that the value of this access grows to $600m over seven years, the commercial reality is far less given the remaining trade restrictive in-quota tariffs and quota administration. In-quota tariffs of around NZ$630 for butter and NZ$435 for milk powder will constrain competitive opportunities, including versus alternative market opportunities closer to home. This is a considerable missed opportunity for the NZ economy," he says.
Bailey says the agreement also includes the loss of our cheesemakers' rights to feta and gruyere and says it will also prevent any new business development opportunities for parmesan.
"This is a significant blow to the many New Zealand feta, gruyere and parmesan cheeses which were celebrated for their quality at the annual champions of cheese dinner," he says.
Likewise the red meat sector says it's deeply disappointed and concerned at what it describes as a poor-quality trade deal saying it will continue to put NZ at a disadvantage in our third largest export market.
The deal will see only a small quota for New Zealand beef into the European Union -- 10,000 tonnes into a market that consumes 6.5 million tonnes of beef annually -- far less than the red meat sector's expectations.
Meat Industry Association chief executive Sirma Karapeeva says they are extremely disappointed that this agreement does not deliver commercially meaningful access for our exporters, in particular for beef.
"Unfortunately, this outcome maintains small quotas that will continue to constrain our companies' ability to export to the EU. This agreement is not consistent with our expectations and the promise for an ambitious, high quality trade deal. With more volatility in global markets, diversification is important and a high-quality FTA with the EU was critical in helping us achieve this," she says.
Sam McIvor, chief executive of Beef + Lamb NZ says that the outcome is difficult to reconcile, given the longstanding relationship and shared values between the EU and NZ
"For over 100 years, our sector has exported safe, nutritious, and high-quality products to Europe. We share common societal values, a commitment to high production standards, and robust regulatory frameworks for food safety and quality, animal welfare, and sustainability. It's difficult to understand why a more ambitious outcome wasn't possible," he says.