While the group members are all working in diverse farming operations, they all have a common purpose – aspiring to farm business ownership.
"It was inspiring to host a group of young people that are passionate about the industry and looking at ways, outside of the box, to get a step up into their own farming businesses," Smith says. "They are very focused on what they are doing now and what it will take for them to get where they want to be."
The Red Meat Profit Partnership (RMPP) Action Network model supports small groups of seven to nine farm businesses to work together to explore ideas and share expert resources to help them to make positive changes on-farm. As a rule, kick-start funding of $4,000 per farm business is pooled to fund facilitation and expertise.
"This group is structured a little differently, with a different funding model, to meet its particular needs – which really demonstrates the flexibility of the Action Group programme," says the group's facilitator Hamish Campbell – a senior agri manager for Ravensdown in North Otago, who spends a lot of time on the road working with farmers.
"While it's still fairly early days – we launched in June 2019 and have had three meetings to date – it's clear members are getting value out of it," he says. "One of the things we are now looking at is having mentors within the industry. Many people who have done well are only too happy to share support and advice. We are looking at doing an exercise to get them to identify and approach a potential mentor."
Campbell says the idea of the group originated with some of his clients, who saw the value it could offer to young people they either employ or know in the sector.
"One of my farmer clients is in an RMPP pilot group and floated the idea and asked if I would like to facilitate it," he says.
"I was keen and Ravensdown encourages us to be involved with industry meetings and discussion groups, so it worked well. The RMPP facilitator training I did was great for learning effective facilitation and in terms of personal development."
Campbell says membership of the group comprises eight farming couples and it is a diverse group.
"Some people are in sheep and beef and some in dairy. We have farm managers, sharemilkers, people who are going through succession and one couple have bought a dairy farm since the group started."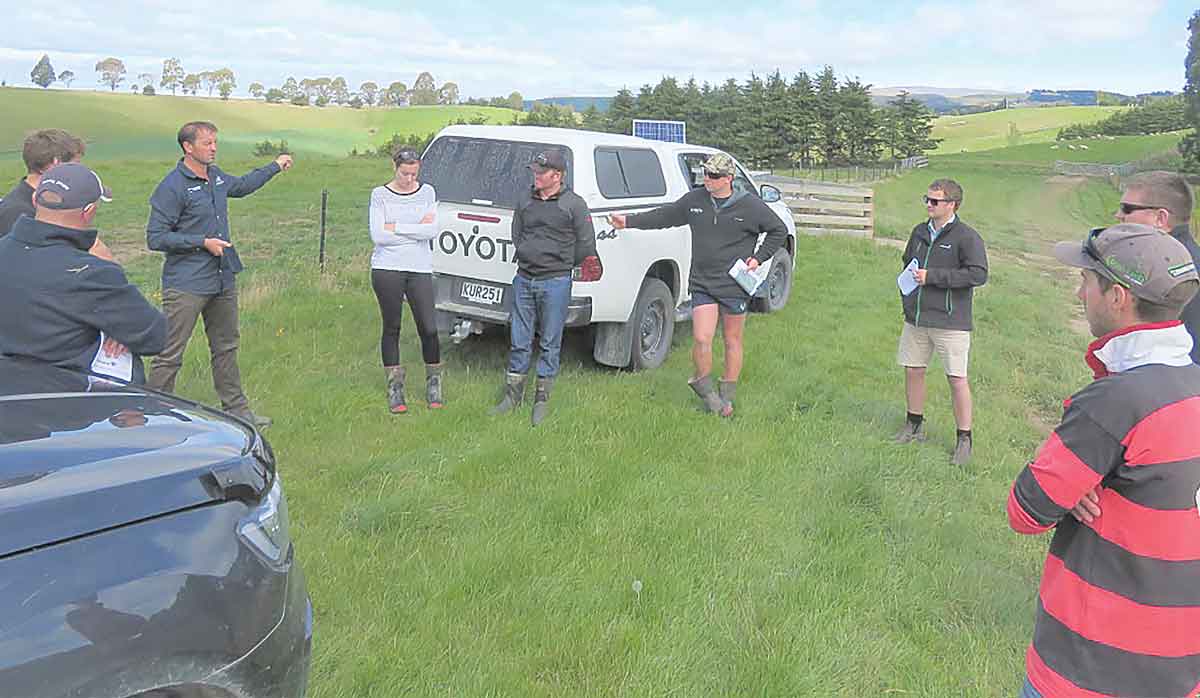 Members of the Action Group learn about Jane and Blair Smith's farming journey.
The group decided to start off with the two compulsory workshops for their first two meetings. Campbell says the group got a lot out of those and the focus is now very much on members driving the direction of learning and making decisions on content.
Specialist rural accountant and advisor Fraser McKenzie led the financials workshop.
"A lot came out of that around how to financially structure your business and different avenues to farm ownership," Campbell explains. "There was a conversation about asset purchases and how to structure loans. Members were keen to take that further, so our next meeting is going to be with a financial advisor to look in more depth at structuring loans."
He says the group also wants to look more closely at governance and who they surround themselves with and how to get the best advice.
"It got them thinking differently about how they can use an accountant – for advice and benchmarking and analysis of how the business is doing."
Confidence growing
Group members Grant and Lucy Tremewan bought their 150 Ha dairy farm in Duntroon in December, having previously been sharemilking.
"I think being part of the group gave us more confidence to buy the business," says Grant.
"Things we took out of the financial workshop included how you need to shop around different banks. We ended up going with our existing bank, but we looked at others."
He says one thing they have taken from the group is to use expertise.
"We paid KPMG to do our proposal for buying the property, rather than doing it ourselves. Having a bound professional report to show to banks, with all the analysis, was definitely an advantage."
Grant Tremewan says members also appreciate the structure of the group.
"The networking and communication are valuable too. We had moved into the area, so it's been good to get to know other young farmers," he adds.
"I have 160 of my heifers on one of the other group member's places at the moment. We share ideas and ask each other for advice. With such a mix of disciplines and roles, from sheep and beef managers to drystock or dairy farmers, there is always someone in the group who can help or provide ideas."