"Who would have thought / I never would have thought..." really sums up our year rather accurately, don't you think?
Quarantines, social distancing, bubbles and masks were certainly not words on people's lips, or in the media, when 2020 broke in on us January 1.
For the sports fans; who would have thought the Warriors would need to be based in Aussie or drop right out of the comp? Who would have thought that Super Rugby would be shut down this year, and then the All Blacks would also need to be based across the creek? And, whoever would have thought games would get played with no spectators - before empty grandstands!
For us on the farm, who would have thought it would be so difficult to get stock away, to name just one challenge. We were affected by this ourselves - as I know many others were as well.
And, in general, who would have thought we'd see queues outside supermarkets with people spaced out a metre or two apart. Who would have thought we would see loo paper shelves cleaned out and, in some cases, shoppers ready to slug it out for that same loo paper!
And who would have thought families couldn't get to see and farewell dying loved ones.
Challenging and unusual days for sure! Who knows exactly what 2021 may throw up in our faces? Quite likely some more stretch and grow opportunities, on steroids!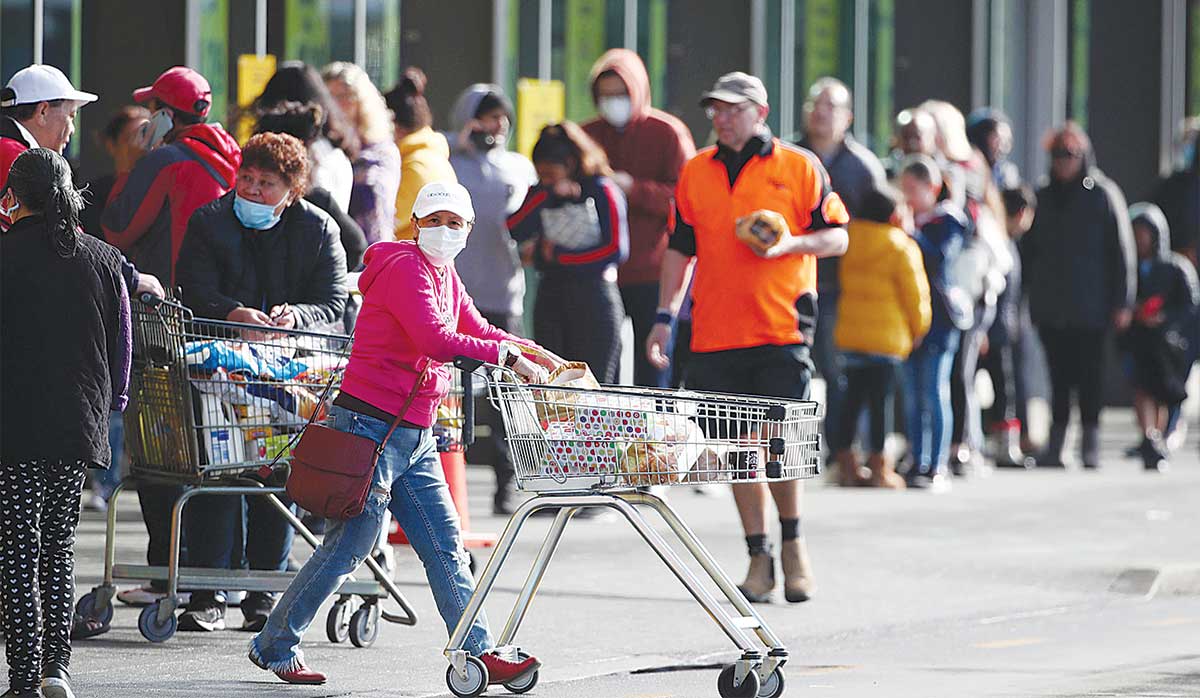 Who would have thought we'd see queues outside supermarkets with people spaced out a metre or two apart.
Yes, we've certainly been asked to walk through some rather unusual stuff this year. For many readers you have had very personal things surprise you as well, way more challenging than social distancing, struggling with a mask, or trying to buy loo paper. Stuff like the loss of a loved one, or the breakdown of an important relationship.
It has been really tough for you this year, you're just not ready to face "Jingle Bells" and feverish shopping queues to somehow try and make it all a "Merry Christmas".
In times like this, true friends can be a huge blessing. I trust you have friends like this for you this Christmas. My thoughts and prayers are with you. I believe you will make it through!
Christmas is a time for giving. Multiple billions of Christmas cards around the world have, since their origin, pictured the arrival of a baby to this tiny planet we call Earth. Giving at its very best and purest was behing this incredible heavenly gift.
Giving at its best is good for us deep within also - it truly is good medicine.
I could use the word therapeautic here also. A timely quote many attribute to Sir Winston Churchill: "We make a living by what we get. We make a life by what we give."
In today's world, it has become over-cooked, turbo-charged commercialism, which of course can blind us to the very reason for this season.
From me to you, I have enjoyed being part of the Rural News family this year. My thanks to those of you who took the time to send me an email, I appreciated it.
Be sure to take some refreshing R&R time with family and friends over the coming holiday break. And be sure to give something special to someone special.
Yes, heaven's gift that night in Bethlehem so long ago forever changed our world. And he is still changing and impacting lives around the world today.
Have a blest Christmas!