Not only did the region produce the first ever Tonnellerie de Mercurey Young Winemaker of the year, but it also was the home of the Bayer Young Viticulturist of the Year.
Winemaker Lauren Swift and viticulturist Caleb Dennis were judged the best in their individual fields, after two days of tough competition.
Marlborough born, Lauren has had a finger in the pie of wine, since she was 14. Her first ever holiday job was working for a neighbouring vineyard in the Awatere Valley. Then when her parents removed their apple orchard to replace it with 10 hectares of vines, she and her three siblings got even more involved.
"Our parents made us help them plant the whole vineyard. We hand dug every vine and laid out everything for the posts. Lucky there were four of us. I am pretty sure that my parents had so many kids, to ensure they always had lots of labour."
It was enough to put her off the wine industry for life – well at least the viticultural side of the industry.
"It definitely did. I always hated the vineyard, because we were just doing these things, but no one ever bothered telling us why we were doing them, so I had no understanding of it what-so-ever. Then I went to Europe for a year when I was 18, and it was like, oh this wine stuff is not so bad, and ending up coming back to Marlborough and working for Clos Henri."
The experience that time round was very different to developing the home vineyard. Those she was working with quickly passed on knowledge that gave her a far greater appreciation of what was happening out among the vines.
She also volunteered to work in the winery when her day in the field had finished, and it was here her interest in winemaking began to form.
""I was up there on a wooden plank, plunging the big tanks of Pinot Noir and things like that and I really started to enjoy it."
(After winning the Young Winemaker title, Clos Henri sent her a Magnum of 2008 Pinot, congratulating her on having come so far from plunging, in such a short time.)
After working for the small French owned winery for a year, Lauren moved to Delegat, to undertake a vintage. But she was quick to discover she preferred the smaller operations, rather than the big corporate environment. So it was off to Hawke's Bay to undertake a Bachelor of Wine Science and Diploma of Wine Marketing at EIT.
Since graduating in 2012, she has been working for Ash Ridge in the Bay, a family owned, high-end producer of wines all emanating from the Bridge Pa Triangle. Within 12 months of graduating she had won a Trophy with the Ash Ridge Estate Merlot – a sign of things to come you might say.
While her employers had great faith in her abilities to take over running the winery, Lauren wasn't sure she was capable. So she headed to Sonoma to undertake a vintage there.
"I was there to learn as much as I could from the business end of the spectrum. When I came back I felt a little bit better, but still it was pretty crazy, taking over the winery."
She didn't need much convincing to take part in the Hawke's Bay Young Winemaker competition, having seen how much was gained by viticulturists taking part in their own competition. But at no time did she think she would take out the regional title, let alone the national one.
"It has really surprised me how important these titles are. So many fellow winemaker's who I didn't know have been in contact to congratulate me, they all seem to have taken it a lot more seriously than I had thought they would. It is certainly a major positive in terms of getting my name out there."
While Tonnellerie de Mercurey provided $5000 in travel funds, Lauren says one of the greatest prizes on the night was the offer by Ben Glover, Chief Judge of the Bragato Wine Awards, to be an associate judge at next year's competition.
"I was a steward at this year's competition and I wanted to be out there so badly, judging the wines – but I ended up washing glasses for most of the time. Judging is something that I am really keen to get into, so being involved next year is going to be great."
There wasn't much down time for Lauren after she took out the title. Within 10 days she was on a plane to Rhone, to undertake a vintage at Ogier. With the company being high-end Syrah producers, she is looking forward to honing her skills with one of the Bay's best known varieties.
Bayer Young Viticulturist
It may have taken three years for Caleb Dennis to win the Hawke's Bay regional Young Vit competition, but he didn't have to wait anywhere near that long to take out the national title.
The 27-year-old Group Technical Officer at Craggy Range is the 2015 Bayer Young Viticulturist of the Year.
Coming from a "long line of accountants and teachers", Caleb had no background in viticulture. In fact he admits he really knew nothing what-so-ever about the industry when he was at school. Contemplating a science degree, it was a trip down south that got him thinking about wine.
"I was driving down to go skiing and went through Marlborough and saw all the vineyards. It got me thinking about viticulture so I started looking into it. I found out you can do a degree in it, so I thought, well maybe I can do that.
"Before I did the degree (at Lincoln University) I spent some time with a friend of ours who has a vineyard in Hawke's Bay. I trailed around after him for a couple of days and thought to myself; 'yes I would like this job."'
In his Lincoln class of 40, only three students had viticulture down as their preferred option – Caleb was one of those.
"I did think about winemaking, but viticulture was the part that I found the most interesting. It was where I felt I could do the most and could also make my mark."
After practical's at Craggy Range, Caleb was employed full time in 2010 and has been working his way up the ladder ever since.
"I started out in the regional vineyards with Simon Radburn. I was pretty much doing all the operations, running contracting gangs, spraying and all that. It was a case of being chucked in the deep end. And from there I managed to get more involved in the technical side of things. Over the next two years it was less and less hands on practical vineyard, to more of the technical side. That evolved over three jobs, to the one I have now."
With Craggy Range having vineyards in Hawke's Bay. Martinborough and Marlborough, Caleb is responsible for collecting all the regional data required to ensure the best fruit possible is available at harvest.
"As we go through the season there is usually some data involved, whether it be pruning weights, shoot numbers, counting berries and bunches or leaves. There are any number of variables where we need to get a really good picture of what we are doing. We have processes in place for that next step to ensure we get the best possible fruit."
Being involved in three separate regions, means he is gaining a greater understanding of the entire wine industry, rather than being limited to just Hawke's Bay.
That knowledge obviously paid off with the recent competition. Now Caleb has to prepare for the next one – the Young Horticulturist of the Year, where he will represent the wine industry. That will take place in November.
In the meantime there is some thinking also to be done, on how he will spend the $5000 travel prize, donated by the NZSVO.
"There are a lot of wine regions I haven't been to that I would love to visit. I am quite keen to have a look at Napa Valley or Bordeaux – so over the next few months I will be looking at that."
Caleb also won $2000 in prize money, the use of a Hyundai Santa Fe for a year, and Spiegelau glasses.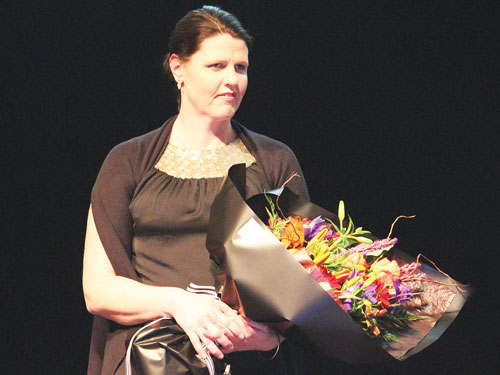 A third accolade
There was a third member of the Hawke's Bay wine industry that was feted at the Bragato conference.

Emma Taylor, who herself was New Zealand's Young Viticulturist back in 2007, has been the national coordinator of the competition for the past seven years. She stepped down from that role in May this year, to concentrate on her work in the Villa Maria Nursery.

It was a surprise accolade for Taylor, with a number of previous Young Viticulturists taking to the stage to present her with a bouquet of flowers, a magnum of Champagne and travel vouchers. It is fair to say that the competition we saw this year, that attracted dozens of entrants from around the regions, would not be in the healthy position it is, without Emma's previous guidance, enthusiasm and hours of voluntary hard work.

So thanks Emma.